Another inspiring story of growth that we love to see at Center 615, Sandra Finley, BCBA LBA of Satyaluna started with a Designated Desk membership and worked her way up to a Private Office. She even hired Brooke VanHorn, BCBA last November to help expand Satyaluna further. (If you need a good Reiki therapy session, Brooke's your gal). Warm-hearted and caring, we often see Sandra in the common areas with a kid at her side.
Sandra's therapy practice mixes equal parts scientific research, field experience, and human genuineness. Read on to discover why she began her own practice, the purpose behind Satyaluna, and some fun facts about her life.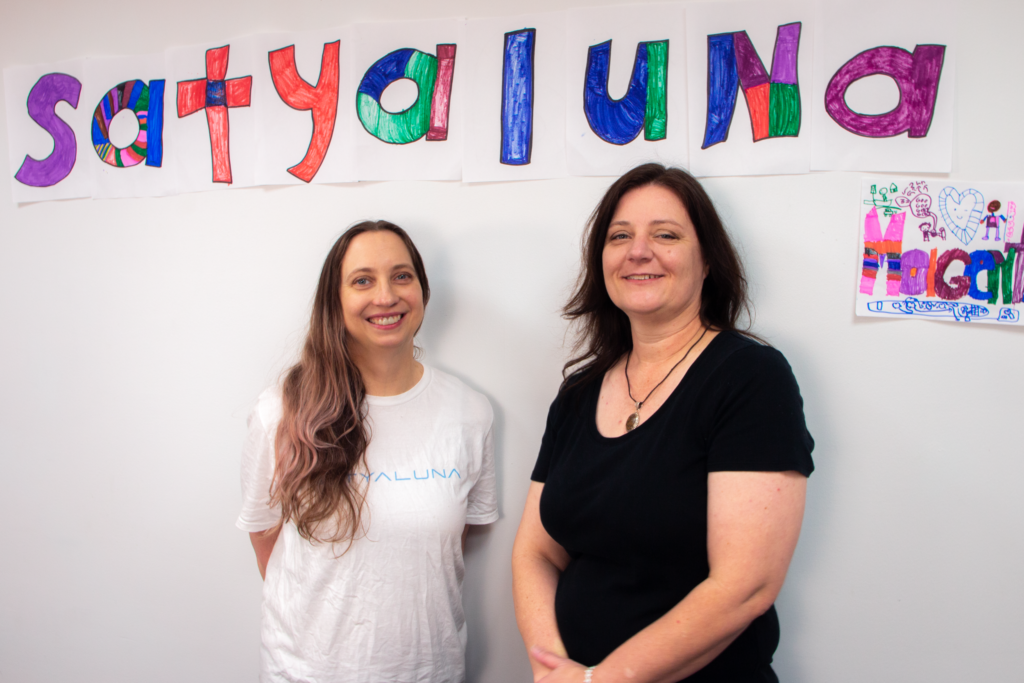 Where are you from?
I was born and raised in Las Vegas, NV. It is my home, but I have lived in many states (Colorado, Utah, Washington, Oregon, California, Arizona, and even briefly in Ohio as a kid).
What brings you to Nashville?
I was at a stage in my life where I needed a change, and I did not want my daughter going to Middle or High School in Las Vegas. My cousin lived in Spring Hill, and he asked me to move there. Since my daughter has made a lot of friends at her new school in Spring Hill, we have decided not to move closer to Nashville. I really like Spring Hill; it's a nice change from my past experience living in cities.
What kind of therapy do you specialize in?
I specialize in Applied Behavior Analysis (ABA). My two official titles are Board Certified Behavior Analyst and Licensed Behavior Analyst for the State of TN. Basically, we use scientific methods to understand and improve an individual's behavior. ABA is known for treating autistic people; however, ABA is not a treatment for just Autism. We have BCBA practitioners that work with older adults, substance abuse, sports, and organizational behavior management, to name a few.
What drove you to start Satyaluna in October 2019?
This is a fun question! I had no intention of starting my own company as soon as I did. My background is in psychology; prior to Satyaluna, I worked in psychiatric hospitals for roughly 12 years. After that, I worked for a former therapy business who had an office at Center 615. Eventually, though, they decided to change career paths. When they closed, we agreed I would take over their current clients.
I always had a vision to run an all-encompassing therapy practice that included LCSW, LPC, LMFT, BCBAs, and Maybe OT and SLPs. Unlike many ABA companies, I would like all my therapists to have a MS degree or higher. Often with ABA companies, they hire techs to work directly with the clients. These techs are typically not aware of what the job truly entails, and they often quit. Therefore, the other companies have a high turnover rate, which can affect the clients and their families.

What does the name Satyaluna signify?
Satya is Sanskrit and means "Truth". You may hear this word if you take a yoga class! Satya is one of The Five Yamas in yoga. Basically, it means being truthful in your actions, thoughts, and speech. Luna is Spanish for moon. A statement you will hear in a hospital is "It must be a full moon" because healthcare workers will say behavior changes with the moon's phases. I define Satyaluna as "series of changes, like phases of the moon, to find ones truth". I believe that we should honor human differences, as everyone's truth looks different.
How do you incorporate mindfulness into ABA and ACT treatments?
Mindfulness is a key component to Acceptance and Commitment Therapy (ACT). Since mindfulness is an evidence-based practice about awareness, we use it with ABA to teach self-monitoring of a person's own behaviors. We might start out with simple exercises that involve the five senses like, "name five things you hear" or "tell me five things you see," etc.
Eventually, we get to full integration of ACT concepts, which are behavior-based. In ACT you learn to behave in a manner that enables you to reach your value. Take, for example, someone who values being an honest person. If they are simply mindful that they are about to lie, that does not reinforce being an honest person. Therefore, the mindfulness component must lead to a change in the behavior to tell the truth instead. Once they change the behavior, then they are moving toward their goal of being an honest person.
What do you enjoy most about Center 615's campus?
I like the diversity. My company is multi-minority owned. Between Mary (Satyaluna co-founder) and me, the two of us check a lot of boxes!
What was your experience like as a crisis counselor for ten years at behavioral health hospitals?
It was difficult at times. The stories you hear are heartbreaking and interesting. I had to learn to compartmentalize the information so it wouldn't affect me personally. As a healthcare professional, it's sometimes difficult to take in all the information you hear. That experience is why I want to eventually start a multimodality therapy company.
What do you like to do in your free time?
I like to educate myself or sing. I would say I spend 80% of my free time learning something new. It could be learning anything from taxes to musical instruments. As a result, I have been a licensed life insurance agent, a home inspector, and a certified fitness instructor, to name a few. In fact, my previous career was in architecture! I worked in that field for over 20 years.
Do you think we ever truly reach our authentic selves? Or are we in a constant state of getting closer?
I think if we are mindful of who we are in that moment (in every moment) we are our authentic selves. With that said, learning to be mindful is a journey and we are always getting closer.