Over at Five Points Alley Shops, Jason Brueck and Kate Harrold sell their own unique art—as well as other local artists' works on rotation—in their adorable storefront named Raven & Whale Gallery.
C615 asked the creative couple about their artist origins, the provenance of the gallery, and their love for East Nashville's eclectic community. Read on to discover more about the inspiring duo.
What led you to make the pivot from practicing law to creating artwork?
Essentially, I was in a situation where I was miserable doing one thing (law) and so passionate about another (creating art), that I did everything in my power to make a permanent life change. It took about 3-3.5 years of grinding, hustling, failures, and successes before I was able to switch over to life as a full-time artist.
What is the origin story of the astronaut suit?
When I was 5 years old, my family moved to Fort Myers, FL. My mom's best friend from college married a guy who worked at the Kennedy Space Center. He invited us over one weekend for a behind-the-scenes tour of the facilities, and then a couple shuttle launches at later dates. I was hooked from that day forward.
In 2011, when I started dabbling in digital art, I primarily focused on astronauts as the focal point subject matter. Over the years, I've branched out into other areas, like pop art, mashups of old paintings, etc.
As for the suit, I was able to track down the guy that made all the space suits for the First Man movie, starring Ryan Gosling. His replicas are about as precise as you'll ever find… like $15K to $20K for a custom job precise. Anyway, I was able to rent a couple of them for a week and my brother and friend photographed/modeled the astronaut suit in a variety of different positions and poses.
How important to you is the annual Tomato Arts Fest?
It's tremendously important since it is East Nashville's preeminent annual event that focuses on the artists and musicians who make this neighborhood such an amazing place to call home. Well, that and the ever mysterious fruit/vegetable that is The Tomato.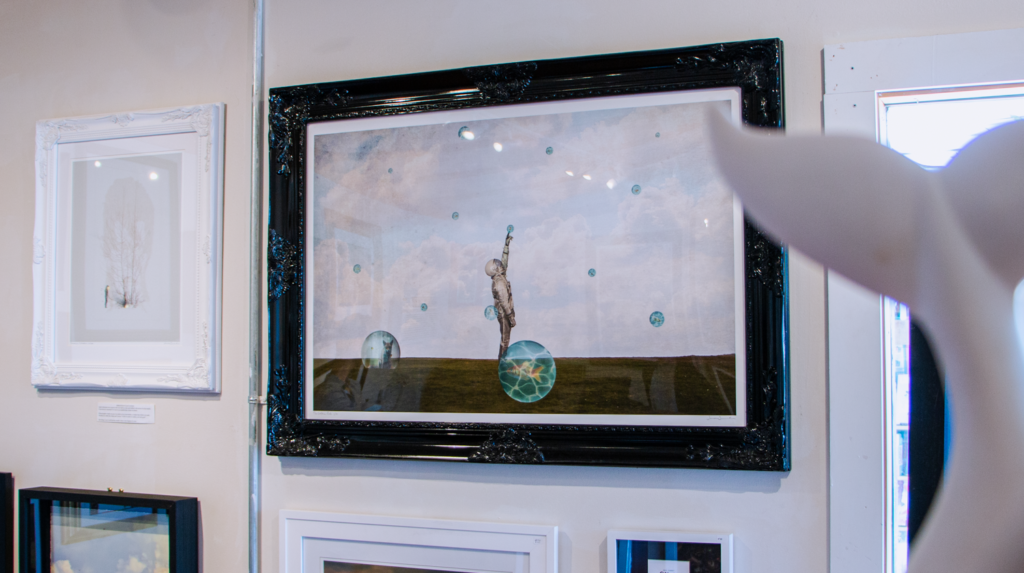 How did it feel to be the featured artist for the 2021 Tomato Arts Fest?
When I was asked to be the featured artist for 2021, it was a HUGE honor. I hope the event organizers and staff enjoyed selling and promoting my design as much as I did in making it.
It was a bit surreal seeing the design on t-shirts, magazines, pins and the 20+ foot banners bracketing the main stage. It's safe to say I'd never seen my artwork displayed at that scale. That opportunity was certainly one of the biggest highlights in my career as an artist.
How and why did you move from PA to TN?
Jason and I moved to Nashville together. We met in Philadelphia. Jason was beginning to work at transitioning from lawyer to artist. I was a photographer and retoucher. Dating Jason, I began to see my own potential as an artist by following his "business model". I quit my day job a few months after Jason. Once both of us were traveling to art festivals all over the country, it made sense for us to live somewhere more central. We visited a few cities and fell in love with Nashville.
How do you find models (especially kids) and manage to pose them for an imaginary space?
My models are friends, family, neighbors, and just everyday people in my life. I usually put together as much of the image as possible before I photograph the model. I spend the extra time figuring out what angles and poses might fit best. This way I have a better idea of what I need to capture.
It's best to work fast and efficiently during a photoshoot, especially with children. I show them the image we are acting out and let them play, laugh, and imagine what it would be like if a giant octopus snatched your boat. And I take as many pictures as I can.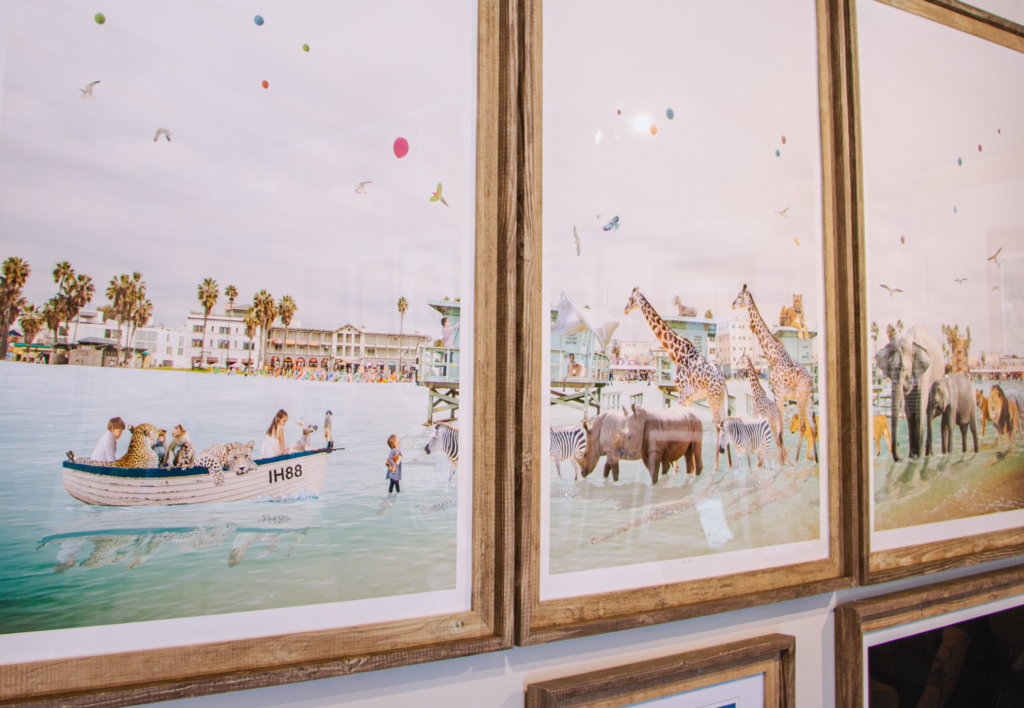 How do you find animals to photograph?
Not all of the animals are my personal photographs. If there is something I really want for an image that I can't personally access—like a whale or a shark—then I search through online archives and stock image sites until I find what I need. Often I work with those images in photoshop to tweak and adjust angles and poses. The octopus is an interesting example of that, because I pictured it in my head a very certain way. I wanted it squished up into the foreground, but also sprawling and reaching. I took tentacles from 8 different photographs and stitched them together digitally to create the creature you see in "Shipwreck".
I also shoot as much as I can myself. I take a lot of trips to the Zoo, and I bring my camera on all our vacations, to every art festival, and on every road trip. If an opportunity arises to capture something that I may want to use in an image one day, we pull over and I go get it.
Can you tell me more about your pieces inspired by children's books?
Just two of my pieces are directly inspired by children's books. Where the Sidewalk Ends is one and the other is Where the Wild Things Are is the other. They are both favorites from my own childhood. My son loves them too. His name is Max, just like the little boy in Where the Wild Things Are. It was the perfect story to include him in.
What's one fun fact about you that not many people know?
I often tell people that I always wanted to be an artist. While it is true that I always loved to draw, and I did want to be an artist from a very young age, I FIRST told my parents that I planned to be a "ballerina slash farmer" when I grew up. That's exactly how I worded it, and I explained that I would take care of my animals during the day and dance ballet at night.
Where does the name Raven and Whale come from?
Kate (Harrold) and I (Jason Brueck) have our father's last names as artists and thought it would be nice if we could give a subtle nod to the moms when naming the gallery. Kate's mom's maiden name is Lockwood, which has a family crest of three blackbirds. My mom's maiden name is Cahill, which has a crest of a whale, hence Raven & Whale. Plus we think it sounds cool.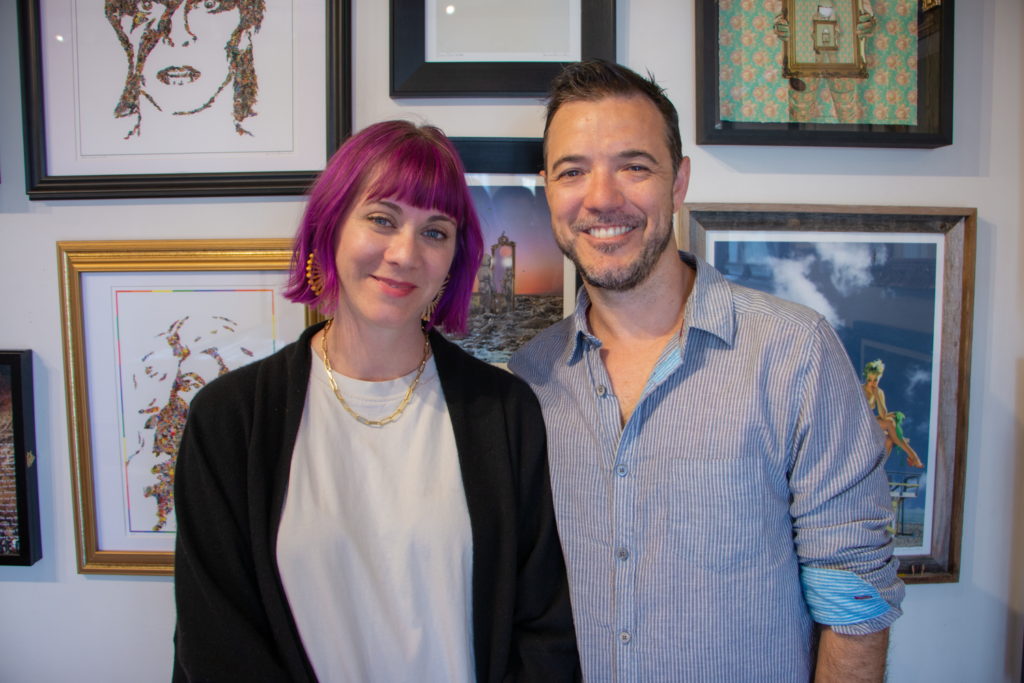 How and when did you decide to have your brick-and-mortar at 1106 Woodland St (now Five Points Alley Shops)?
We opened up in May of 2017. Brett and Meg of Art and Invention had been selling our prints in their gallery and were fans of our work. We had talked about potentially opening up a small storefront, so when one became available, we jumped on it and haven't looked back. Outside of the disaster of 2020, every year has been better than the previous.
What is your favorite thing about the East Nashville neighborhood?
The vibe, the creativity of people you come in contact with on a daily basis, the sense of community, the variety of backgrounds from one person to the next, it's everything we were looking for when we moved here in 2014.
---
C615 would like to thank Jason Brueck and Kate Harrold at Raven and Whale Gallery for allowing us the opportunity to spotlight them! Be sure to stop by their shop at Five Points Alley Shops and check out their artwork.