Scale your business with Center 615's flexible private offices starting at $975/mo. Unlimited meeting room use, unique common areas, free parking, & more — book your tour today!
Is your business small, large, or somewhere in between? Center 615 has you covered with office suites that fit any business' current size and needs. Let us help you find the space that's just right for enterprise, and enjoy the flexibility to change suites within your lease term. And when it's time to scale up or down, you can keep working within our network! See our private office options below.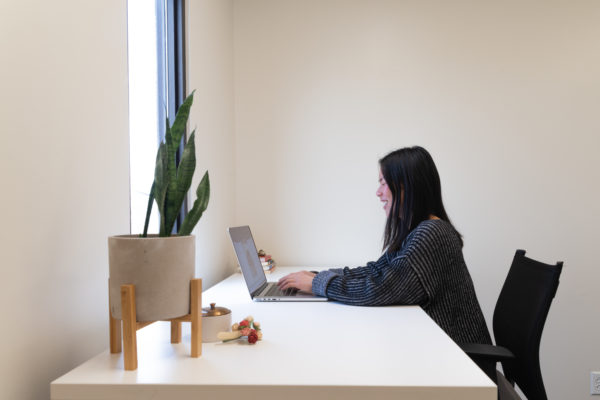 Center 615 Main
Freelancing with friends? Starting up a small business? Our small office spaces are just the right size for you and your small teams and offer all the amenities you need to stay productive.
• 100-190 SF
• For teams of up to 3
• From $975/mo
What C615 Members are Saying
Renting a studio from Center 615 was an amazing experience. The staff is 10/10 always helpful and extremely kind. I was with Center 615 for about 4 years and they took very good care of me! Highly recommend!!!!
Daly McPherson
Daly Waxing Studio
Great meeting and office space. We use one of there conference rooms for our monthly meeting space. Very modern feel yet still very warm and inviting
Jay Skinner
Since 2014, Center 615 has been a true partner in helping me grow my business. I started out with hourly room rentals... That was 10 years ago and I'm still here! 😊
Roland T. Hairston, III
Roland Hairston Law Firm
Best group of people ever!!
Ritt Milburn
Amazing people who own and operate this place! Christian Paro and Paro Homes are the epitome of what a good landlord should be! One who cares about his tenants and does everything possible to respect them. If you have the opportunity to interact or lease with this company, I would highly recommend!
Sarah Yandell
Really nice offices. East Nashville has it all!
Vetrel Smith