Macon St. Hilaire grew up daydreaming of the places seen in paintings. While her childhood was spent in Virginia surrounded by history and art, she has had the opportunity to study art at Virginia Commonwealth University, the University of Alaska Fairbanks and the Savannah College of Art and Design. She is currently a student at Austin Peay State University in Clarksville, TN. She works primarily in acrylic and watercolor, building up atmospheres and images through washes and layers of color. Her gallery show, "Between Two Cities," is about her personal connection between London and Nashville, which will open at Main Street Gallery on September 12th from 6-9 pm. It will be a part of the Second Saturday East Side Art Stumble.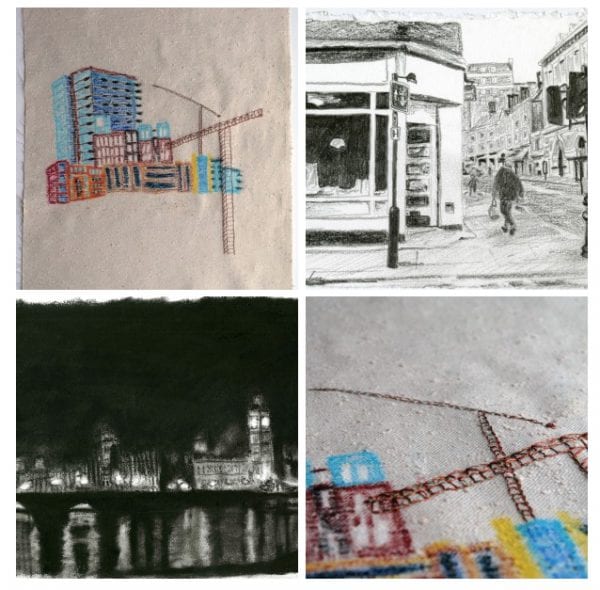 Q&A with Macon St. Hilaire 2015:
How would you describe your work as an artist?
My artistic practice explores the connections between ancestry, traditions, legacy and place. As an artist with a strong connection to the past, Marcel Duchamp's concept of readymade art reflects the modern availability of artist materials. I am interested in understanding how the material components of an artwork are created. I have conducted, and continue to research art historical practices used to manufacture art materials such as pigments, binders, and painting supports. My sculptural work explores who I am as an individual and the purpose I have denoted for my life. I use intrinsically perceived feminine materials to start a dialogue between societal expectations of domesticity and how I fit into a gender role. By utilizing techniques associated with hobby crafts I can elevate those traditional skills or materials, to express my position as a female artist, while also preserving the skills with which women have been traditionally praised for possessing.
Tell us about the theme of your show.
Between Two Cities is a capstone exhibition of the way my work has developed during my time studying at Austin Peay State University. As I face the completion of my degree, I recognize that the way that I view and interpret the world has changed. In the last few years I have formed a personal connection between London and Nashville. First as an outsider, I was struck to create work that is recognizable as belonging to the two cities as separate places. I find myself at home in both places and in so find similarities that speak to me. When I leave the landmarks I see a skyline filled with cranes, for a moment forgetting which city I am in. The words of songs I hear can speak to me of either place for there is abundant music in my home.
Who are your main influences?
Developing ideas and work during my time studying at Austin Peay State University has expanded the work I make. There is such an amazing faculty there, I'm not being molded to make work like the teachers, but to push myself and look at the things I make in different ways. We had a lecture from the artist Ann Hamilton; she's my hero right now. She spoke about this inherit thread through all of her work and the roadblocks she met having what is deemed as a "craft" approach to her work. She helped me to say to myself, who cares if a person thinks a material or process isn't a Fine Art, if that is what pushes me creatively then I should explore that.
What are you passionate about and how does that portray in your art?
I'm drawn to history and the provenance and care for historical objects. I research and study techniques from historical practices such as tempera painting, medieval embroidery, and letterpress printmaking. I look for ways to use those techniques with contemporary subject matter and materials
Life mantra?
Never read the comments.