Construction on the former Art & Invention Gallery, located at 1106 Woodland Street, officially began the morning of October 23rd, 2019.
New 1106 Woodland Street owner Christian Paro will update the entire exterior, sidewalk and parking, and add an abundance of windows to brighten up the already colorful Five Points neighborhood.
While the use of the space is not 100% finalized, the open layout will likely lend itself to an anchor restaurant tenant.
Along with the facelift, the branding for the space—and neighboring Idea Hatchery—will also be updated for more cohesiveness.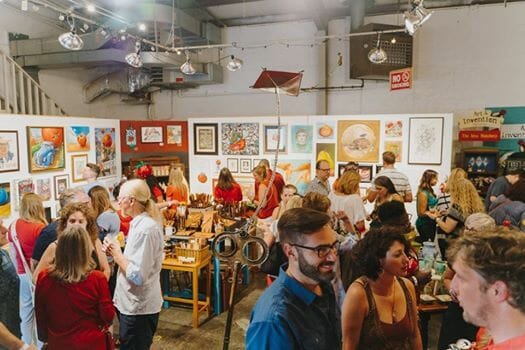 For the interior and the design aspects of the space, Shandi Paro of Design 615 will work her off-beat-yet-spot-on magic. Shandi kindly gave her perspective on the design plans, and explained,
"Christian is big on adaptive re-use, so we're taking the existing facility and giving it a current look.
We want it to be a design contributor to the Five Points area; almost the whole façade will feel like it's covered in large, black steel windows made of lots of little square panes. Incorporating wood elements will also give it a more organic nature. Plus, the bright pop of teal is going to make it fun!"
When asked for comment on the new developments, Christian responded,
"Now that we've broken ground, it's even easier for me to visualize how the new 1106 Woodland will add to the vibrancy of Five Points."
A visionary at his core, it will be exciting to see how Christian's ideas pan out. One thing is certain: if the creatively fertile Center 615 and Studio 615 is any indication of how the building will turn out, the new 1106 Woodland will be a masterpiece.
---
Previously posted about the spot: Christian Paro Acquires Ownership of Art & Invention Gallery
Stay tuned for updates!