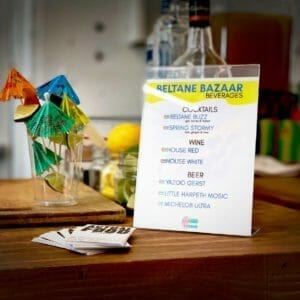 Just about two months ago, May 3-4, Studio 15 hosted the Beltane Bazaar alongside The Nashville Fashion Collective. Over 40 vendors pitched their retail tents inside the studio space for the 350 or so attendees who zealously perused the pop-up bazaar. 
Of the 40 vendors, colorful racks of vintage inspired clothing dominated the all-white, high-ceilinged room; though confectioners, herbalists, and artists also represented their wares.
The weekend extravaganza began on Friday night, with an exclusive preview of the vendors and a fashion show to follow. On Saturday, the bazaar opened its doors to the public for an all-day shopping extraordinaire. 
In addition to the vendors, the bazaar provided wellness classes by Small World Yoga, Spring Holistic Health, and Friends Who Fit, to prevent any of the shoppers from dropping.
Out of pure curiosity, I've corralled some informational blurbs about a few stand-out, select vendors who participated in Beltane Bazaar.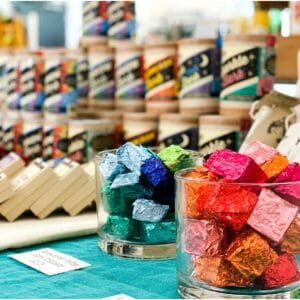 Sarah Souther and friend Nina started their sweet endeavor after sipping hot chocolate with handmade marshmallows at a local restaurant, which inspired them to try their hand at making their own deliciously fluffy confections. After experimentation, their Rose Cardamom marshmallow emerged, glowing like hot embers, from the smoking, sizzling science lab, also known as their kitchen. (disclaimer: the description is my own interpretation of the event, I am not an actual witness, nor do I know how to make marshmallows)
Their first test subjects were unsuspecting attendees at a friend's birthday party; the experiment was a success, they gathered, as the hostess of the party exclaimed the experience of eating the marshmallow was like "swallowing God in velvet pants!" 
The creators and owners assure their customers,"Our marshmallows are crafted in small batches using the finest ingredients, no preservatives, no stabilizers, and no artificial colors or artificial flavors."
Overtime, the duo expanded their sugary inventory to include flavored syrups, for libations and what not, as well as chocolates and confections, like Firecracker bark, Honeycomb toffee, CBD Dream Drops, and Boozy caramels.
Bang Candy Company's brick and mortar opened in historic and artistic Marathon Village in January 2012, where it remains today as a mecca for marshmallow maniacs.
---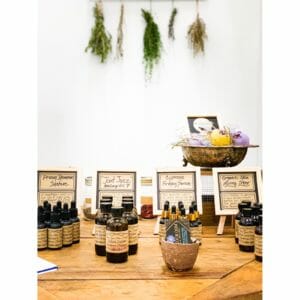 Women owned and operated since its creation in February 2018, by Christie Tarleton and Amanda Matsui, Yuyo Botanics is an educational, organic, Tennessee-grown hemp retailer. Their mission is product transparency for their customers, so they personally oversee the entire process.
"Yuyo Botanics' products are 100% made in Tennessee and have been third-party batch-tested for purity, quality and cannabinoid content, both post-harvest and after formulation."
Alongside her husband Will, Christie Tarleton has been a staunch advocate for growing local, organic hemp, participating in the Tennessee Hemp Pilot Program since its beginning and lobbying for better hemp laws in Tennessee. Their company, however, began only when they created a personalized CBD tincture for their friend's daughter, who had been diagnosed with Leukemia. After seeing improvements in her health, Christie and Amanda knew they needed to grow their business.
---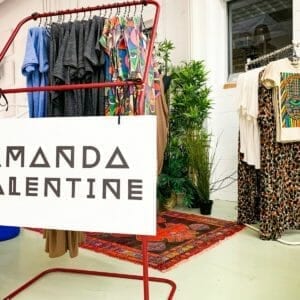 A few descriptions that come to mind when browsing Amanda Valentines designs are: color block, modern-yet-retro silhouettes, billowy-yet-structured cuts, and beautiful, original color schemes (my favorite season might be Fall 2015 or Fall 2016 as a close 2nd).
"Amanda Valentine was born in Lincoln, Nebraska to a beauty queen/artist mother and world traveler/professor father.  The youngest of five children found her voice at an early age by adapting the family's old drapes and worn clothing into what could only be called… edgy children's wear."
Post-graduation from the University of Nebraska with a degree in Clothing and Textile Design, Amanda had a stint in LA apprenticing fashion stylists and diving into the world of wardrobe styling and costume design. After visiting Music City a few times, Amanda became entranced by Nashville's vibes, and fried chicken, and decided to proclaim the humid city as her new dwelling in 2006.
Fast-forward through owning and managing boutiques, wardrobe styling for anything and everything fabulous, and even participating in the music scene, Amanda currently runs her own clothing line AMANDA VALENTINE, based out of her converted Nashville factory. Her line grants her the opportunity to travel to US fashion week events every season and dress rock bands, like 21 Pilots.
---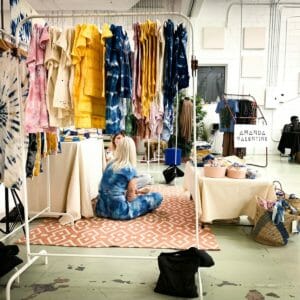 Portmanteau, a modern, minimalist jewelry company, best describes who they are on their website, so I will refrain from paraphrasing with my own words.
THE CONCEPT ||  IT'S ABOUT BEING SIMPLE BUT STRONG, EMBRACING ASYMMETRY AND CHALLENGING YOUR SENSE OF PROPRIETY

THE PRODUCT || DESIGNS THAT ALLOW FOR STYLING FREEDOM, LIMITED PRODUCTION, HANDMADE IN NASHVILLE, TN

THE MATERIALS ||  RECYCLED WHEN POSSIBLE + CONFLICT FREE 
For the word nerds out there like myself, here is the definition of the word "portmanteau" as listed on the company's website:
portmanteau  ( pôrtˈmantō ) http://www.port-manteau.com/portmanteau-defined

— n  , pl -teaus , -teaux

1 (formerly) a large travelling case made of stiff leather, esp one hinged at the back so as to open out into two compartments

2 (linguistics) a word or morpheme whose form and meaning are derived from a blending of two or more distinct forms (as smog

from smoke and fog)

3 (modifier) embodying several uses or qualities: the heroine is a portmanteau figure of all the virtues
---
Here are a few more snippets about some of the Beltane Bazaar vendors in their own words, all taken from their websites.
"Working at the junction of mysticism & technology to make the metaphysical tangible . . . through aura photography, Tertiary Sight gives people the opportunity to learn what their aura expresses about who they are and how they exist in the world so they can live a more authentic life." –Tertiary Sight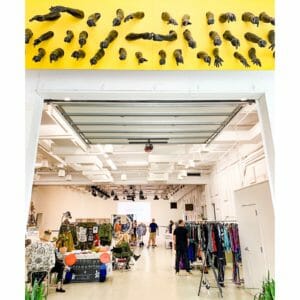 "Hi! My name is Suzanne Wade and, if I am to be honest, I didn't create Rank & Sugar. Rank & Sugar created me. Or really it helped to recreate me . . . Rank & Sugar is not just a label. It's connecting humans, honoring soldiers, empowering women, finding a voice, spreading peace. I am honored to create something special for you. Shine on" –Rank & Sugar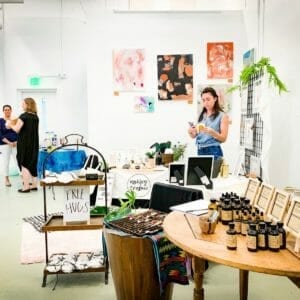 "our journey began with lots of late-night crafting, creativity, chocolate and poldark . . . it was the melting of wax and combining of fragrance oils that got us wondering, "what if?" . . . what if we could share with others the value of light and warmth . . . what if we could be a part of invoking and creating memories through the power of scent? . . . and so brown fox collective was born — candles and handmade wares and really all things beautiful." –Brown Fox Collective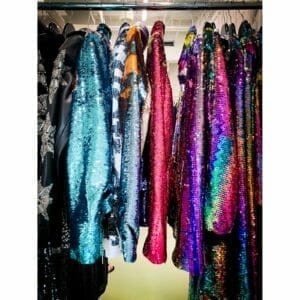 "Any Old Iron is the brainchild of designer/stylist, Andrew Clancey and arts-entrepreneur, Christopher Melton . . . 'Any Old Iron,' is also an Old English music hall song which references a young man's sartorial dandyism – a quality that is distinctly English, and, ever-present in the shop's design and the legion of British designers featured . . . In October of 2015 Any Old Iron moved its store to Nashville, Tennessee. Looking to dress the city's musicians and fashion forward locals. AOI is excited to be part of the Nashville's growth." –Any Old Iron
---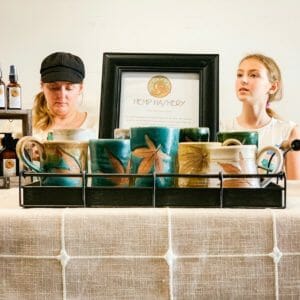 And lastly, for those still curious about the motley merchants, here is the full list of Beltane Bazaar vendors:
Ola Mai · Glen & Effie · Bang Candy Co. · The Getalong · My Vintage Look · Queen of Cups Handmade · Own Your Ohm Health · Hemp Hashery · HelloFresh · Nashville Homeopathy/Tanya Kell · A Lady of the Lake · Love Salons · Tertiary Sight · Yuyo Botanics  · Rank & Sugar · Closet Case Vintage · Brown Fox Collective · Ashley Trabue Studio · Black by Maria Silver · Moons + Junes Vintage · Laura Citon · Any Old Iron · Acorn + Archer · Smack Clothing Co. · EMLEE Design · Patina And Co. · Amanda Valentine · Riverside Village Pharmacy · Seraphine Design · Woven Goods Co. · King of Pops · Emily Phillips Clothing · Marbles Accessories · Pinkpizza Portraits · Portmanteau Jewelry Collection · OldSchoolWorld · Elektric Alice · Modern Nature
---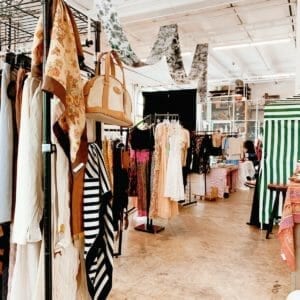 We at C615 would like to give a special thank you to our Event Producers, Lindsay Lo and Leslie Stephens for making Beltane Bazaar come to life!