CENTER 615 TO CELEBRATE FIVE YEARS OF SUPPORTING NASHVILLE'S ENTREPRENEURIAL GROWTH
Press Release by Denor Brands & Public Relations
Center 615 will celebrate its growth, five-year anniversary, and pay tribute to the 15 local businesses that have grown with the facility since 2013 with an anniversary party. The event will take place from 4 p.m. to 7 p.m. on Thursday, July 12 at the Center, located at 615 Main Street.
NASHVILLE (June 12, 2018) – Christian Paro and the staff at Center 615 know a thing or two about what it takes to grow a thriving business. This is because Center 615 is flourishing, and so are the 70-plus businesses that call the 65,000 sq. ft., three-building campus in East Nashville home.
To celebrate its growth, mark Center 615's 'Main' building's five-year anniversary, as well as to pay tribute to the 15 businesses that have taken residence on campus since 2013, Center 615 is hosting an anniversary party. The event will take place from 4 p.m. to 7 p.m. on Thursday, July 12 at the Center, located at 615 Main Street.
Two of the 15 businesses that will be recognized during the anniversary celebration have grown with Center 615 since it expanded from a one-building campus to its current trio offering. The innovative space boasts 92 private offices, co-working spaces, eight conference rooms, a rooftop deck, art gallery, multiple lounge areas, a nap room, a meditation room, and a private gym. Earlier this year, Center 615 added a 3,500 sq. ft. recreation hall complete with lounge areas, ping-pong table, shuffle board, pool table, and more, as well as a 6,000 sq. ft. open-air courtyard. Further, the campus boasts 174 on-site parking spaces. The parking spaces, conference rooms, and other amenities are free for members and their guests to use.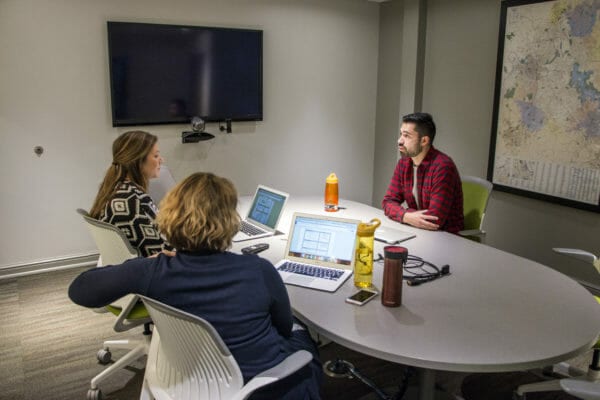 For Michael Epps Utley, Center 615 is the ideal environment for small businesses to scale.
"We love having our offices at Center 615," Utley said. "Being here has given us a headquarters that puts us close to downtown, the airport, and within easy reach of our local healthcare clients from Charlotte Pike to Cool Springs. We work with companies coast to coast, so being able to invite them to visit GoEpps and walk up the street for bar-b-q is a good way to tell our story. I love being based in my home state of Tennessee, and it's great to welcome people to come see us on Main Street."
The businesses that occupy space in the Center span a variety of industries. From communications and marketing to real estate development to arts and entertainment, Center 615 is industry agnostic, but it is small business specific.
Michael Ashby with Parsec Solutions, LLC summed up his experience in one word, "community."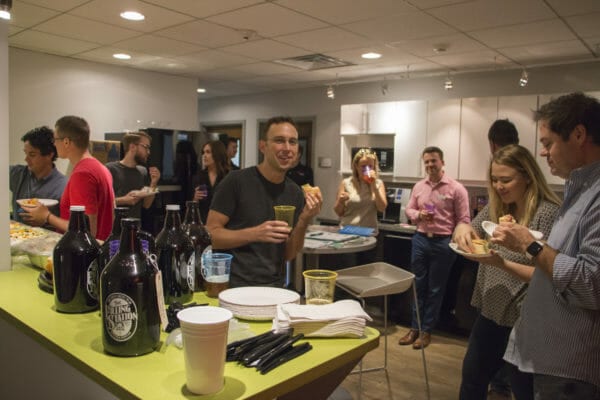 "Having worked out of a home office for many years, it was a real surprise to see just how dynamic working at Center 615 can be," Ashby said. "Whether it's a quick break to play ping pong, or enjoying a wine tasting after hours, the day-to-day grind takes on a whole new tenor. And it's not just the perks! Working alongside other business owners has a real energy that makes it easier to stay focused and driven with the day-to-day grind."
Paro Creative Suites, which is now the Center 615 'Bricks' building, opened May 2011. In August 2013, the Center 615 brand was established when the 'Main' building opened.
"I'm very proud of the growth we've facilitated for hundreds of businesses over the past five years," said Paro, who is the proprietor of the facility. "Center 615 makes it a priority to understand the needs of our members and allow them to grow or downsize depending on the status of their affairs. We've done well these past five years and I'm looking forward to seeing what the next five years will bring us and working with the business owners who consistently choose to grow with us."
The businesses that will be recognized during the Center 615 Five-Year Anniversary Party are:
EMT Associates
Lea Johnson, Attorney at Law
Parsec Solution
ResaleAl
The public and media are invited to attend the anniversary party.