What is the story of Nashville coworking space Center 615?
Nashville coworking space Center 615, under the ever-expanding umbrella of C615, rises from humble beginnings. The combined coworking, production, and retail community of C615 began over a decade ago when budding real estate investor Christian Paro bought 625 Main St in December 2010 and dubbed it Paro South Creative Suites. His aim: to provide affordable office space to eager entrepreneurs—aka coworking space. By the time PSCS's doors opened in September 2011, only a handful of other coworking spaces existed in Nashville at the time, and just two stand today, including The Nashville Entrepreneur Center (August 2010) and e|spaces (July 2010). In Summer 2013, when in-demand coworking offices trickled into Hardaway Construction's building at 615 Main Street, Paro South Creative Suites rebranded as Center 615.
We are lucky to call Center 615 the oldest privately owned, locally operated coworking space in Nashville. How? Because The Nashville Entrepreneur Center receives public funding, while e|spaces has locations across TN and in FL. This bold statement reflects our special interest in fostering East Nashville's beloved community, beyond coworking.
After Christian bought and renovated 272 Broadmoor Dr in 2015, turning it into Studio 615, a production and event facility, need arose for an umbrella term to encompass all his projects. Cue C615.
Today, we are proud to include Five Points Alley Shops as the latest addition to the C615 family, with tomorrow's horizon always bright.
Center 615 timeline:
2010 – Christian Paro acquires several residential rental properties and renovates 1701 Fatherland St.
2011 – With help from Chad Grout of Urban Grout, Paro transforms the now BRICKS building, once home to Pride Publishing, into a cohort of eleven small offices with a shared conference room, break room, and Main Street Gallery event space. Six months after opening, it's full with a waiting list.
2012 – Hardaway Construction's 615 Main Street building goes up for sale. Presented with the perfect branding opportunity, Paro purchases the neighboring office building with help from Planter's Bank and creates Center 615. Renovation begins on what we now call our MAIN building's East and Central wings. More importantly, Center 615 joins Twitter in December.
2013 – Eager entrepreneurs rejoice as MAIN's East Wing opens in April, and the Central Wing opens in August. We mark Center 615's official birthday on Central wing's grand opening day. By November, all of the new 40 suites in MAIN fill up with a waiting list. In other news, Center 615 joins Instagram.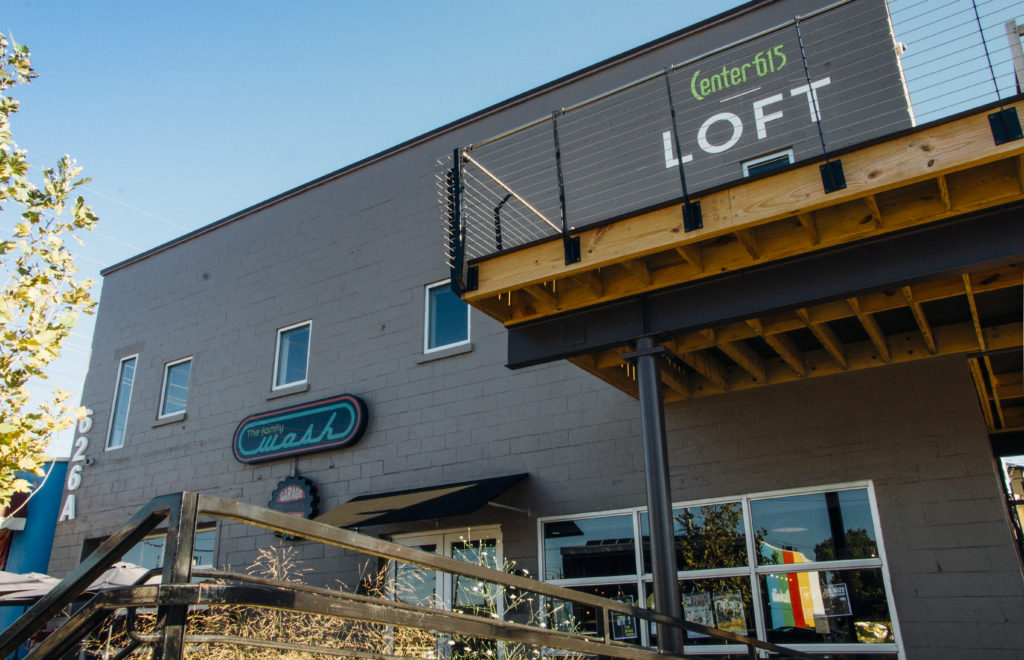 2014 – Flourishing coworking space Center 615 secures 626 Main Street (formerly All Nite Glass) in Nashville. With demand still high for office suites, Center 615 renovates the top level for more coworking space now known as our LOFT building. The seven LOFT private office suites fill up quickly, and beloved neighborhood restaurant/watering hole/live music venue The Family Wash begins construction downstairs with plans to open in Summer of 2015.
2015 – The C615 umbrella comes into existence with the addition of production and event space at 272 and 276 Broadmoor. After a collaborative $800,000 renovation with Make it Pop Creations at 272, CMT's old video tape storage facility transforms into Studio 615. At 276, Coburn's Exclusive metal fabrication spearheads their own renovation for a custom workshop as Studio 615's first tenants.
Coburn crafted the black stripe Center 615 MAIN façade, mail sorters, Wall of Heads, LOFT break room table, Courtyard fountain, and many other unique features at C615.
2016 – MAIN's West Wing expansion begins as Hardaway officially relocates.
2017 – West Wing opens to Center 615 members early in the year, and construction begins for the Courtyard, Rec Hall, and facilities for HOME, Center 615's resident music industry community.
2018 – Courtyard & Rec Hall open in the Spring, with a massive "Center 615 turns Five" celebration! Members can now enjoy WiFi access while basking in the sun, play ping pong, and host indoor/outdoor events on campus.
2019 – Early June, Paro acquires 1106 and 1108 Woodland St., formerly The Idea Hatchery and Art & Invention Gallery, with plans to unite the two properties as affordable retail space for local artisans and entrepreneurs.
Hawkers Asian Street Fare signs a lease for the downstairs portion of LOFT and begins renovation.
2020 – 1106 and 1108 Woodland St. undergo a renovation, facelift, and rebranding as Five Points Alley Shops. Hawkers opens in October with booming success!
2021 – C615 continues to move forward and show gratitude for each new day.
---
Interested in seeing Nashville coworking sapce Center 615 for yourself? Book your tour today!