With a coworking membership at Center 615, you have access to discounts at various local businesses as well as sister spaces in other cities!
One super cool coworking space where members have a FREE day pass is hygge in Charlotte, NC. We asked Alyssa Pressler, hygge's director of marketing, a handful of questions about coworking in 2020 . . .
How have things changed for hygge since COVID?
The thing that has changed the most for us since March is the number of flex members in our spaces. Our flex membership allows people to come 24/7 and sit in our open-area spaces with their laptop to get things done. These folks are really what gives each hygge location energy, but we completely understand that many aren't comfortable just yet returning to working in an open area just yet as cases continue to ebb and flow weekly. We require masks in all our spaces and also have sanitizing spray set out at the open space tables for people to use, so with that and less foot traffic, all of our spaces just feel a bit different.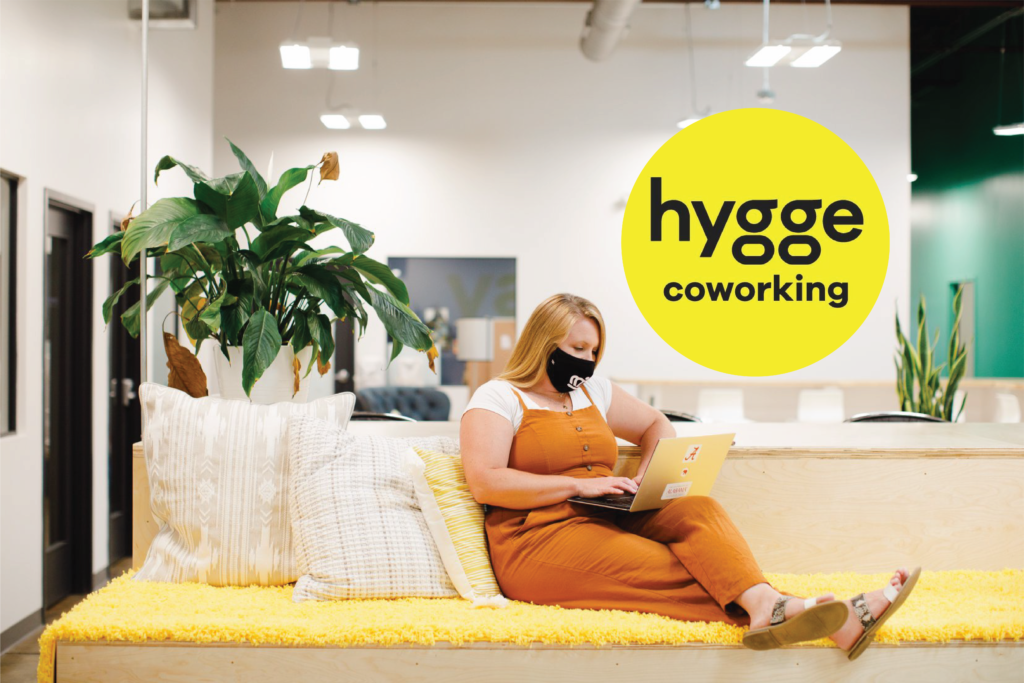 How are you maintaining your community feel with social distancing in place?
We continue to remain active in our community slack channels and produce content on Instagram and Facebook that are intended to keep people engaged. We send out email updates often and also check in individually with folks we haven't seen in a while, just to say hi and ask how they're doing. We've also brought back some digital lunch and learn topics where members can sign up for free to learn about things like marketing, setting up processes to organize their businesses and more. I think the biggest thing we do, though, is remain active in each of the spaces so we can engage with the folks who are coming in. Even though our spaces are a little emptier, there are still many people coming in and it's such a joy to see them. After several months of us being closed or just maintaining our distance, it's so great to have casual coffee chats in the kitchen (with masks on, of course) or just say hi to people as they walk in. People are craving that right now. I know the hygge team is, at least. We have a lot of new faces at each of our locations, and getting to know them and rebuild the business almost from the ground up can be tough, but it's also fun.
What do you love most about Charlotte, NC?
This is the toughest question! I think everyone on the team would agree that we love the people here the most. Charlotte is a young and exciting and scrappy city. There's so much going on and there are so many incredible people here doing amazing things. We get to see that daily with those who choose to interact in our doors.
The Zero to Ten Podcast with Gerard Little John featuring the Steve Smith Foundation was great! How else has hygge been involved with helping the local community in 2020?
Thank you so much for listening! Zero to Ten is a great example of something we're doing to keep members and also the outside community engaged, and I'm so glad to hear you liked it. Working with the Steve Smith Foundation and several other partners to make the school at our hygge hill street location a possibility was something we were so proud of. Unfortunately, due to Covid we've had to make some tough decisions in our business, and that included finding someone to take over our lease for that portion of the hygge street location which means they aren't technically in "hygge" anymore. We still have the original hygge hill street space, but did have to say goodbye to our expansion, which we took on in April. Even so, we were incredibly proud to be a part of setting that up and helping homeless and at-risk kids in Charlotte find solutions to virtual schooling.
As a brand, we've become much more vocal about the Charlotte community. Over the summer we took a lot of actions as a team to support community organizations fighting racial injustice and also used our platform to try to educate others. We still continue this work and always will. Lately, we've also been sharing voting resources and have been trying to encourage the city of Charlotte (and really anyone who follows us) to do their research and go vote this election.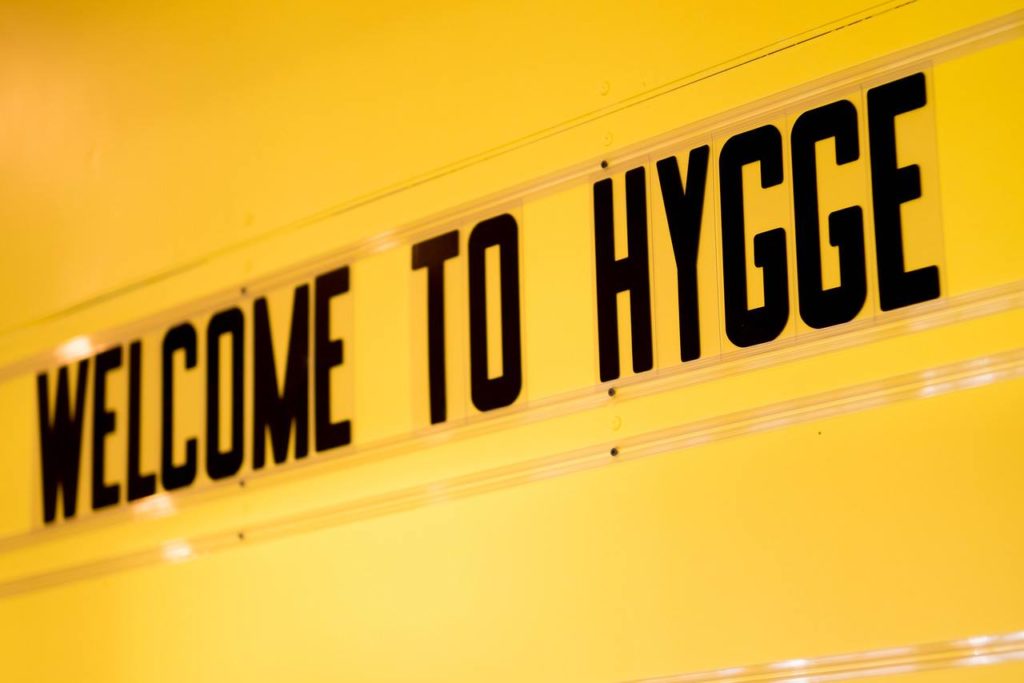 Tell me a little bit about your 4 Charlotte locations . . .
We have four different locations across Charlotte, and we love that because although they all offer the same basic things, each of them are so, so different. The locations have their own personality and vibe and I think anyone can find a space for themselves at one, if not all of them.
Our original hygge location is our hygge hill street space. We started there 5 years ago this month with just a fraction of the building and over the years have taken on more space there. This location is the closest we have to "uptown" Charlotte and is located right near Panther's Stadium.
The next location we took on was hygge west charlotte, which is right down the road from the Charlotte Douglas International Airport. This location houses the podcast studio as well as our hygge wellness space, a gym that offers group workout and yoga classes to the public as well as to our members at an extremely discounted rate.
Then came hygge camp north end, a scrappy, artsy space in the middle of a revitalized industrial park. This location is not only filled with fun, new and exciting small businesses, it's also surrounded by them.
And, finally, our newest location is hygge jay street. This was an old warehouse that we totally remodeled to offer even more office space to folks as well as a small open space. This location includes Not Just Coffee, a local coffee shop that we partnered so we could have a public-facing coffee shop and they could create their largest shop in Charlotte.
---
Thank you Alyssa and the rest of the team at hygge for doing awesome things and letting us feature you!