Laura McCoy, head of design firm McCoy Design, has been at Center 615 since 2017. McCoy Design provides top-notch signage and wayfinding design as well as extraordinary environmental branding for their clients. Not only has Laura and her team experienced the strain of their office affected by the tornado in March 2020, but Laura's home was also severely damaged by the storm. Despite the setbacks, their team has grown and continues to put their best foot forward in everything they do. Read more about how Laura became a graphic designer, some of her work you may recognize, and where she is a year and a half after the tornado.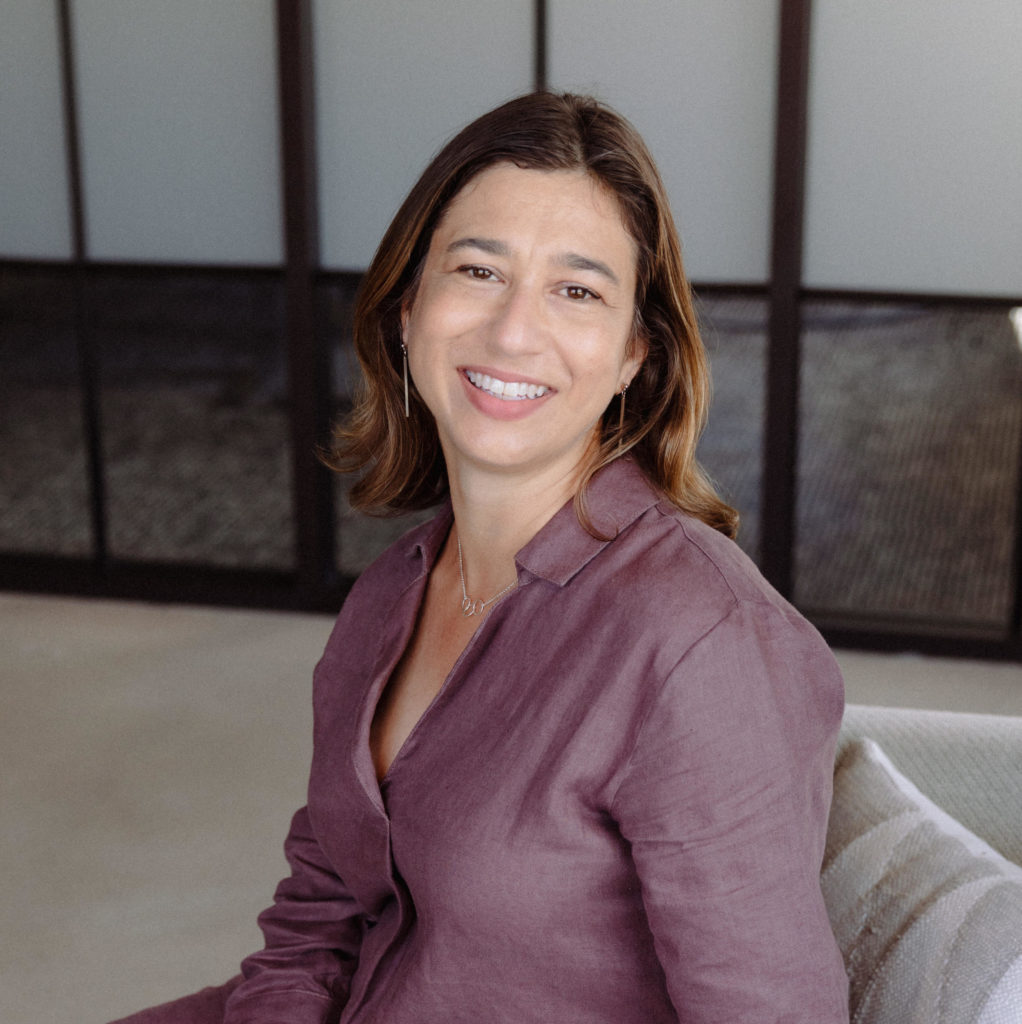 How did you become interested in Graphic Design work?
I have always loved making and drawing. I knew I wanted to be an artist, but I also wanted to be able to make a living. Graphic Design was the natural path.
What is the most prominent signage project in Nashville you have designed?
I designed all the signage in and on the Omni Hotel. I also designed the signage at the Tennessee State Museum – I'm particularly proud of the 3' tall letters on Rosa Parks.
How did project for the Country Music Hall of Fame rotunda with Hatch Show Print artwork come about?
The architect, Tuck Hinton Architects, envisioned a tiered donor wall in the rotunda. As part of the design team, we concepted the idea of using Hatch artwork. Hatch designed the individual posters which were then scanned and sent to the fabricator, ArtFX. The artwork was then applied to curved (!!!) wood panels that attach to the wall with hidden fasteners. It was important that the panels be removable, and the overall design be clean without a visible mounting frame or screws through the faces of the panels. It was really the result of great teamwork with everyone bringing their expertise.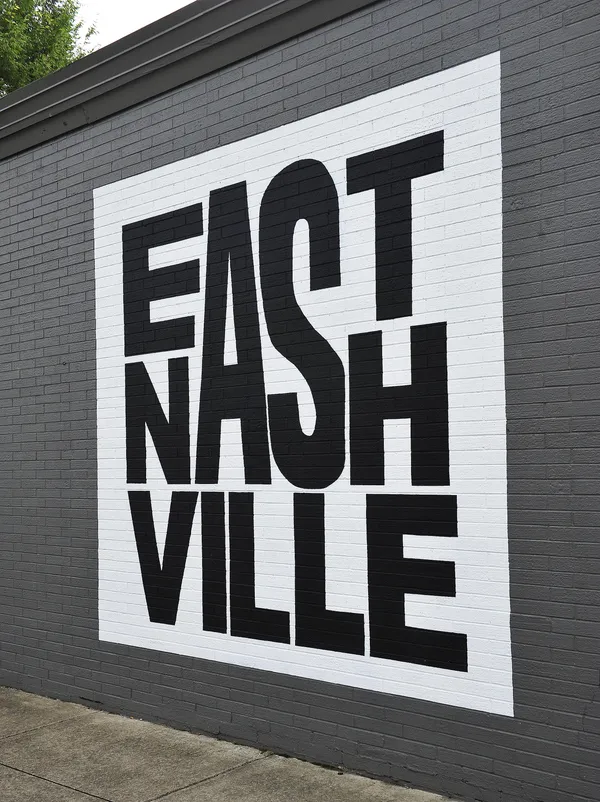 What was the process behind designing the East Nashville logo?
The East Nashville Chamber wanted a logo for the area that would be public domain. The project was open to anyone who wanted to submit a design. Several designs were submitted and voted on, and that one won. I LOVE playing with type, and my brain likes to line things up. The result is a stamp-like emblem that is versatile and works well in different sizes and mediums.
What would be your dream graphic design project?
An environmental branding project with an unlimited budget, healthy schedule and creative freedom. The family wall I did at WMG comes pretty close.
McCoy Design has had an office suite in two of our buildings (Loft and Main). Do you have a favorite building or suite you've been in? If so, what makes it stand out?
We love both offices we've had for different reasons. We really liked the high ceilings and industrial vibe of our Loft suite and the tight-knit community that comes with a small group of people sharing a space. But we love the amenities, multiple conference rooms, and parking of Main.
In your opinion, what's the best recent change to Nashville, and what's something that has recently gone away that you miss?
I miss being able to get across town in 15 minutes!! But I do love all the great new restaurants, and I hope to take advantage of the non-stop flight to London someday!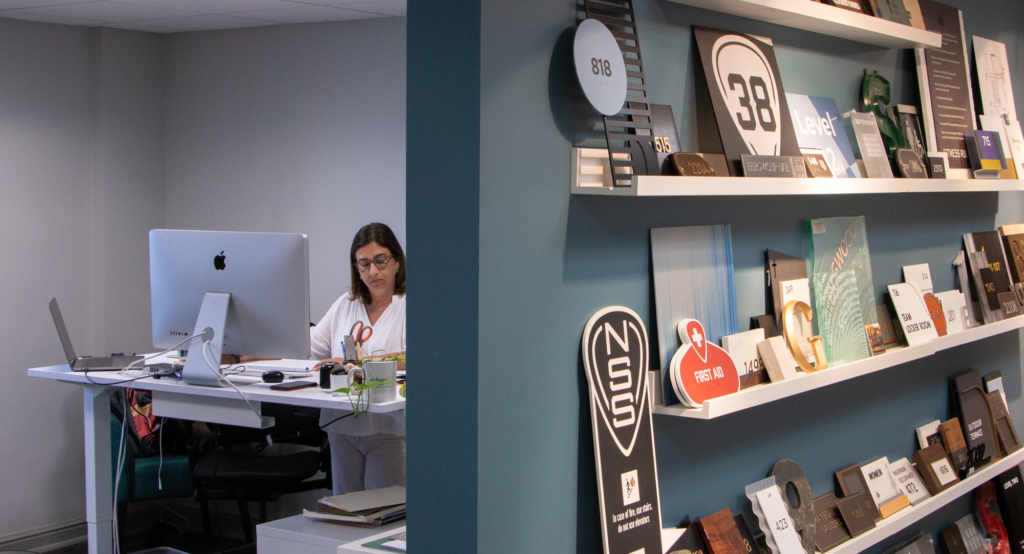 Did you go to the Tomato Arts Festival this year?
Yes, and this was the first year that we didn't host a party, so I got to actually enjoy the festival. It was so nice to be able to wake up and leisurely drink my coffee instead of preparing for 60 guests!
I know your house was hit pretty badly from the tornado in March 2020. Where you are in your recovery and reconstruction?
We were home at the time, and we're still a bit traumatized. All of the west facing windows blew in, the dormer was ripped off our roof, we had quite a bit of damage to the front of the house, we lost most of our trees, and both our cars were totaled. The rain following the tornado caved in the ceiling and ruined the floor and a lot of our belongings.
But now we have a new roof, a new refrigerator, new drywall and paint in most of the house, and the upstairs floors are refinished. We were able to insulate the attic, which is great for my son's drum set, and get some new furnishings. We still need gutters, storm windows (try cooling a 117-year-old house in this heat!), landscaping, and window coverings.
I'm glad the house is in better condition, but I never want to go through that again!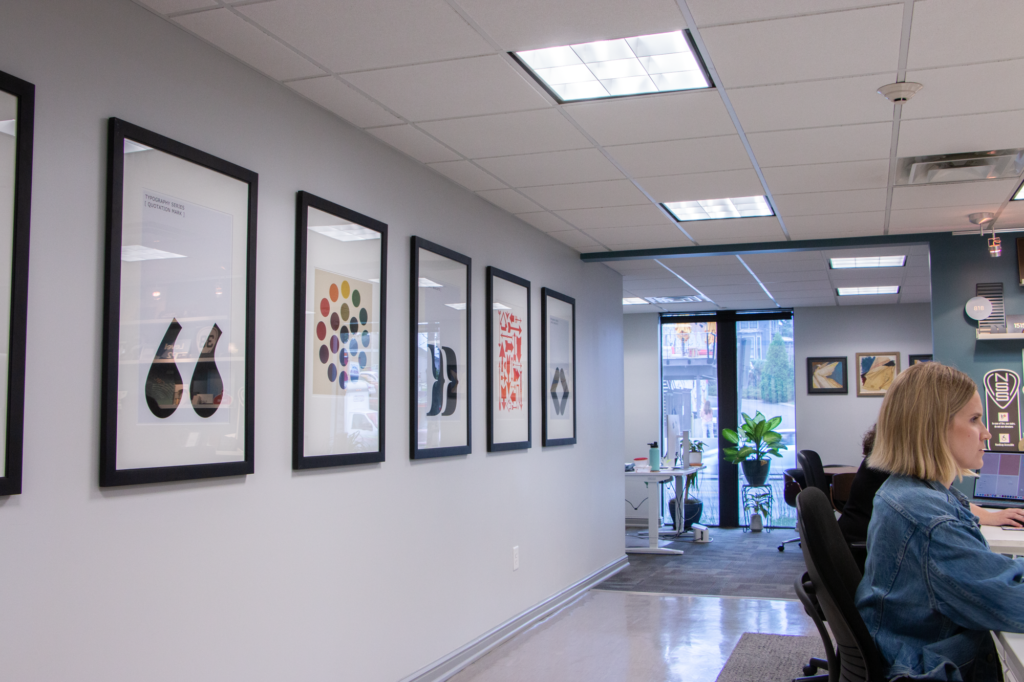 ---
Center 615 would like to thank Laura McCoy and the McCoy Design team for allowing us to interview them for this member spotlight (and take photos of their stunning office)!
Interested in learning more about our coworking community? Book your tour now!