Center 615 conversed with Logan Crowell, Founder and President of Helping Our Music Evolve (HOME) to have on record the unique relationship between our two co-working communities (including the fairytale story of how Logan met Center 615 owner Christian), where HOME fits in Nashville's music industry, and

motivational, insightful gems Logan seems to spit out every 10 seconds.
Logan Crowell is an exceptional entity, starting with the fact that I could have sworn he hailed from Southern California, when in actuality, he is a native to Arkansas. Mellow, amicable, and Malibu-surfer-dude-esque, Logan carries an infectious attitude that injects motivation into anybody he meets. I've seen it happen first-hand with music industry visitors walking into the creatively fertile facilities of HOME.
The concept of HOME came to Logan shortly after graduating from Belmont with a Bachelor's in Music Business in December 2016, but it wasn't until March 2017 that Logan found the perfect place for his innovative business concept, a membership-based, non-profit facility catering to musicians who wish to grow their career in a "bootstrapping" industry.
Of course, Logan had been searching for the perfect spot immediately after hatching his idea. About one year later, in January of 2017, Logan finally had his eyes aimed at a seemingly perfect storefront on the 700 block of Main Street . . .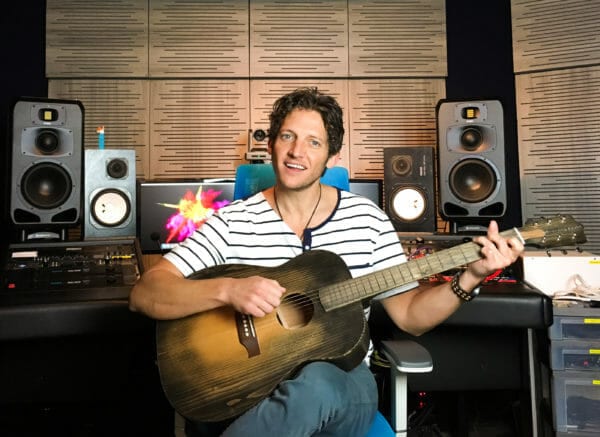 ---
. . . This is the enchanting story of Logan finding 615 Main St. in his own words:
Back in January 2017, on the back side of [what's now] the UPS Store, there is a stairwell that goes down to this underground venue that my buddy Gambino ran. He was leasing this underground venue creative space, calling it MAIN (Music Arts and Innovation Nashville). His goal then was to put a studio in it, and do shows and video shoots there.

Somehow [Gambino and I] get on the topic that the space right above it is vacant. We start talking to a leasing agent to turn the storefront into HOME, have MAIN below, and share the venue space. The partnership idea gets so serious that I end up going and getting a $50,000 small business loan from a bank in Arkansas that my family has worked with. The space I want to build out is maybe 1,000 sq. ft [HOME's current space is 4,000 sq. ft], and I want to put a couple of writer's rooms, a little studio, and a conference room in there. You start small, and you just grow it, make it manageable.

That's not really what the universe had in store. After 2 or 3 days trying to get hold of the leasing agent to send us a lease, Gambino hits me up and says,

"Man, I heard from them. It's not going to happen. They went with a different tenant."

Of course, my heart sinks. I thought the location was so perfect! It was so close. We were on Main Street! How could I ever find a place that would be that cool again? 

But because of my other life experiences that have made me so resilient, the other voice kicks into my head and says,

"No. There's something better out there for you. Get up right now, and just start driving."
That's what I do. I stand up, I hop in my vehicle, and I just start driving up and down Main Street to spot "For Lease" signs. 

After talking on the phone with a couple of people that day, I drive back to my house. However, my search isn't over. I tell myself, "Just Google 'Nashville workspace,"'and Center 615 is the first thing that pops up. I click on it, and then I call.

Autumn answers the phone. I ask her about what is available, and she says,

"Well, have you been here?"

The only other time I had been at Center 615 was for an ABC class, whenever I was bartending over a year prior. Thinking it would be good to visit to refresh my memory, I say to Autumn over the phone,

"I'm not very far away. Do you have time to show me around right now if I just drove down there?" 

And she replies, "Sure, come on down."

Once I walk in for the tour, she starts asking about what my price range is. I say,

"Look, I'm trying to get the cheapest thing possible. I don't think that you guys have anything here that's really going to do what I need it to do." 

But regardless, I need to start having meetings, and I need to get out of my house, basically. 
Autumn shows me around and walks me through all the vacant spaces. One of the first stops on the tour is an office over by the Trillian room. That office splits off into two spaces, one on the left and one on the right. Another plus for that spot is the two exterior walls. I thought, if there's one place in the building where I can be loud a lot, it's there. It could have worked, but it was maybe $1,500 a month or something crazy that I couldn't wrap my head around. So I say,

"Just show me the Designated Desk situation you have."

Autumn shows me all the cubicles and the roof deck. I think to myself, "This is a really really cool place!" I start heading out the Main Street entrance, but I intuitively stop in my tracks, turn to Autumn, and say,

"Do you mind showing me that very first one again? The one that kind of had two offices?"

Autumn replies, "No, I don't mind." 
We go back in there, and there's a man inside wearing a tool belt and spackling a wall, getting it ready for the next tenant since it's vacant. Autumn comments,

"Oh, don't worry about him. That's the owner, Christian." 

I think to myself, "Okay, that's kind of weird that the owner is in here doing this stuff." 

I say to Autumn, "So, why are there no windows in this room?" Immediately, I add,"'Oh, that's a rhetorical question. You're not supposed to be able to answer that."

Christian perks his head up and says, "I might be able to answer it! What was the question?"

"I'm asking why there are no windows in that office? It's got two exterior walls." 

He says, "Well, when I bought the building, I couldn't afford to put windows in that office." 

To which I reply, "Oh, that's a really good reason."

And so he goes, "Well, tell me about you. What do you do?"

"I'm just looking for the cheapest option. I've got this business concept I'm trying to do." 

"What is it? Tell me what you do?"

"Well, what I really need is 24/7 rehearsal space, a recording studio, a small venue, and some co-working spaces. It would be a membership-based thing. It's a music community and a non-profit."

By that time, it's my best 2-minute elevator pitch that I give him. Christian then says to me,

"Man, you're trying to create a Center 615 for music people." 

I say, "Yeah, that's pretty much it. It's a different economy in the music space. People are really bootstrapping everything, really scraping by to try and live a creative life. There's just not as many ways to make money in the industry, and we need to basically shift that model and make something similar to a co-working environment, that actually makes sense for music people, at a price that they can wrap their head around."

Then his eyes kind of light up, and he says,

"You want to come check out the garage? Maybe we could do it in there." 

I'm like, "Sure!" 

I don't know what this garage is that he's talking about, but we walk out, jump into his truck; he pulls it around back and into that courtyard. Back then, it was just a flat slab of concrete and the old rusted metal garage doors.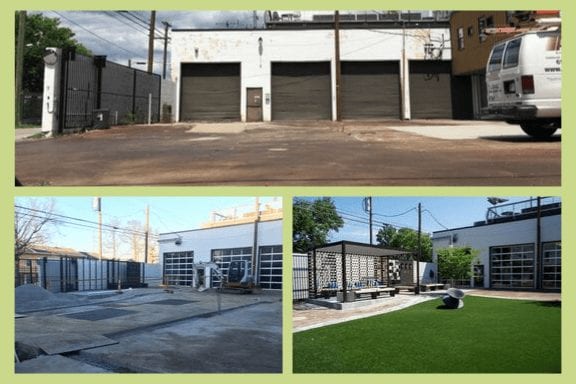 We walk in and we're just like, "Yeah, this could work!" And that was how it happened.

Obviously, that's not a deal that happens overnight. So, in the meantime, I get a Designated Desk and start working out of here. In my head I'm thinking, "Hey, I'm going to explore this path. I think this is the right place. As long as Christian is willing to give me enough time to get in his ear about this idea, I can prove that I can do this. If he's actually open to it…holy crap, what if it did happen here?!"

June 2017 was when he gave the official green light, and we announced HOME at the 615 Day on Fatherland.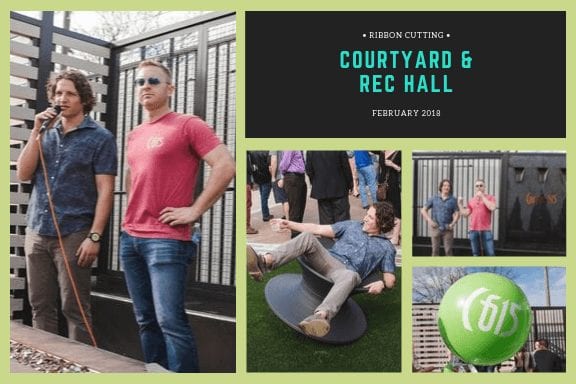 We made brochures with both of our pictures on there! I still have a couple of them somewhere. Crazy, man! He believed in it, and I'll say I've just never met anybody quite like Christian. He's a pretty special cat.
---
Andra: I knew bits and pieces of that story but I never had the full picture before now. That's a fascinating tale.
Logan

:

The timing! I always challenge people because they put themselves in a box as far as what is possible. They forget that timing is really everything. You can just run into one person that can change your entire life!
Andra: It's funny that you mention the $50,000 small business loan, because I just listened to your podcast on The Business Side of Music, and you said that when you were doing the contracting for the garage renovation, the drywall alone cost $50,000. So how, logistically, were you able to put HOME together?
Logan: Do you mean where did the rest of the money come from?
Andra: Yeah [laughs]
Logan: So, once we started getting into it, and started understanding how much it was going to cost, I basically ended up having to do a home equity line of credit against a house that my mom owns in Benton, Arkansas, that she rents out. She owned it, and now it's mortgaged, but it was worth $200,000. That's still how HOME is funded.

That's where the money came from, but it made it so much easier once Christian was on board, and once he saw where it was going to. I'd rather spend $250,000 to do it at Center 615 than spend $50,000 to do it over where UPS is now. Even though this location has made me work probably 10x harder than that one would have, I bet it's come 10x farther than that one would have in the same amount of time.

I'm giving you a key to a million-dollar facility. Even that has been a tricky sell sometimes because at the end of the day, I'm changing the model. That's what's been so challenging is getting people to think about what they do differently. 

That's where Christian came in with some good advice. One day I said to him, "The numbers aren't so good. I'm about to max out on all my credit cards. This is not a good situation." 

He pulled me aside and said, "Look, you know, when I opened Bricks [in 2009], nobody in Nashville had heard the word 'co-working'. For the first 6 or 9 months after opening, I'm saying the same thing. 'I'm going to go bankrupt. This is it. I bit off more than I can chew.' And all of a sudden, about 9 months after I started, there was a shift, and people started getting it."

It's been just a lot of faith that Christian had in me, that I had the project, and that the bankers had the idea. It's pretty wild.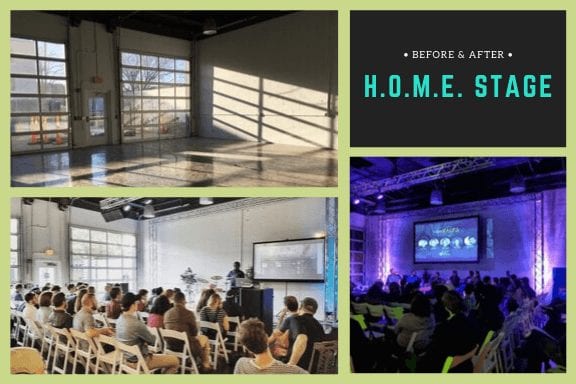 Andra: So is there something you wish you could go back and do differently?
Logan: Yes, there's several things I wish I could do differently. 

If I'd learned sales and really buckled down on some more project management delegation type of techniques…I didn't have that. I just had a f*** ton of work ethic and drive, and I was smart. I understood marketing fairly well, so I was able to get the word out. But then, what to do once the leads start coming in? What to do to actually get it through the pipeline, keep track of all of them, acquire the right data, organize it, and practice data hygiene. I didn't even understand what data hygiene meant. 

If I could have gotten somebody to do it for me…I can only imagine the number of members we would have gained and retained if I'd been collecting the right data on the way in to understand really well who our members are, who needs to connect with each other, what needs to happen, and how I can communicate that to them.

I just kind of had this idea, and I was like, "I can learn it. I can figure it out." Would I have done stuff differently? Yeah, I mean, we made some mistakes in the construction, but it was all part of the course. And I'm really happy with how that all came out.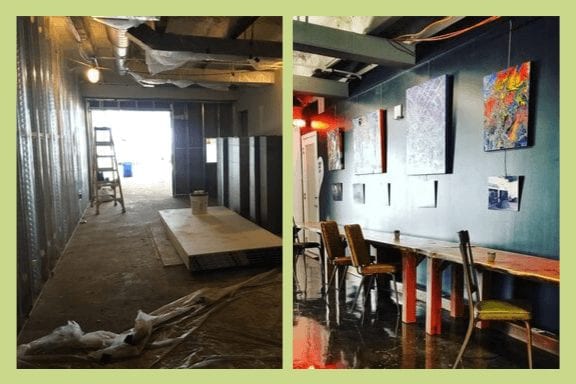 Andra: Imagine Logan 5 years ago. If that Logan could see you now, what would he think?
Logan: That I need to do more yoga and eat healthier. [laughs] No, I think he'd be impressed at the impact that I'm having on people's lives. Seeing people grow, helping people, and teaching people are my primary drivers as a human being. 
Andra: I mean you've helped me. When I was your intern in Summer of 2018, I cut my teeth on interviewing people and writing blogs, and now I have this job because of you. So, thank you.
Logan: If I had to give myself a pat on the back, it would be over actually doing something meaningful with my life. It was hard for me to reconcile with just being an artist because on some level, I had reached a conclusion that my purpose in this world had to do with service. Then, I didn't understand how to combine serving people with being a recording artist or a touring artist. Although, now I see artists that treat their career as serving people. When they step on stage, they're serving the audience. 

But for me, once I pulled my head out of my ass in my late twenties,

I really wanted to do something meaningful with my life. I started understanding how short life really is, and that I was just going to fade away. The best thing we can hope for is that while you're here, you had some impact on some people and some stuff that you did lives on. 

When I made this shift from being an artist to working in artist development, there were immediately things that started happening. I was meant to develop other people and not just myself. I was so into self development, and I spent so long doing that to myself that I just got this hardcore discipline. But I got to the point where I needed to start sharing that inside work ethic, that drive, and that sense of purpose and inspiration. Combining that with my growing knowledge of the music industry I was learning at Belmont, all of a sudden the idea of HOME just kind of clicked. It made so much sense. 

I was like, "Woah, there could be a really cool professional community that helps people to have better lives, to take control of their life and career as an artist, to surround themselves by other empowered people." I think that's really what Center 615 is about, too. That's why we ended up really meeting on that level. 
Andra: I've noticed on HOME's Instagram stories that you have a lot of Homies playing at The Analog at the Hutton Hotel. Do you have connections or ties there with that venue?
Logan: We did a "take over" there last week during Summer NAMM. That's probably why you saw so many promos. We put that show on and co-promoted it with a booking app called FanFlex. 

Let me tell you the reason we started doing shows at other venues. With our last Homie survey that we put out in April or March, I got a lot of responses that people wanted more chances to perform. They said, "Why aren't we using the stage room?" But they didn't understand the economics of putting together a show. We don't have a bar. If we were going to make thousands of dollars every night from doing shows here, sure! But if we're going to just staff it and promote it so that you guys can invite your friends over…that doesn't make sense in this scenario.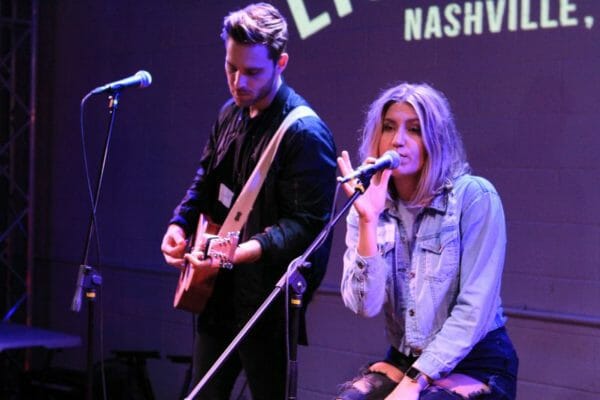 What we can do is use HOME's clout and say, "Let's do a venue take over." They [at the venues] know if I'm going to promote it, we're going to drive people. It's easier for me to just talk to them and sell them on that. Then, we'll put in whatever artist we want to. We'll promote it as a community, so everybody wins. As a result, the artists get noticed at other places. I don't want us to become insulated. I want us to be out there. I want HOME to be work space, that's the incubator.

With our space, ideally, it's just filled up with people doing video work, or tracking, or something like that. 

Whenever we've co-promoted the Writer's Night with Lightning 100, that's been a huge win for everybody involved. If we did an industry showcase, where we know a member is really ready, and we can do a 6 in the afternoon, 30-45 minute set for some label people and some managers, or whatever, that makes a ton of sense. 

HOME is a brand new way for people to pursue a music career that just has not existed before. It's really hard to get people to understand that, but the people that are getting it, actually coming in, and engaging…they're the right kind of people.

We've created this environment that's conducive to entrepreneurs.

It's all about mindset. It's all about the story you're telling yourself. It's all about your self-imposed limitations. It's all about being able to take on a new skill set and believe enough in yourself to get it done. All these different things⎼that's the Golden Goose for an artist, and there's not enough conversation going on around helping an artist think like an entrepreneur. 

Now that I'm really understanding more about HOME, I think that's our biggest thing that we can help shift in the long term from start to finish. As soon as somebody thinks they're good enough to do it professionally, they need to go "Now I'm taking on the hat of an entrepreneur. My talent alone doesn't mean anything."
Andra: It's really a business being a professional musician. The word musician really kind of only applies to someone who is playing music, and it just stops there. But if you want to be a musician as a career, you have to emphasize that it's a career. It takes work, and it takes hours.
Logan

:

Ultimately, you have to make people believe in you. If you can show up enough times to convince people that you're capable of taking it all the way to the arena, or to the stadium, somebody's going to put that money in the tank and see what happens. 

I have connections at this point, it's just ridiculous. I didn't really understand that was going to be so much of a thing. I thought the facility and the concept alone are just going to speak volumes. Then I kind of got thrusted into this kind of leadership position, and I'm good with that because I kind of knew that was going to happen in my life anyway. 

But it wasn't like, "I'm going to create HOME, and I'm just going to end up with all these contacts and speak on stage." It's been really interesting to see how my network has just exploded.
Andra: Have you used Studio 615?
Logan: That's honestly a little bit outside of our budget, you know? And what I've talked to Christian about is potentially doing a Homie field trip where 10 of us throw in a hundred bucks. I think he said it was a grand for a half a day. If I can line up a handful of the other members, we go out there, and we take it over⎼we could all come out with some cool stuff. Clientele for Studio 615 are willing to pay a premium on that, and they really appreciate all the resources there.
Andra: If you could give a one-sentence piece of advice to people who have an innovative and entrepreneurial mindset, what would that be?
Logan

:

Learn to motivate others, identify your key supporters, and then nurture that relationship as much as possible.
---
We at Center 615 would like to thank Logan for taking time out of his day to let us pick his brain about his business and past experiences for this Member Spotlight feature.