This Member Spotlight features Ashley Atz from Recording King, a company born in the 1930s that crafts and sells vintage-style guitars, banjos, mandolins, and lap steel guitars, to name a few.
Three music industry Member Spotlights in a row! (1-H.O.M.E. 2-MTheory 3-Recording King ; are there prizes in tic tac toe?)
As I sat outside Ashley's office door, in the "waiting room" type of area in the Upper West Wing breakroom, which is quite chic and cozy, I spotted Ashley mid-conversation with someone who works with Chris Lee down the hallway. Unapologetically eavesdropping (is it technically eavesdropping if the conversation is out in the open?), I overheard Ashley explaining what it is he does. Primarily, he brings in musicians, of the string playing variety, and jams with them using the Recording King instruments tactfully arranged in his office suite.
The moment I stepped through the doorway, my eyes widened at the sight of the beautiful variety of crafted wooden guitars, mandolins, and banjos perched on the walls like valuable artwork in a classy museum. Now hesitant to call his space an "office suite", on account of it being more similar to the acoustic room at Guitar Center, or better yet a rare guitar shop/showroom, Ashley invites me to sit down on his large, red leather couch, framed by two side tables adorned with two table lamps. My eyes glance down at the base of the matching red lamps and notice the pile of strewn guitar picks, ready for picking and plucking. Surrounded by silent instruments, I barely notice the black faux alligator skin chairs across the coffee table from where I am sitting. There is some serious "Old Western" energy bouncing throughout the room, colliding with polished wood and modernity, in a choreographed way.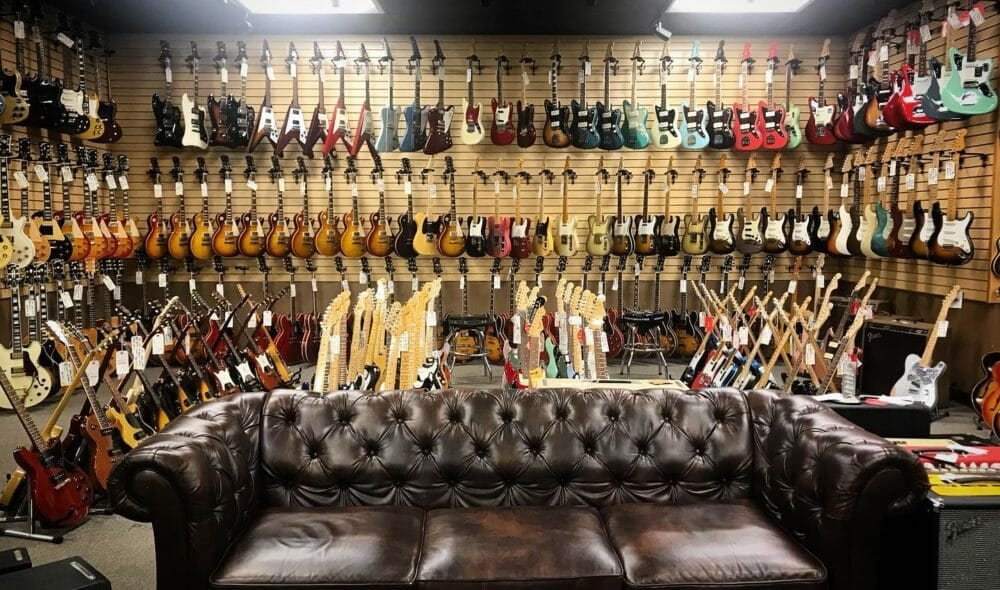 Ashley himself sports a red t-shirt, a gray speckled quiff, and an understated nose ring. Since he actually does have young kids, I feel comfortable calling out his "cool dad" vibes. Complete with inked arms and a super chill demeanor, Ashley is an ideal candidate to jam with musicians for a living. His LinkedIn profile succinctly states his role as:
"Building successful relationships via music and media.

Specialties: Marketing, Audience Growth, Creative Design, Social Media, SEO, Content Generation, Branding, Team Management, Product Launches, Trade Show Management, Artist Relations, PR." 
Ashley emphasizes that Recording King instruments are affordable and perfect for musicians on the road, aka playing live shows in front of a real audience on the regular. These are instruments meant to be seen!
Andra: What is it exactly that you do at Recording King Guitars?
Ashley: My primary role is artist relations, so I'm the point of contact for any artist who is interested in our instruments.
A few of our past and present "clients" include:
Justin Townes Earle ⋅ Banditos ⋅ Carl Jackson (grammy-winning player for Glen Campbell) ⋅ Christian Letts (Edward Sharpe and the Magnetic Zeros) ⋅ Sasha Ostrovsky (Darius Rucker) ⋅ Bones Owens ⋅ Robert Ellis ⋅ Shakey Graves ⋅ Shovels & Rope ⋅ Anthony LaMarca (The War on Drugs) ⋅ Aaron Lee Tasjan ⋅ Lukas Bracewell and Jon Galletti (Jake Owen) ⋅ Lars Thorson (Kane Brown) ⋅ Brett Resnick (Kacey Musgraves) ⋅ Derek Wells (Maren Morris, session genius, and superproducer)
Andra: How did you get into the business?
Ashley: I've played in bands for years, so I understood the industry, and I'm super comfortable striking up a conversation with anyone, so it was kind of a natural fit.
In fact, his brother is a head instrument designer and invited him to play the instruments one day. The rest is history…
Andra: I saw that there was a Recording King guitar in the Coen Brothers' Ballad of Buster Scruggs movie. That's so cool! How did one of you guitars end up there?
Ashley: I wish we could say we were responsible for that! We first saw it when everyone else did, in the promo still; but here's the thing about it—our designs speak to a specific era of guitar building, and for the Coen brothers to see our instrument as representative of that classic, cowboy troubadour style was proof to us that we struck the exact chord (pardon the pun) with players that we were aiming for. It was extremely validating for our design style and message.
We've been lucky to appear in a number of films and on TV, like Buster Scruggs, Orange is the New Black, Real Country, and on almost every late night TV show in the hands of our artists. We have some upcoming placements too, but I can't say anything about them yet until the press photos are released.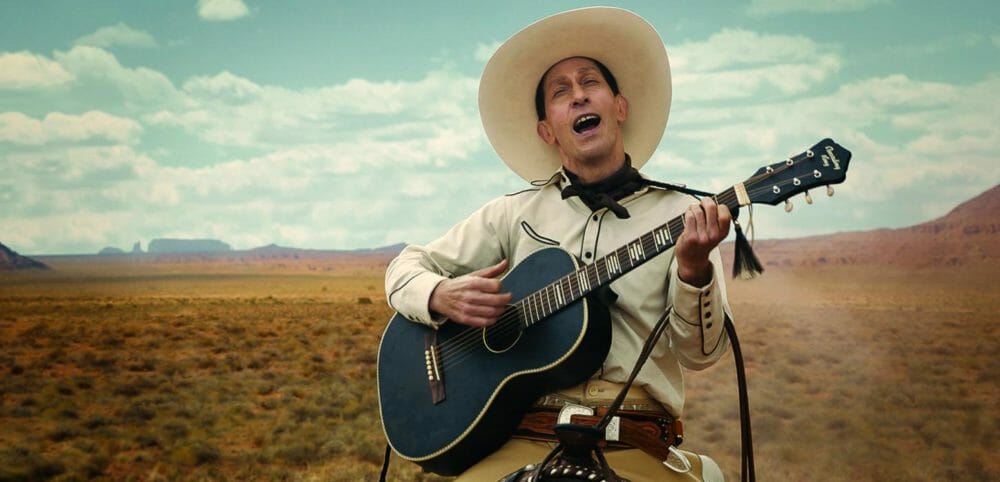 Andra: Since Recording King specializes in an "old school" presentation/aesthetic, what are your thoughts on new music today moving away from "analog instruments" and more towards computer programs and downloadable software to make music?
Ashley: Today, there is just more music out there. 
Plus, while 80s synths and software might be popular now, it might not be popular 3 years from now. Music tastes are like a swinging pendulum. Fully acoustic Americana music was widely popular less than 5 years ago. Who knows what will be popular in the future. 
And with more accessible ways of making music, the industry can cater better towards the DIY "middle class" musician. It's easier to make and record music, which means there is a saturation of all kinds of fragmented genres, not solely electronic, not solely acoustic. 
Andra: I saw that Recording King is based in Hayward, CA. How did you end up here in Nashville?
Ashley: Our HQ is in Northern California, but we opened this spot in Nashville about a year ago to connect more closely with local players, who often end up being music tastemakers for a national audience.
Recording King Guitars had been coming out to Nashville for NAMM events, and realized what a perfect opportunity having roots here would be. Ashley made the move from CA to Nashville with his family, and they're still getting used to the humid weather.
Nashville is a great fit, there's music and musicians everywhere, and people we've met have welcomed us with open arms. We're kicking ourselves for not putting down roots here sooner.
Our goal for this place (our artist relations showroom at Center 615) is to make it a good spot to hang out, play some instruments and be a resource for artists and local music stores; the location makes it perfect for us because it's in the heart of everything—all of East Nashville is just a few steps away. Plus, there are so many options for us to have gatherings or events at Center 615—the HOME venue, the roof deck and outside courtyard, etc. It's just been a great place for us to get involved in the Nashville scene.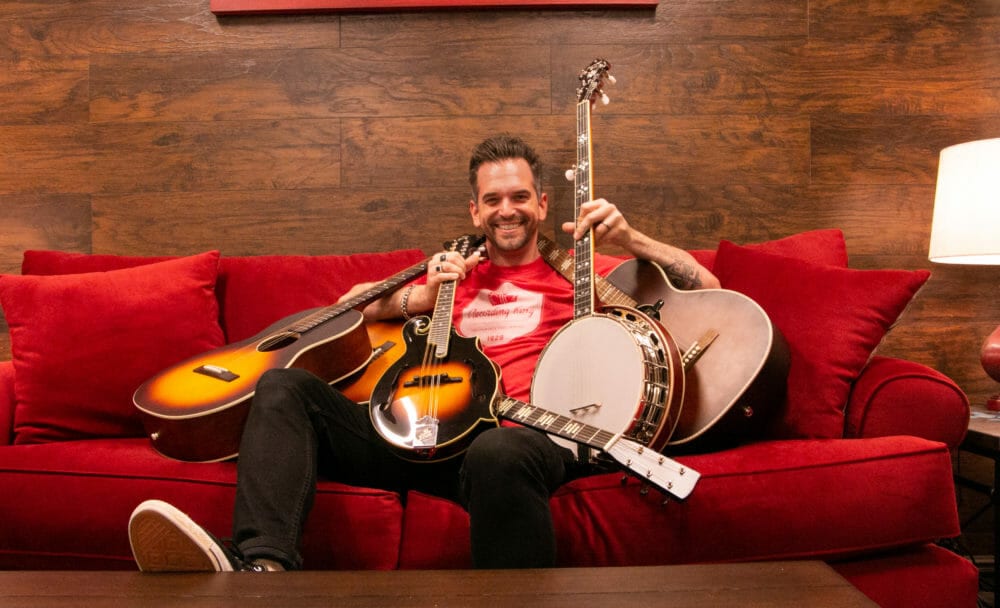 Andra: What do you like most about having office at Center 615?
Ashley: With the location, we have easy access to all the East Nashville live music spots, which is great for bringing artists here after their shows to jam with them. Adding to that, having 24/7 keycard access to the building is essential. Since most musicians have a different working schedule than 9-5, we're able to cater to their schedule.
Actually, when I toured the Center 615 and HOME space, I ran into someone I knew back from California! While checking out the HOME studio, Brad Dollar, their producer-in-residence, turns around in his chair and I immediately recognize him! It was crazy!
Andra: When I was over at HOME's recording studio, I noticed one of your lap steel guitars sitting out. Can you tell me more about that placement?
Ashley: It's part of our company DNA to connect with the community. We've had really good luck with word of mouth promotion, both from everyday players and artists we work with, and we spend the majority of our marketing budget putting instruments in the hands of players and letting them share their experiences with other musicians. We've always believed that if you do good work and you're a good person, players will come. So far that strategy has served us really well!
HOME is the perfect collaboration, since members use instruments, why not give them the opportunity to try out some from Recording King?
At the moment, we're waiting for the stars to align for a guitar giveaway to Center 615 members. Stay tuned to find out more.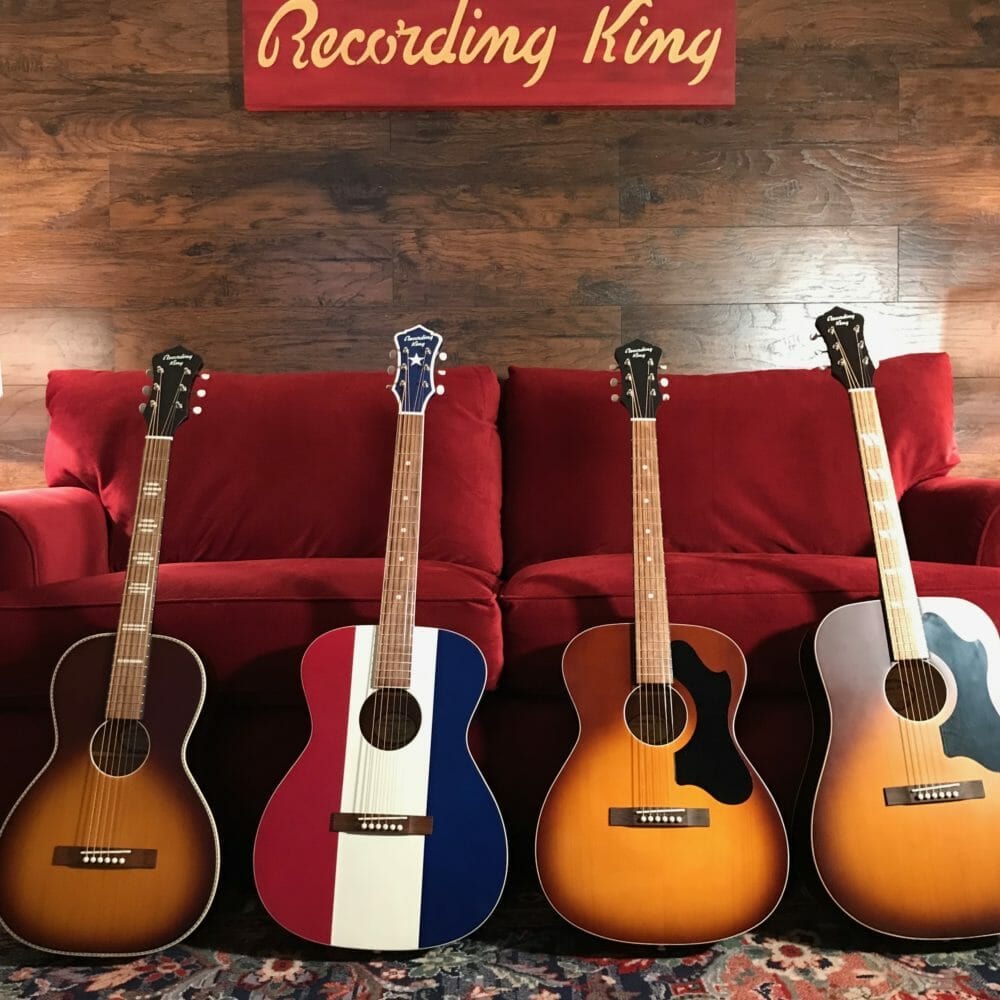 ---
Center 615 would like to extend their sincerest gratitude to Ashley Atz at Recording King for allowing us the opportunity to interview and write this blog post.