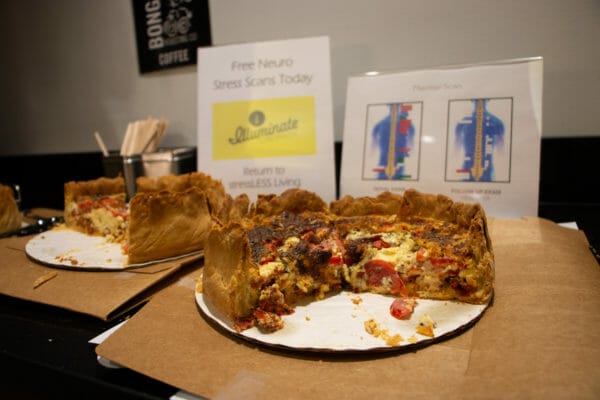 During the social, I spoke more with Dr. Loni and learned about her and how she discovered the realm of chiropractic, leading to her own Illuminate Chiropractic.
What actually introduced her to the world of vertebrae was working in HR for a chiropractor. The doctor she worked for strongly suggested she go into practicing herself, to which she was ambivalent (who wouldn't be?). However, after bouncing the thought around in her head like a pinball, she eventually went back to school in Iowa, earned her doctoral degree, found the love of her life while eating at Edley's BBQ, got married, moved to Nashville, and the rest is history.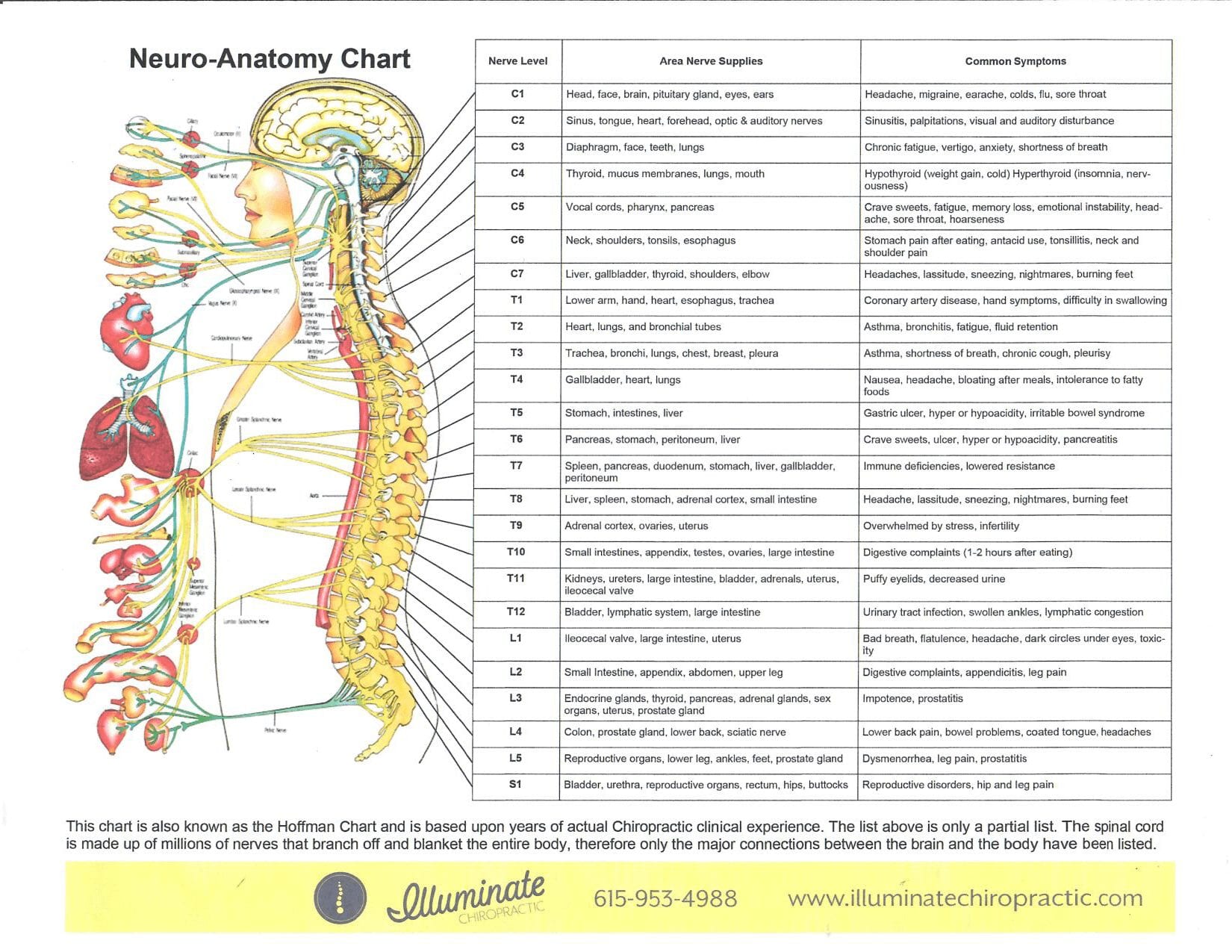 At the breakfast social, she displayed flyers of the neuro-anatomic system, illustrating how the nerves in the spine connect to the organs in the body, and the different symptoms that can arise from improper alignment in each area. When I first spotted the chart, I ran my eyes down the symptoms column, and occasionally would read a line and think to myself, "Oh, dang! I've got that!"
Following the filling of morning bellies and coffee fuel tanks, Dr. Loni conducted a pop-up in our Main Street Gallery space for free on-site stress scans.
Dr. Loni created this promotional blurb for the stress scans:
"Where do you hold stress in your body?

Dr. Loni from Illuminate Chiropractic is offering free on-site stress scans to locate exactly where your body holds tension. Learn about the three (yes three!) different types of stress, as well as exercises and stretches for relief—specifically tailored to you."
Of course I signed up for a stress scan, which was a truly fascinating experience. The whole pop-up process took about 20 minutes, which included a "sample scan" (my description, not hers), an explanation of the scan, and ways to reduce the stress indicated by the scan. Before the actual scan, I filled out a slip of paper with my name, contact info, and circled from a list of common symptoms which ones I have that I would like to treat.
Once I walked through the Main Street Gallery door and handed her the slip of paper, Dr. Loni conducted the scan with a thermal infrared instrument that looked like a cross between a hand held barcode scanner at the grocery store and a rolling face massager, but obviously different from a grocery store barcode scanner and face massager.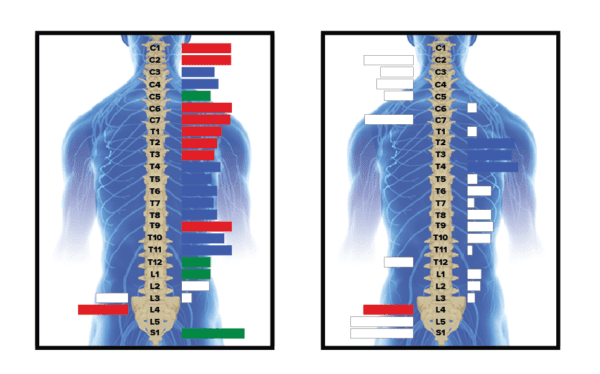 She only scanned from the base of the neck up, about C5 to C1 (refer to photo above). The scan revealed that I held stress in places that aligned with symptoms I was experiencing, according to the chart she brought to the breakfast social.
After showing me where I held stress, Dr. Loni demonstrated a nifty neck stretch to realign my upper spine in order to allow my nerves to communicate affectively with one another, and to ultimately relieve the symptoms I was experiencing. The stretch can be done basically anywhere at any time, since it only involves me moving my chin back towards my spine, giving me a super attractive double chin. She recommended I do the stretch in 20 second intervals, doing about 2 to 3 intervals at a time.
To this day, I practice the stretch when I catch myself hunching over my desk, and it certainly helps my stress and wellbeing. I definitely want to visit her office for a full spinal scan and assessment down the road.
---
From everyone at Center 615, thank you Dr. Loni for the generous breakfast and pop-up!