Nick Ogden first became an entrepreneur at the young age of 15. A friend of his father asked him if he cleaned boats. With little experience, he answered, "Sure I do."  Two summers later, he was cleaning every major hedge funders boat and was featured on the cover of the local newspaper. He eventually sold the business and moved down to Nashville to attend school at Vanderbilt. Since then, he's sailed around Africa, started a few business ventures and is currently the managing partner of Clear Blue Equity.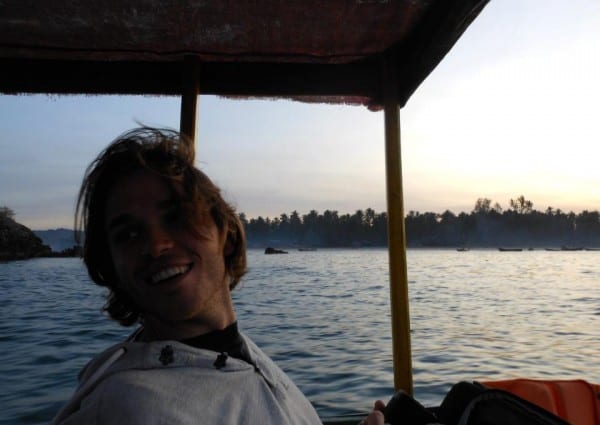 Q&A with Nick Ogden:
Tell us about your background:
I graduated college in December of '06 and started working for a private equity group, Covenant Capital, based in Belle Meade. Covenant Capital does value-add multifamily acquisitions, which means they renovate, fix and stabilize large scale apartment complexes and sell them. It started out as an internship and turned into a job. I was over my head at the time, but I learned a ton. I left in 2009 and worked on a nonprofit venture while simultaneously buying up small duplexes in and around East Nashville in 2011. It's grown a lot since then.
What is Clear Blue Equity?
We buy value-add real estate assets, which means we reposition and essentially take a property that's been run down and fix it up. The improvements typically come in an increase in rent, in which we stabilize and refinance it and take the money to do it again. More recently, I've been dealing with bigger properties. I'm currently in the the middle of acquiring a large portfolio deal, which will put me into the next level in my industry.
Can you tell us about Isabella Water, your previous venture?
While I was traveling, I was drinking tons of plastic bottled water — around six or seven a day. I decided to start selling metal reusable water bottles to fund wells in Africa. Simultaneously, I created a filling station to create a place where you could easily fill up a reusable water bottle in airports, etc. Now, you see those type of systems in the YMCA and other places, but at the time of my venture, the systems weren't widely known about. I was trying to figure out socially responsible solutions to the problem.
Have you traveled to Africa?
Yeah, I spent a lot of time there. I lived in Kenya and Tanzania for three months in 2003 and I've been to Botswana a few times.
I also did a NOLS trip, which stands for National Outdoor Leadership School. We climbed Mount Kenya for a month and hiked from village to village. I also sailed a bit while there.
I saw on angel.co that you're an investor. What type of industries and products do you invest in and why? 
There's a lot of different answers to that question. With the angel list, I've primarily been a part of a fund that the foundry group started. It's typically tech-based, with low basis investments in seed-based rounds. Many are doing well, but nothing's been a home run yet.
Do you have a life long dream project?
Hmm. My life long dream is to focus on serving others and be more present in my life. Through whichever business or way I can accomplish it, that would be my goal.
You have a lot of interest in social enterprise companies. Is there a reason for this?
I'm looking for something fulfilling. With my real estate venture, for example, there are many ways to rationalize that it's fulfilling, like creating new neighborhoods and providing nice places for people to live. However, it's not something that's making a really big global impact, and that's more of what I'd like to do.
What gives you the drive and courage to start out on your own?
I think the younger the age when you start taking risks, the more willing you get. As I get older, risks get riskier and more at stake. So really it's practice, stretching the levels of discomfort and how much I can tolerate.
Besides work — what do you enjoy doing?
I enjoy adventure sports like skiing and kitesurfing. Meditation is also something that's important to me. I've done a few 10-day silent retreats.
Life mantra?
I hope to live my life authentically and vibrantly.