Local hardcore band, Thirty Nights of Violence, filmed their latest music video "Marbled Regression" at Studio 615's facilities. Featured in Revolver Magazine, the video has since gained momentum. We have an exclusive interview with the director of the video, Joseph Wasilewski.
About Joseph Wasilewski


How were you first introduced to photography?
When I was 13 my dad bought me my first camera (Coolpix L120 Point and Shoot). I would use the black and white option and experiment with contrasty images and street photography.
In college I began taking photography more seriously, studying it and diving more into concert and music photography. 
When did you start video projects? 
I was working as the active Music Director at MTSU's radio station (88.3 WMTS), when former director Luke Schloemer proposed the station start recording live sessions. Unfortunately, no one was able to get the logistics together before I got into a leadership role, so we had to start from the ground up with a team of student crew members and camera ops. 
These projects taught me so much about multicam editing and producing, as I had to juggle budget, schedules, and MTSU's studio regulations. Briston Maroney's session is still one of my favorites.   
About the video
How did you discover Thirty Nights of Violence?
I actually met Zach (lead vocalist), James (Lead guitar), and Jake (Bass) during college. We became friends and kept in contact after graduating, and that's when I really got to know Kelly (Rhythm Guitar) and Ethan (Drums). Since we all clicked well, Zach approached me about directing their video after I had a couple of projects under my belt.
What were your favorite parts about using the Studio 615 space?
Definitely the full color range of the lighting board for the spotlight and mounted LEDs for the cyc wall. It was a huge step up from anything I've used in the past and it produced some great results. I still get chills looking at Ethan's vocal sequence during the middle of the video where the whole room is icy blue. 
Johnathan was also a joy to work with and was very flexible with us whenever we ran into a snag or had a scheduling conflict. Also the green room is sick 🙂
Who brought the blue couch?
The couch is actually a free Facebook Marketplace find that Kelly managed to pick up before the shoot. Unfortunately, the day we shot the video was also one of the biggest rain storms of the spring, so it was soaked by the time they got it to set. The guys were really good sports, and we managed to dry it pretty well before we used it. 
Who coordinated the wardrobe? It's very tame compared to the band's sound.
I coordinated with the band while they got their individual outfits together. We really wanted to make the video unique. The style of the album art reflects a more muted look and feeling, even though the guys are ripping through each section of the song. 
Was the model in boxers Steve Harrington from Stranger Things, or just a doppelgänger?
His name is Wyatt Day and he's an insanely talented model and dancer. I'd also like to think he's Steve's long lost brother.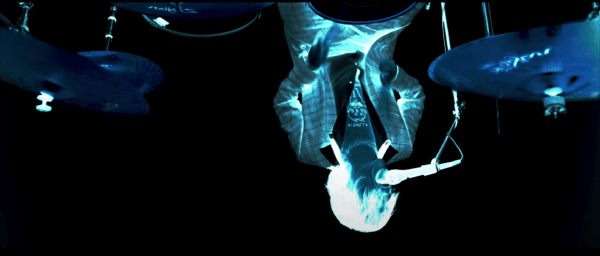 I love the negative shots synced with the drum hits. Was that your genius?
Yes, I was the editor and the idea actually came up unexpectedly. I accidentally made one of the frames negative while I was color grading in Davinci Resolve, and it looked really good. Once I synced it to the beats of Ethan's drumming, it reminded me of lightning, which is honestly what I think of whenever I see Ethan perform.
Final Thoughts
Most of the comments on the video predict the band is moments away from going big. Would you agree?
I absolutely agree. In my opinion, these guys are the BEST hardcore band in the Nashville scene right now and have massive crossover potential to broader audiences. It's insanely hard to gather an audience in the hardcore genre, but I think we'll see them playing major stages and festivals very soon. 
COVID happened since filming the Thirty Nights of Violence video. How have things been since, in terms of video projects?
I am luckier than most people in the film and entertainment industry at the moment, and it breaks my heart to see many of my friends stressing while their jobs and projects are put on pause. In my situation it helps that I do a lot of post-production projects as well as work with a very small crew. 
I'm definitely not where I was in terms of bookings and events in comparison to pre-covid, but I have faith that the film and entertainment industry will make a huge bounce-back once case starts going down, a vaccine is released, and restrictions are lifted. Many studios and artists will be hungry to get back to working on projects and releases.
More from Joseph
• Instagram • Music Business Podcast •