Just like most customer service businesses, you can find multiple types of coworking spaces. Depending on the kind of business you have, or if you're a solopreneur, certain coworking spaces will likely work better for you than others. So, how do you find out which coworking space works best for you without spending months—or years—of your time searching? Hopefully you can reap useful information from this breakdown of coworking space varieties.
First off, what exactly is a coworking space?
Different from your typical corporate office space with 5 or 10 year leases, coworking spaces give businesses flexibility and breathing room to scale up or down as needed without financial repercussions. Coworking spaces provide multiple membership options and shorter lease terms, which aid newer and smaller businesses as they find their footing. Simply put, a coworking space is one step up from working at a coffee shop.
Coworking spaces typically provide wifi, desk space, and common office amenities for small businesses to focus on their work rather than worry about overhead costs. Plus, with multiple businesses in the same building, coworking spaces allow entrepreneurs and businesses to network and create lasting relationships to help each other grow.
With the bases covered, let's dive into the specifics of coworking space types.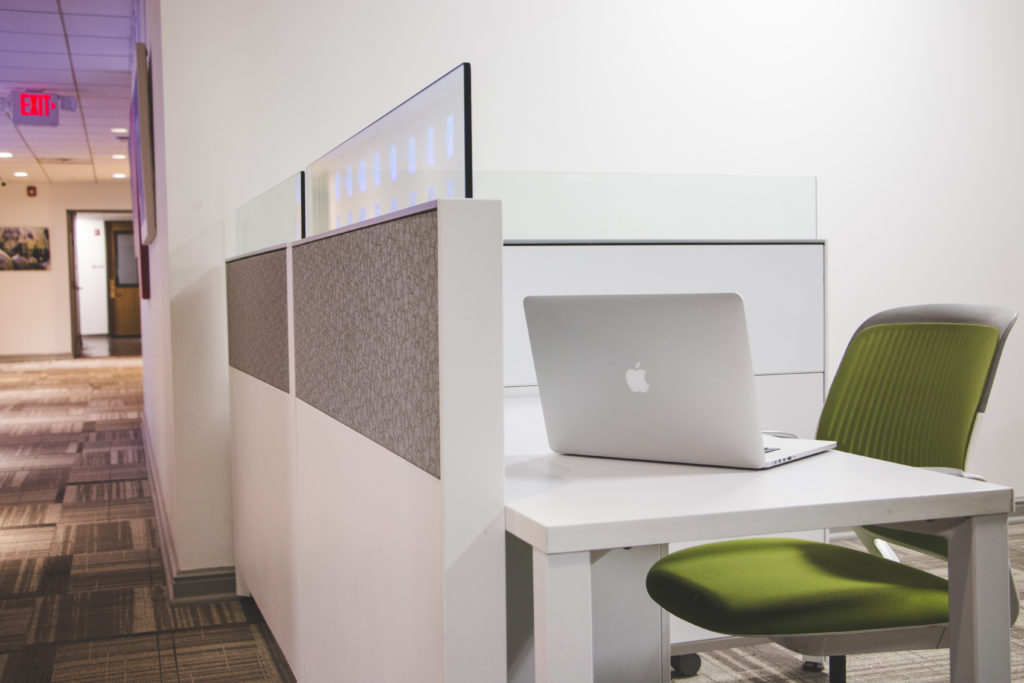 9 Types of Coworking Spaces
Open Concept vs. Private Office Space
1. Open Concept
Some coworking spaces have an open floor plan with hot desks to allow their members to pick an open spot for the day and intermingle with other coworking members. With an open concept, freelancers or solopreneurs can easily network with one another and build up their business contacts.
2. Private Office Space
Businesses who have an established core team and need a dedicated space to work together with minimal distractions may benefit more from signing a private office lease. A flexible private office lease allows growing businesses to focus while connecting with other businesses and individuals around them.
Regional vs. National vs. Worldwide
3. Regional
Coworking spaces centered in one area provide a tight-knit community and often attract businesses that focus on local customers and clients. These spaces likely place more emphasis on neighborhood involvement and support other small businesses in the surrounding area. For smaller businesses who strive to make more of a local impact, a regional coworking space may be the best option.
4. National
One step above regional is a coworking space with a national presence. They may have a few locations across state or providence boundaries, or all throughout the country. Coworking spaces with multiple locations sometimes offer membership options that will allow you to use their other spaces while traveling. For businesses who have clients in bordering towns or in another state that they visit frequently, choosing a national coworking space could be useful.
5. Worldwide
Of course most people can name at least one coworking space they've heard of before. Most of these spaces have a worldwide presence, meaning they have multiple locations in several different countries. Depending on the memberships available, this could be useful for those who travel far distances multiple times a month and need consistent space to post up and work, such as digital nomads with remote jobs.
Incubator vs. Established Business Community
6. Incubator
Fresh and unique business ideas frequently require venture backing and entrepreneurial training in order to breed success. As a result, incubator coworking spaces have rallied business mentors and venture capitalists seeking to help the next big idea come to life. These centers may require an application process for certain programs available to members.
7. Established Business Community
Well funded businesses who already have a fair amount of traction may prefer to work in a space with other businesses in the same boat. A more established professional community allows coworkers to grow their client base and meet businesses who can elevate and optimize their current structure. An established business community creates a relaxed atmosphere where vertical connections can easily take place.
Trade or Industry Specific vs. Diverse Businesses
8. Trade or Industry Specific
Solopreneurs, craftspersons, or artists with a specific discipline who need access to a studio space that provides specific tools can work at a space specializing in their trade or industry. Not only would you have access to the tools you need to execute your work, but you have a community of like minded individuals to connect with. These maker spaces and industry specific coworking spaces allow members to interchange fresh ideas and give meaningful advice to others that are relevant to their trade.
9. Diverse business community
On the other hand, if a standard office space is all you need, joining a diverse business community allows you to consider new ideas and connections you otherwise may not have considered. Some businesses benefit from connecting with other businesses entirely different from their own. For example, an insurance agency can greatly benefit from working with an online marketing agency. A diverse business community provides the opportunity for these invaluable connections.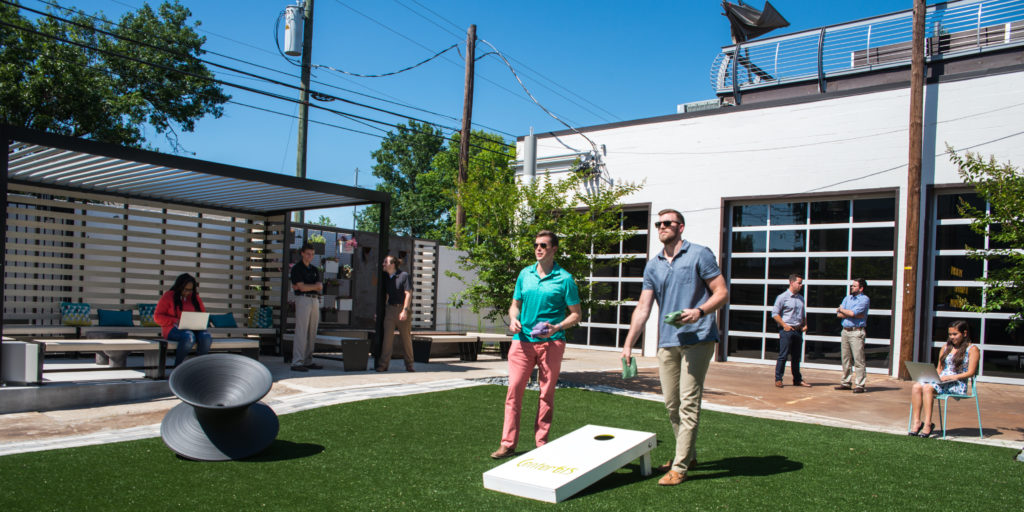 More to consider when looking at types of coworking spaces
Amenities
meeting room access
break room access
mailboxes
community events
Aside from the different types of coworking spaces, you should consider what amenities and conveniences they provide. Most coworking spaces generally provide a break room with coffee and some type of meeting room access. However, some spaces may charge for access to these amenities, while others will provide free meeting rooms and coffee.
One perk most businesses look forward to at a coworking space is the ability to have a business address for mail and packages. Be sure that if this is something you need, the coworking space provides them.
Of course, what would coworking be without community? If you desire to be in a coworking space that organizes community events for networking and simply getting to know your neighbors, double check for a community calendar.
Location
commute
parking
convenience to coffee shops, restaurants, and parks
Where you work is just as important as how you work and with whom you work. Do you need a coworking space with a short commute? If you drive to work, does the coworking space have adequate parking? Is parking an additional cost? For breaks during the day, does the location of the coworking space allow you to walk to local grocery stores, restaurants, coffee shops, and parks?
When you search for your ideal coworking space, be sure to look into the surrounding area within walking distance. We all know how beneficial a change of scenery and moment of fresh air can be for our work productivity.
Membership Options
day passes
monthly memberships
lease length options
How long will you need to work at a coworking space? Do you primarily work from your home office, but need to get away on occasion? A coworking space that provides Day Passes could be ideal.
If you're not sure you want to completely move out of your home office, but don't want a lengthy commitment, try searching for a coworking space that provides monthly membership options. For a step above monthly options, some spaces allow members to sign private office lease lengths as little as three months, though most might require six months to a year for a private office.
---
What type of coworking space are we?
We at Center 615 take pride in fostering a local and diverse community businesses. Our variety of members enjoy access to free meeting rooms, free parking, and twice monthly community events to relax and mingle. Are you in Nashville and would like to see if Center 615 is the type of coworking space that best fits your needs? Give us a call to learn more or schedule your tour today.