Disco, discovery of wildlife, and now disc golf?
Evolving creative space Studio 615 now includes a semi-private 9-hole disc golf course. Self described as "recreational to intermediate", the new disc golf course welcomes beginners and motley friend groups to take a shot!
Studio 615's very first public disc golf clinic is Sunday, March 13. A perfect inauguration, the event welcomes all self-identifying women interested in learning how to play the game—or who want to improve their game.
Join Rewthie Toothie for her free Women's Putting Clinic with instructor Jeff Casalina.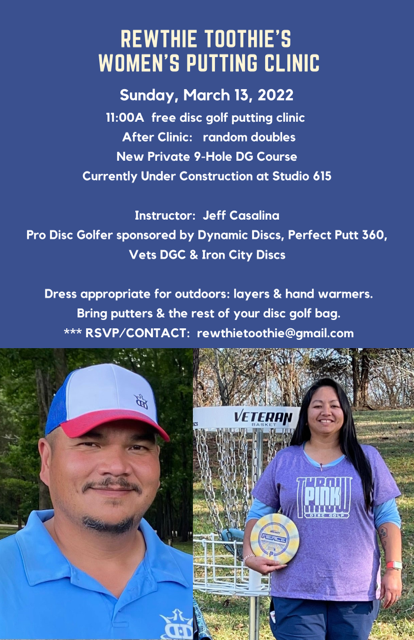 Q&A with Rewthie Toothie
How did you find the disc golf course at Studio 615?
I work on a lot of disc golf events and projects with Kyle Copeland, who designed the course at Studio 615. We are both on the Board of Directors of Music City Disc Golf 501(c)(3) nonprofit and volunteer at the Two Rivers disc golf course.

What about the clinic are you looking forward to most?
The most important part of the clinic is having fun and building community—specifically a community of lady disc golfers that lift each other up, support each other, and focus on the positive.

Why did you decide to organize a disc golf clinic specifically for women?
My friend Jeff, a local pro, asked me if he could run a putting clinic and if I could rally up the ladies. We both love the sport and want to share our love for disc golf by growing the sport.
The off-season (typically Dec-mid March, i.e. the cold months) is the best time to hone in on your disc golf skills, form, and technique. Last January I organized a disc golf clinic, but it was freezing and kind of miserable. Hopefully this year we'll have better weather since the clinic will be in March.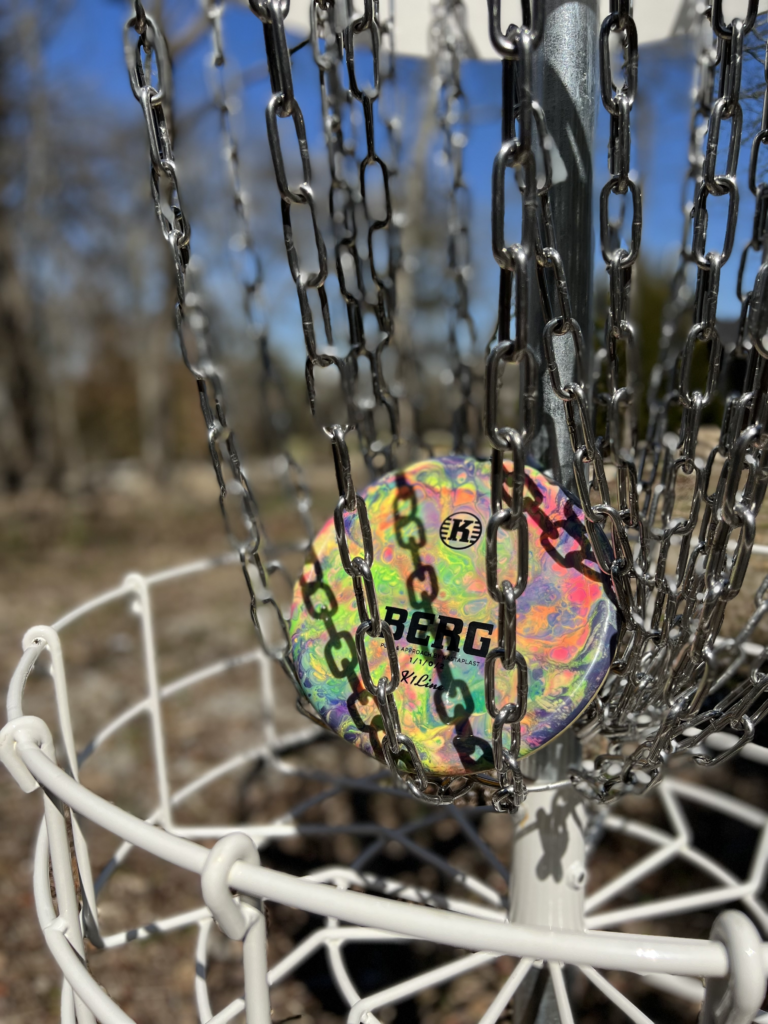 What is your favorite thing about playing disc golf?
This question is always so hard to answer. It relieves stress, and it's fun being outdoors in nature. I enjoy how it puts you in competition with yourself both mentally and physically, with the course, and with nature.
Disc golf can be whatever you want it to be to you, for you and for what you want it to be in your life. For example, if you want to just be a casual disc golfer, then you can absolutely do that. If you want to just play with one disc, then you can do that. If you want to travel around and play tournaments, then you can do that. If you don't want to play and just want to facilitate tournaments/events, then you can do that. You can play by yourself, or you can play with 20 people. If you want to play in the dark, you can do that. If you want to play 7 times a week, then you can do that.
Disc Golf can be absolutely whatever you want it to be for you and for your life.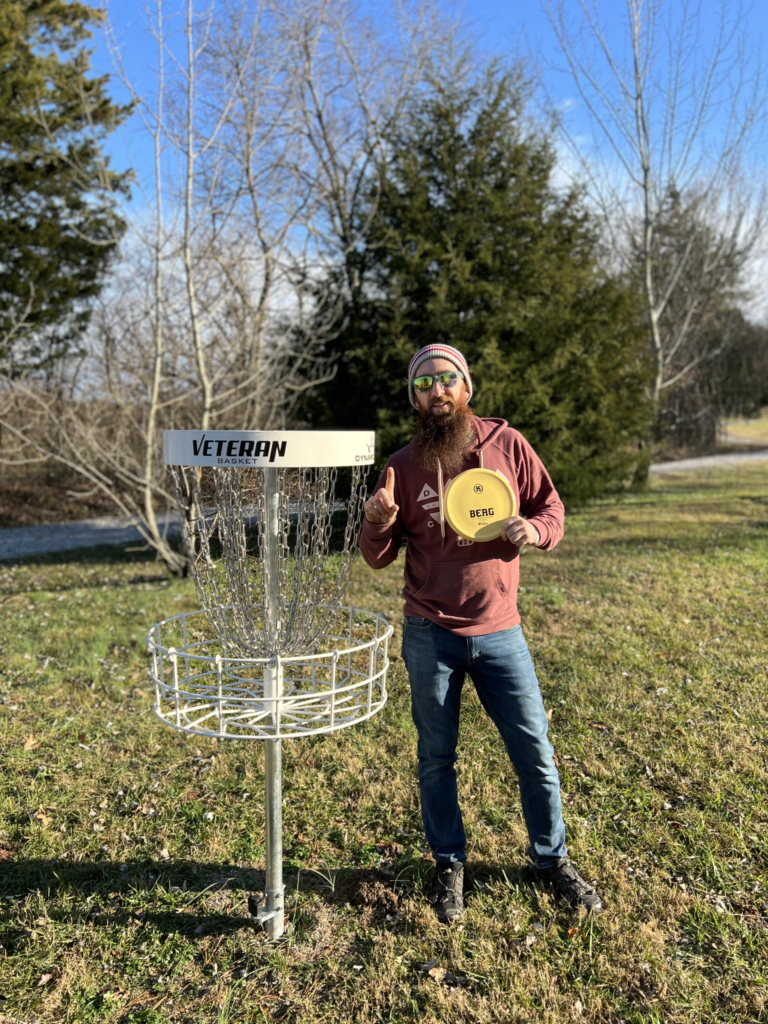 About Kyle Copeland and Copeland's Cove
Kyle Copeland, who designed the disc golf course, started playing the sport in August 2018 and immediately joined the Music City Disc Golf Club the following year. He has fallen more in love with the sport ever since.
Eventually, Kyle began volunteering at Two Rivers Disc Golf Course; he assisted with a full course redesign and renovation, including new signage, tee-pads, baskets, and the installation of a brand new welcome sign and course map. Today, Kyle is one of the course captains at Two Rivers, runs events at that location, and keeps up with course maintenance and improvements. Additionally, Kyle participated as course Tournament Director in 2020 and 2021 at the Music City Open, two of the largest professional disc golf events in Nashville's history. He now acts as board member for Music City Disc Golf club as the special events coordinator.
The disc golf course, in Kyle's words:
Copeland's Cove is a semi-private (by request or reservation only) par 28 9-Hole DG course nearing final construction. The 9 holes range from 161 to 410 feet averaging around 250ft and provide a good variety of shot shaping opportunities. The course features natural tee areas but we are currently in the works of adding artificial turf tee pads to a number of the holes. There is a good mix of shot shapes that utilize landing zones and basket positions that highlight some of our favorite areas of the property such as a few of our really large and mature trees, our pine grove, or the old in-ground pool that is now backfilled but still has many remnants such as the old diving board frame, blue pool tiles, all faced by the old broken sidewalk.
Favorite Features:
I've got to start with the all white Dynamic Discs Veteran baskets. We were lucky enough to be able to work with our friends over at Dynamic Discs and get arguably some of the best baskets on the market, and I think we've got the best looking set in Nashville.
I'd also have to say the shot variety and length. One of my favorite aspects of the sport has always been the number of different ways that you can throw a disc and the different kinds of flights and shapes that can be achieved by doing so.
When designing the course I tried to keep two major things as my focus: variety in hole shapes and being accessible to a wide array of player skill, catering more to beginners and those new to the sport. Because of the privacy of the location, I've always seen this course/space—at least in its current layout and location—serving as both a casual place to relax with a few friends after work, and as somewhat of a "training grounds" for new disc golfers. Plus, the shorter length of the holes and forgiving fairways provide ample opportunity for beginners to try new things without being punished by the course for missing their line.
For more advanced or experienced players, the variety of different shapes to the holes gives a chance to test every shot in the bag. It's a great place to work out the kinks in any portion of your game as the semi-private nature of the course allows for you to really take your time and play the course at your own pace.
Since this will be our first year that the course is fully playable, I'd love to see us get the word out and start getting more requests from people who'd like to come see what we have to offer while also keeping our focus on catering to small groups, boutique events, and clinics.
In the future, I would love to get a proper logo designed to use for wayfinding signage and a custom stamp to use on discs for course fundraisers. The course sits on the grounds of a future development, so it will evolve and eventually be integrated into future conservation areas on the property.
Next major improvements to the course will include upgraded teeing areas as well a few alternate holes and teeing positions to test some of the skills of the more advanced players.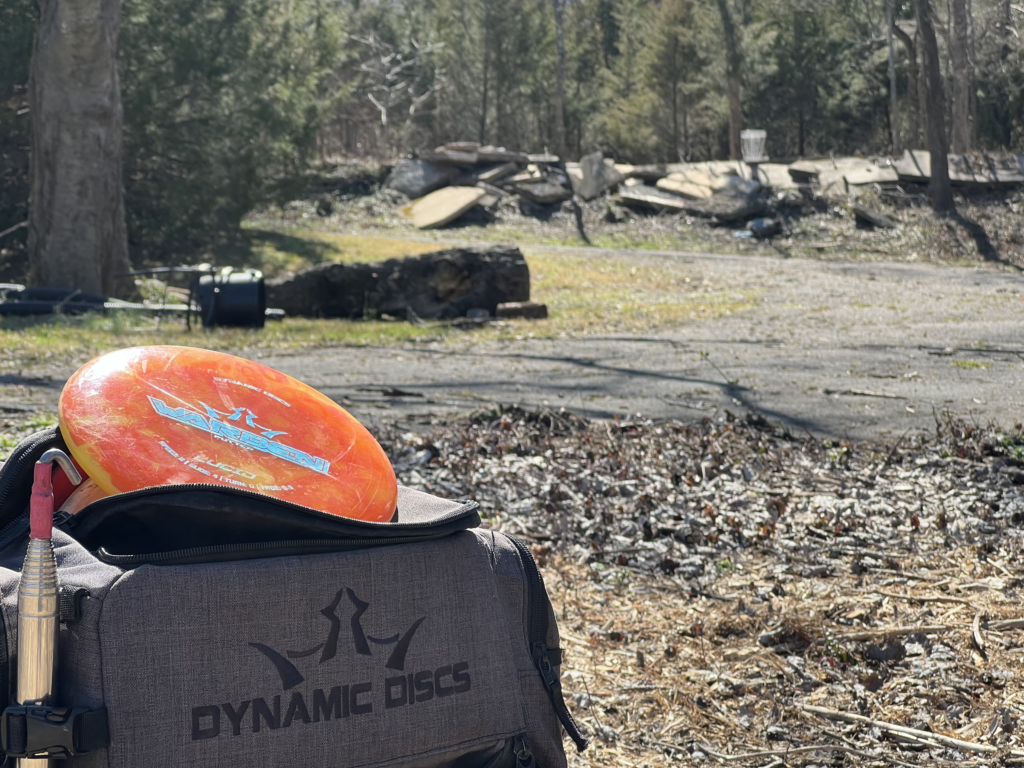 Disc Golf Course Player Reviews:
What are your favorite course features?
Loki – My favorite feature is the privacy.
Talbot – One of my favorite things about the course is playability for it's relatively small size. Normally with a small 9 hole course, I feel like I never need much of my bag. And while it doesn't have every shot shape under the sun, it has enough variety to where I feel that the aspects of my game it tests are well rounded.
Rick – What I like about the course is that it requires you to throw more than one shot type. There's gentle elevation changes and a beautiful natural setting that you don't necessarily expect to find in Madison behind a studio building. Some holes are deceptively longer than they appear, it's not a putter only course. Overall it's fun, not too long to play an unplanned round, and full of potential to grow and improve further.
What do you feel it provides best?
Loki – It provides a good mix of open and tight shots with various distance shots.
Talbot – As someone in the film and production community, honestly my absolute favorite thing about the course is that it's perfectly placed and sized to play a round during a lunch break at the studio. Being able to play a quick 9 within my half hour break is the dream, and has been since I started playing. It's a good little course that tests a well rounded skill set, while being short enough to play quickly. It's awesome.
What would you like to see at the course or see it grow into?
Loki – I'm excited to see the new tee pads and inner wooded expansions.
Talbot – I would love to see concrete tee pads and signage, but what I hope more than anything is that it's able to expand enough to not have crisscrossing fairways. As a private, low traffic course it's no issue at all. But if it goes public, I would see that as an issue.
Do you have a favorite hole and if so, which and why?
Loki – The uphill forehand shot (hole 5) after the pool or the hallway shot ace run (hole 9) are the best.
Talbot – My favorite hole is hole 4 (the pool hole). I love the aesthetics of broken concrete in a post-industrial kind of way, and the trees limit your approach just enough to not let it be a no brainer kind of hole.
Rick – Favorite hole is the current last one (hole 9). That tunnel shot!
---
To request a reservation or for questions about the course or event opportunities, please contact Kyle at CopelandsCove@gmail.com