Due to insatiable demand, Fever Candlelight Open Air has added more performance dates in Nashville. In addition to Classical or Movie Soundtrack performances at The Grove, you can listen to either Jazz or "Bach to the Beatles" at Center 615's outdoor Courtyard space (rain plan included, of course). Experience Pure Soul Nashville jazz quartet jam out to tunes by infamous, highly influential Duke Ellington or Listeso string quartet journey through music history starting with Bach and ending on The Beatles.
Candlelight concert organizers ensure to seek only the best talent in town, so we know Pure Soul Nashville has the jazz chops to do lauded Duke Ellington justice. And if you've seen Listeso at The Grove, you already know the wonder they will bring to Bach and The Beatles. Plus, what better way to immerse yourself in unforgettable jazz, timeless Bach, or unsurpassed Beatles than by the intimate glow of LED candles.
To top off the romantic evening, Inglewood Lounge will be on-site serving up cocktails and sodas.
Opening night for Candlelight Open Air Jazz: A Duke Ellington Tribute is Friday, June 11th. Opening night for Candlelight Open Air: Form Bach to the Beatles is Friday, July 9th. Check back for more dates!
All performances will be on Friday nights, with the choice between an hour-long concert at 7PM or 9:30PM.
Groove socially distanced under the night sky starting at just $40 a pop to relax in Zone B or $50 to chill in prime Zone A. Both zones include premiere fold-out chairs for your convenience.
Duke Ellington Tentative Set List
Take the A Train
Don't Mean A Thing
In A Sentimental Mood
…and more!
From Bach to the Beatles Tentative Set List
Brandenburg Concerto no. 3 Mvt 1
Prelude from Cello Suite no. 1
Bach/Gounod Ave Maria
Concerto for 2 Violins in D minor mvt. 1
I Want to Hold Your Hand
Yesterday
Blackbird
Strawberry Fields Forever
All You Need Is Love
Eleanor Regby
Michelle
Love Me Do
Something
In My Life
Hey Jude
Here Comes the Sun
Come Together
Parking and Where to Enter
Event parking is free. The map below shows all parking options. For the event, guests will enter through the Rec Hall entrance (behind the Bricks building) on the right of the map where the purple arrow points. From the Rec Hall, guests will make their way to the Courtyard for an unforgettable musical experience.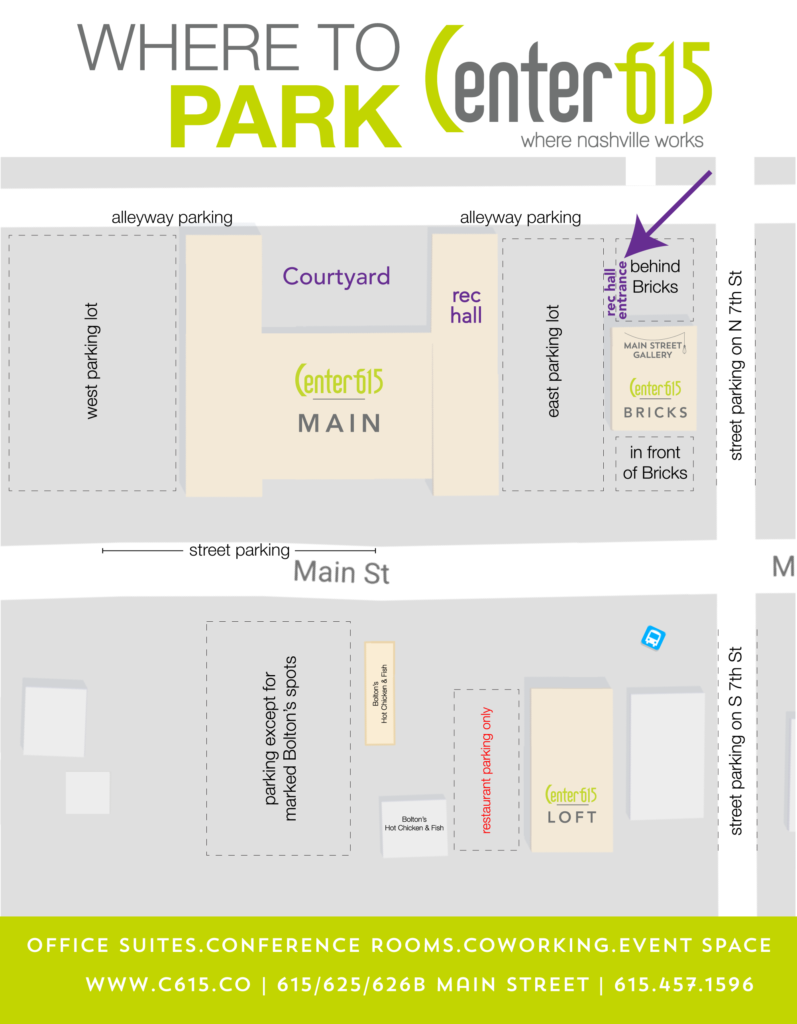 Safety Measures
Seats will be spaced out according to social distancing recommendations. Out of an abundance of caution, masks will be required for attendees. For full details, please read the safety measures for the event.
For any and all questions, you may contact our Fever representative Deidre Scott at nashville.cm@candlelightexperience.com
Want to hear more about Center 615 and our services? Click here!