Need a temporary space to work? Don't get us wrong. We love a good coffee shop. But we realize sometimes tasks require quiet, closed off workspaces with plenty of room to spread out your ideas. Plus coffee, always.
Given the increasing popularity of coworking, there are many options to choose from. So how do you know which one best fits your needs? While we can only speak on what Center 615 offers, we can give you an in-depth look at our hourly and daily coworking rental options, as well as our expertise on which fits certain meeting space needs.
For temporary workspace in Nashville, we have two great options: Meeting Room rentals and Daily Office rentals. Both rental options include free WiFi, coffee & tea, and on-site parking. Plus, one of our team members will always be around to happily assist you with anything and everything. Starting at $45/hour for meeting rooms or $50/day for daily office rentals, enjoy our affordable rates for all your business needs.
Here's a comparison of our two rental options and their unique offers:
If you want to impress a client, effectively collaborate on a project, host a Lunch and Learn, or train and onboard new employees, then an hourly meeting room rental is right for you. We've got LED screens for powerpoint presentations and large tables to roll out blueprints. Our Zaphod room even has built-in microphones and a camera add-on for video conferencing.
Tackle those big deadlines! With the option to book after business hours, we cater to your meeting time needs. Plus, surround yourself with uniquely designed features to help stir up creativity. All rooms are fully furnished and decorated, most with a fun Sci-Fi movie theme.
Keep in mind our max capacity for our conference rooms is 14 people (8 people until COVID restrictions are lifted). For larger gatherings needing meeting space, consider our event space rentals.
Starting at $45/hr, choose from 8 conference rooms
Zaphod • Trillian • Draper • Vogon • Hitchhiker* • Deep Thought • Dyana • Engine*
What's included:
Furnished with conference table and chairs
LED display
WiFi and hardware connections
Whiteboards and Dry Erase markers
Break room access
Free on-site parking
P.S. If there were a perfect spot to brainstorm, it would be our Deep Thought Room with three whiteboard walls. Will you figure out the answer to Life, the Universe, and Everything?
*member use only
If you need a space away from distractions at home, occasionally bounce ideas back and forth with a colleague while working independently, or simply want to test out our coworking space without a month-long commitment, then a private office day rental is for you. During business hours, roam around our creative campus to meet our other members and make those invaluable connections! And with a keycard, you have the option to explore our neighborhood and delicious restaurant options at your leisure.
Private office suite options seat between 1-14 people (8 people until COVID restrictions are lifted). We furnish to your needs, so just let us know the number of desks you'd like. We've got you covered.
Starting at $50/day, choose between a small, mid-size, or large office suite
What's included:
Furnished with desks and chairs
Keycard access 9AM-4PM
Flexibility to roam campus
All campus amenities included
Free on-site parking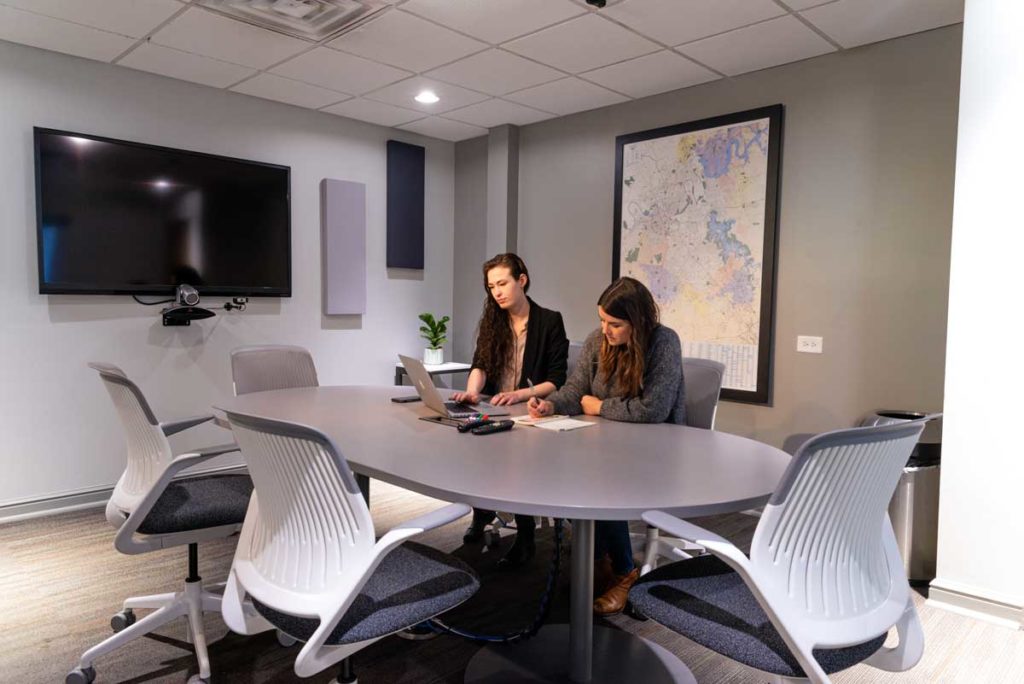 Bottom Line
Consider who you'll be working with, for how long, and what furniture will help you get the job done.
Meeting rooms rentals are great when you need to give a solid first impression to a new potential client. All our conference rooms have unique design features that wow. Daily office rentals are great for buddying up with your coworkers in a collaborative, white wall space away from outside distractions.
Hourly meeting room rentals breed success for midday Lunch and Learns or brief interviews, while day rentals prove beneficial for travelers and digital nomads who need a spot to plug in for a handful of days (there are some great hotel options within walking distance!).
A conference room includes a large table where you can spread out your thoughts, whereas a day rental includes a desk with less space but more privacy for focus.
With proximity to downtown Nashville, local hotels, and delicious restaurant options, our Main Street location is perfect for a productive work day, no matter which rental option you pick.
Still have questions? Contact us via email or phone, and we will be more than happy to talk with you.