A mid-July rainy morning turned to a slightly overcast, but not too hot, afternoon in Nashville served as the backdrop for our interview with Climb Marketing inside the Trillian conference room. The Climb Marketing team had been working away inside the conference room since that morning, on account of Founder/CEO Jeremy Lopatin being in town from Michigan for the day. When I gingerly tapped on the door's glass pane with my knuckle, Jeremy, Robbie, and Riley simultaneously looked up at me and quickly wrapped up their video conference call. Good energy filled the room as I sat down in the comfy gray office chair with a lime green seat closest to the door. Jeremy  leaned back comfortably in his chair, wearing a dark blue, short sleeve button down shirt and khaki shorts, and grinned warmly through his peppered goatee. Robbie and Riley carried the same welcoming energy and coincidentally wore the same outfit: a gray t-shirt, olive colored pants, and black tennis shoes. Their clothes reminded me of the waiter/waitress "uniforms" during the early days of Burger Up.
Despite the monotone gray shirts, chairs, table, and walls, the atmosphere remained very engaging and perfect for entertaining my curious nature.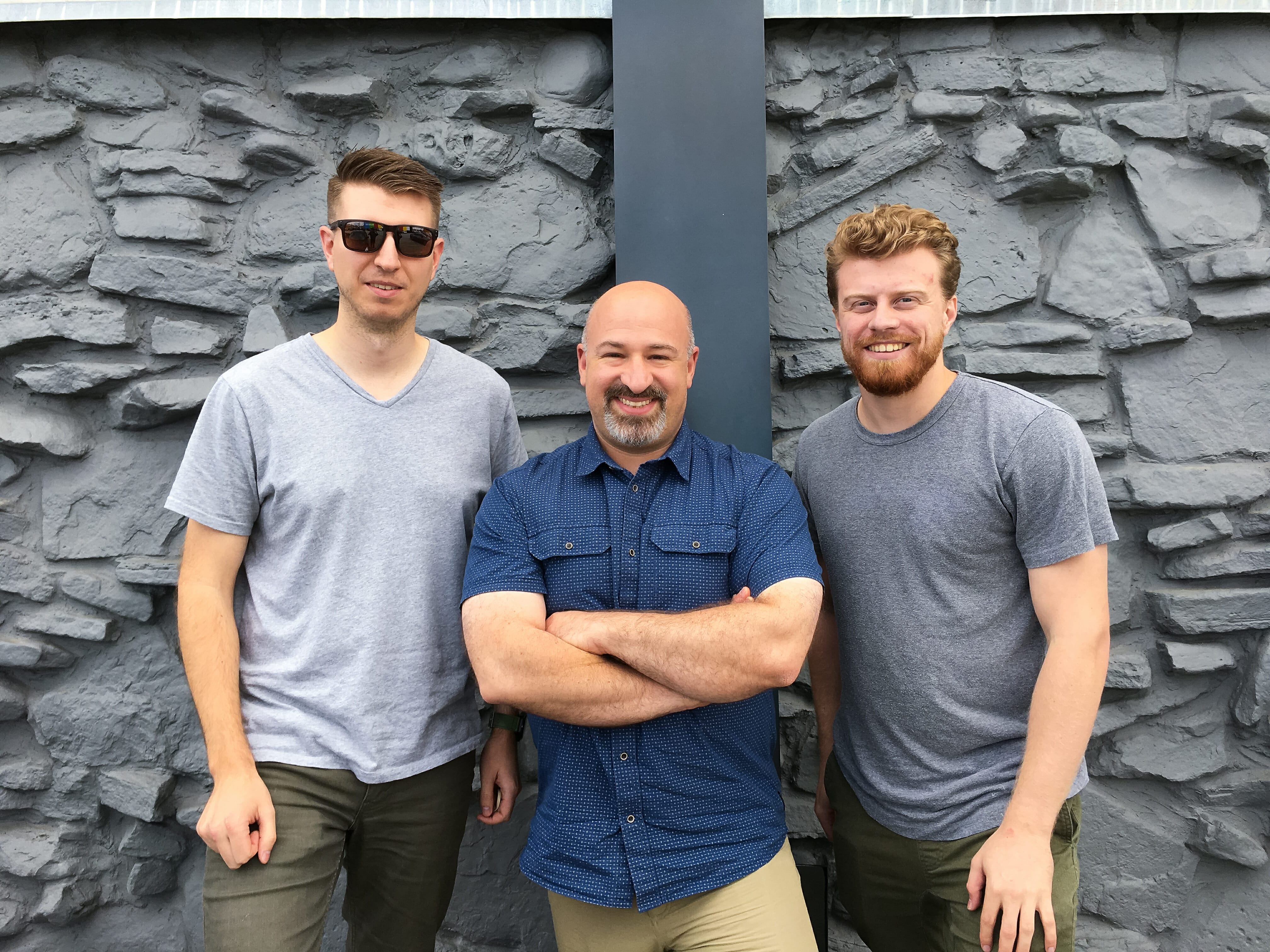 Andra: All right. So, I have to ask, what inspired the name for Climb Marketing?
Jeremy:  It's a lot of things. So, I do personally have a background in rock climbing and mountaineering, and a lot of the sort of discipline and mindset that went into me pursuing those things is very much required for the work that we do. Obviously, the context for digital marketing is completely different; we're not going to fall off a mountain and die, but the stakes to our clients and for the success of our company are significant, and it requires a lot of preparation, focus, discipline, teamwork, and collaboration to get where you're going. And so, as I embarked on starting this agency, it was with a lot of that in mind, and I drew on a lot of those personal experiences of climbing. Actually, it turns out that a lot of us just enjoy rock climbing. That's not a very blatant, explicit thing about the company…like you have to rock climb…but there is kind of this thing happening where anytime some combination of us get together, we do go rock climbing.
Robbie:  We just went last night.
Jeremy:  Yeah, right!
Andra:  Do you go to Climb Nashville or is there a cooler spot?
Robbie:  We went to the Crag. I'm a member at the Crag in town, and Riley had never been climbing before, so we took him last night.
Jeremy:  Although, he has a location like a half a mile away from his house, so future member! 
Robbie: I think the best thing about the company name is the unlimited source of puns that we now have.
Jeremy:  That's right. "Race to the top…"
Andra:  Yeah, I looked at your website, and I saw a lot of those ties. I liked it, it was very cohesive.
Jeremy:  And obviously that's the personal tie, but because we are a boutique digital marketing agency that specializes in more performance-oriented campaigns, and trying to drive visibility and traffic to websites and leads…we're not a branding agency, we're not a market-research company. There's a lot of pieces of marketing, and even digital marketing, that we don't do. And we are here to try to help marketing teams get closer to meeting their goals for leads. In particular because we specialize in, not exclusively, but largely in B2B stuff.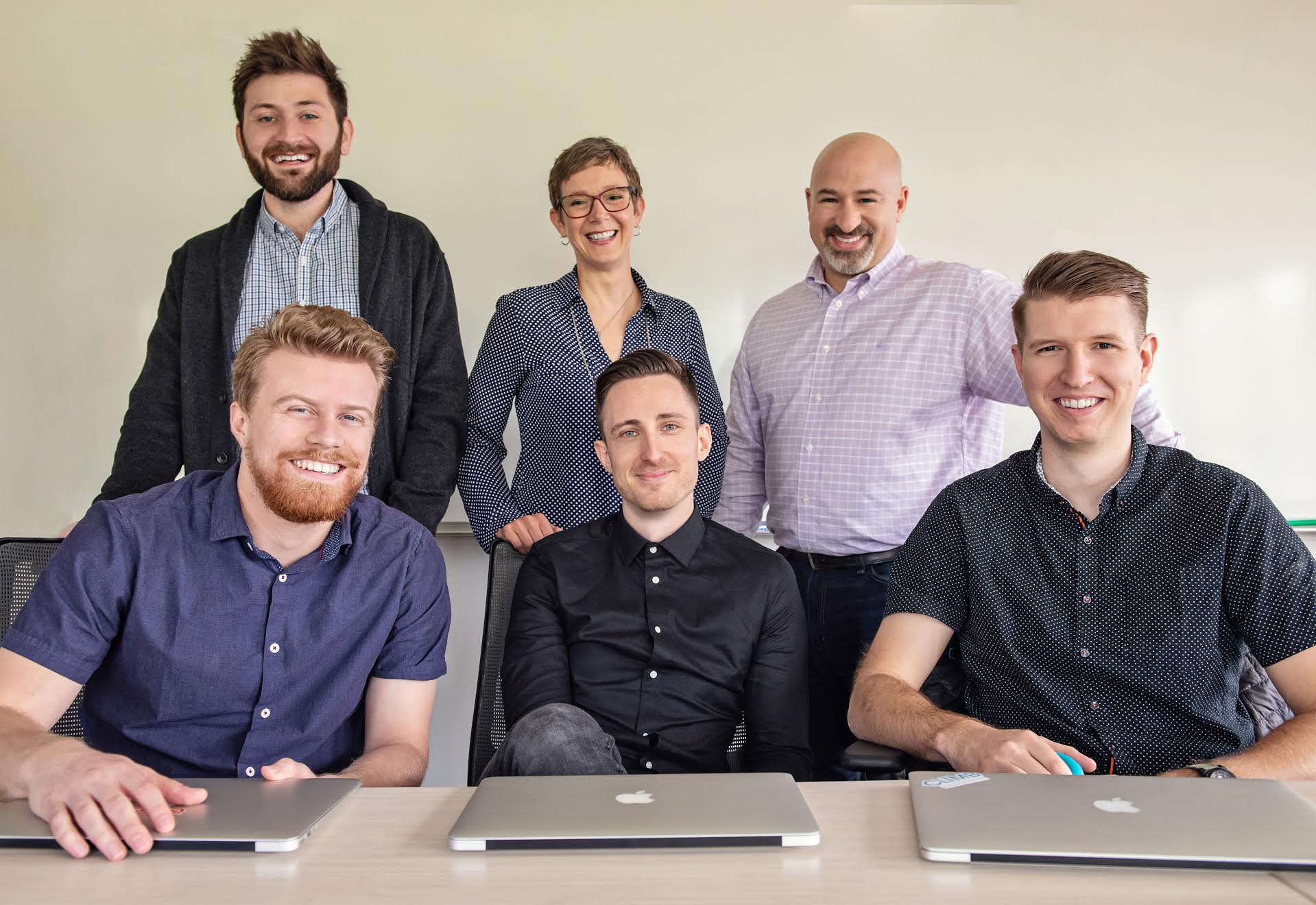 Andra:  Your headquarters is in Michigan…so what made you decide to come to Nashville and be here at Center 615?
Jeremy:  Because one of my favorite people to work with in the world lives here [laughs]. It's Robbie's fault.
Robbie:  Yeah, so, I moved to Nashville. I've been here about 5 years now, and Riley is a native of Nashville. It's rare.
Andra: Me, too! Where did you grow up?
Riley: Like, the Green Hills area.
Andra: Ok, yeah, I grew up in Brentwood. 
Jeremy: Small world
Robbie: So, Jeremy and I knew each other from a prior working relationship, and we did some freelance stuff back and forth for a while. When he decided to start the agency, he was like, "hey, do you want in?" So, we basically hit the ground running, like as a remote team. I was working from here, and we had a third spoke in our wheel, a guy in Berlin, Germany. But then Riley came on board here in Nashville, and we got a few other team members in Michigan. Getting this office space anchored down was like having a Nashville location.
Jeremy: We were at a prior agency, you know, years back. We both left, I went into freelance practice, and that freelance practice kind of kept growing, and then I increasingly would subcontract work to guys like Robbie, and Taylor who's in Berlin—he manages our SEO practice—and it just kind of grew to the point where it was stupid for it to not be a more formal organization. So we were like, "alright, now we're going to be Climb Marketing." And shortly thereafter we brought on David, and Riley, and Kristen our project manager. It's kind of the best way to start a business. We had the core group of people and the clients, and it's like "hey, let's build a company around this," instead of "hey, let's build a company, and then not do anything for a couple of years." 
Andra: Yeah, that's awesome. 
Jeremy: We were super fortunate. 
"the stakes to our clients and for the success of our company are significant, and it requires a lot of preparation, focus, discipline, teamwork, and collaboration to get where you're going"
 Andra: So, is there one question that clients always ask? Like, nine times out of 10 they will ask this one question?
Jeremy: I mean, besides "how soon can you get it done," and "is there any way we can keep the budget lower?" [laughs] That's a great question.
Robbie: We do get a lot of inquiries about the location of the team, and we end up talking about Michigan, Nashville, and Berlin. It's a funny thing.
Andra: Is that people wanting to meet in person? 
Robbie: Most of our clients are based out of SE Michigan, where Jeremy is based out of. So, he's in person actually a lot of the time, but he and I are always on Zoom video calls with every client.
Jeremy: Yeah, we like live out of Zoom.
Robbie: Logistics are kind of interesting.
Jeremy: I can't think of a common question that clients always ask. Everyone is unique. 
Andra: I mean, that's also a good thing.
Jeremy: You definitely try really hard not to—although, there's a lot of value in standardizing a service, and having a process, and to keep making things efficient. We try to resist just having a canned approach that's just one-size-fits-all and you just turn the crank, because our clients are all super different. They have different capacities within their own team, and their goals are very different. They think about digital marketing very differently, so truly all of our clients are really different. We're always trying to guide our clients in a certain direction, but it's the scale and scope of what we're doing. Like, some are just struggling to get a little website to catch hold at all, and some are already enterprise companies that have some steam, but they're trying to figure out how to, like, level up significantly. So that strategy is completely different. We're operating on a different plateau, but with advertising, the platforms are all the same. We might be doing paid search engine advertising for several different companies, but what we're doing with it is different. 
Andra: So, is that kind of challenging sometimes? Having to always do something a little bit differently?
Robbie: That's actually the fun of it, for me, anyway. Like when you're first starting with a new client, you gotta figure out what their business is all about and kind of deconstruct how it works in order to find their target audience. To be able to market to them correctly, you have to understand how their business works. That's personally my favorite part of starting a new engagement, is like learning about some industry I never would have dove into otherwise.
Jeremy: Truth be told, I'm not interested in the day in, day out managing of a specific business. But what I really savor with consulting is the variety. It's learning something about somebody else's business and cracking that nut, and then pivoting and figuring out a whole new approach for somebody else. There's obviously things that you're going to learn along the way that will help you from one client to another, but a lot of it is just listening, thinking, and researching. That's very appealing to me.
Riley: And on any given day, we might be working on four or five different companies—for their digital advertising—and go from something really niche that we would never have heard of to some bigger companies where they have a brand name that you recognize. There's always a different landscape. It's interesting to go from one to another. You kind of get a feel, too, for what stays the same and what changes.
Andra: Does Climb Marketing ever use social media influencers in their strategy? 
Jeremy: Not in the context of our client work. I don't think that's ever something that we've managed directly. For the company my wife and I own, we do it quite a bit. That's a consumer brand, and there's a little bit more place for that.
Robbie: With B2B type stuff, it's less personality based.
Jeremy: We do often tap into what we would refer to as subject matter experts…like people who are experts in a field, and they're usually somebody our client company has a relationship with. Either they're an employee, or they're just like a professional that they know in their field. And we'll tap them to contribute content or just to interview for us to develop content from. But those are really the only external folks that we tap into.
Andra: Since social media influencers are a hot-button topic, I was just a little bit curious. 
Jeremy: Yeah, like that job description didn't exist 10 years ago, five years ago, even. 
Robbie: I think that's part two to my previous answer. Like, all these platforms are still developing. It's still kind of the wild west for a lot of this stuff, and there's a lot of creativity if you approach it, depending on your outlet, your mindset. That's fun, too. Just trying to keep up with what's hot that day.
"Generating qualified leads for our business, that is super important if we're to continue growing. But really the other piece that's a little more ephemeral, like harder to put your finger on, is cultivating company culture and team camaraderie, as an explicitly distributed company."
Andra: Is there something that Climb Marketing has been able to do, being here at Center 615 versus working somewhere else? 
Robbie: I mean for sure. Riley and I both being in Nashville, it was pretty crucial that we were able to look each other in the eye on a regular basis. And we're on the same team at the company, so we work together on most projects. So the collaboration was super important. And we still kind of balance working remotely some of the week, and then coming into the office. But those times we're in the office together, I think are the most collaborative and also the most productive.
Jeremy: The company is built by design to function as remote team where everybody might just be working from their home office or a coffee shop, but it's undeniable that being able to come together face-to-face and be side-by-side working on a project together, there's benefits. Actually, I feel like what's been valuable is being able to progress from just individual desks to a separate office as our needs change and stuff like that. Having the flexibility.
Robbie: We've kind of grown within Center 615
Jeremy: We started with one desk, then two desks, and then an office. Hopefully there will come a time when we will need a bigger office. Right now, I'm feeling the pain of having to go through all the effort of setting up an office in Ann Arbor. You've got to arrange for all of your utilities, and you've got to put carpet tile down, and you've got to order desks, and all that stuff. Like, whatever, it's all the normal stuff to set up an office, but I was envious of the Nashville team that they could just move into a space that was ready to set up with desks and start working, which is pretty cool. 
Andra: Robbie, I know you mentioned the community at Center 615 when you were filling out the Member Spotlight survey, but what specifically is it that you enjoy?
Robbie: Most of it's just like bumping into people in the hallways. And Riley and I have both worked out of this building for a handful of years now, so we both certainly know a lot of other people just in passing. We try to get to the Happy Hours when we can, but it's just seeing familiar faces. For me, too, moving from out of state to Nashville four years ago, I didn't know anybody in town. So, having a place where you can go and see some people on a regular basis is pretty crucial to starting a little network in Nashville.
"The client testimonials all consistently address similar themes beyond just us being technically competent and able to do this work . . . that we are viewed as a partner . . . and that we help them in more ways than just executing an ad campaign or something, which feels really good."
Andra: So what's the biggest challenge for Climb Marketing?
Jeremy: Besides having enough hours in the day? [laughs] I would say…there's two answers to that. Generating qualified leads for our business, that is super important if we're to continue growing. But really the other piece that's a little more ephemeral, like harder to put your finger on, is cultivating company culture and team camaraderie, as an explicitly distributed company. We're spread across 7 hours of time zones, when you rope in Berlin. We live in five different cities, we have offices in three different cities. You know what I mean? It's like, how do you gel as a team? We're doing a pretty good job. Part of that is because of the core of the team. Like, we've all worked together in the past physically, you know, in the same place. And cultivated relationships that we're sort of benefiting from now. But part of it, too, is just really trying to take advantage of collaborative platforms and just being mindful of it.
Robbie: Being intentional about carving out time where we can all be in the same Zoom meeting to hang out and just shoot the s*** and whatever.
Jeremy: Yeah, we've come up with some creative ways…because what you miss when you're a remote team is that water cooler conversation. Most of the time what you're going to do is give updates about projects and have a pre-meeting to get ready for a client meeting, but you don't just talk about how your weekend was, or some funny thing that happened, or whatever. Robbie does a good job of trying to keep things interesting.
 Andra: What's the latest story?
Jeremy: [laughs] Oh my god, I mean a picture paints a thousand words!
Robbie: The Face App thing with all the old photos…when we were all together a month ago in Michigan, we took advantage of being all together and got professional headshots done, and the photos just got posted today. And I was like, alright, I'm totally…
 Jeremy: He took them all and ran them through the Face App!
Robbie: I had to walk out of the room this morning because I couldn't keep a straight face while I was making everybody 50 years older, but I came back and just uploaded all of them and instantly everybody lost it.
Jeremy: Oh my God, it was just hilarious! I mean we had tears in our eyes it was so funny! So, yeah, just trying to keep it light and remember that people have lives outside of this company. And we're all pretty good at that, I think.
Andra: So, what's your proudest achievement?
Jeremy: I think the thing that I'm most proud of, besides the…I mean it would be cliche for me to say, like, "the team that we've cultivated" or whatever, but I am very thrilled with this group of people that have coalesced around this company. But I think the proudest achievement of ours as a whole is a ridiculously high client retention rate. We have clients now who are entering their third year of working with us, and the company's only like a couple years old, formally, as Climb Marketing. I don't want to jinx it, but we routinely renew clients. We mostly work on one year-long retainer-based contracts, and they keep growing their relationships with us because they value what we do, and they enjoy working with us. It's a testament to the fact that we're doing it right. Whatever it is we're doing, we're doing it right. That's what I'm proudest of. 
Andra: Yeah, I noticed on your website under testimonials, I kept seeing the same company names over and over again.
Jeremy: Yeah, I mean, when I put out the call to all of our existing clients for testimonials, every one of them offered one up without hesitation. And they're all glowing. They all consistently address similar themes beyond just us being technically competent and able to do this work, which is complicated and whatever, but that we are viewed as a partner, that we are helpful, that we help extend their capacity or capabilities, and that we help them in more ways than just executing an ad campaign or something, which feels really good.
Andra: I've got two more questions. So, in 5 years what would you like to accomplish?
Jeremy: I think that quantitatively it ends up 10 years from now. It's basically us multiplying our revenue by 6 and our team size by 5, but really just having a more fleshed-out team.
Robbie: Like we've identified a sweet spot of growth and company size, and we know what we want the culture and the overall picture to be. We're not trying to take over the world necessarily. We still want to maintain really good relationships with clients and do good work, so I think we've thought about what it would mean for the size of our company, and that's kind of the goal we're striving for.
Jeremy: Right, and balancing intimacy with our clients against the need for a little bit bigger size so we can have more specialization. I would love to have somebody who is in charge of managing the books instead of myself, as like the owner of the business. And I would love to bring some of the services, that we currently offer through subcontractors, in the house and stuff like that, just so we have all the right pieces in the right proportion. We're in a good spot where we're at now, but we could do even more, better, and faster in that future. So that's what we're working for.
Andra: Last question: if you could describe your experience working at Climb Marketing in 5 words, what would they be? It doesn't have to be exactly five words, it doesn't have to be one word each.
Robbie: This is like writing ad copy all over again. You've got 25 characters, go! 
Jeremy: It all feels so cliche, but words that come to mind are talented, accountable, compassionate or thoughtful, ambitious… 
Robbie: Ambitious is a good one.
Jeremy: I mean it doesn't really—like there's an element—there's a human element that it doesn't necessarily touch on. Just like, the ridiculous, you know, the sense of humor and the camaraderie. Honestly, considering that we're a remote team, we have better team camaraderie than a lot of companies I know that work physically in the same place. Even though it's something that we worry about…maybe it's because we think about it.
Andra: Yeah, I was going to ask, is it because you focus on trying to have that, that you actually have that? Whereas other people, it's there, but they don't feel the need to work on it, so they don't.
Jeremy: Yeah, maybe. I think I've spouted at least five words. Usually it's not hard for me to generate words. It's keeping it to five that's the hard part.
Anda: Well, that was the last question. If I could get some photos of you guys of all of you together…
Robbie: I could text you the old photos we got, if you wanted.
Jeremy: Oh my god, those old people photos are so good.
Andra: Yes, I would love to have those!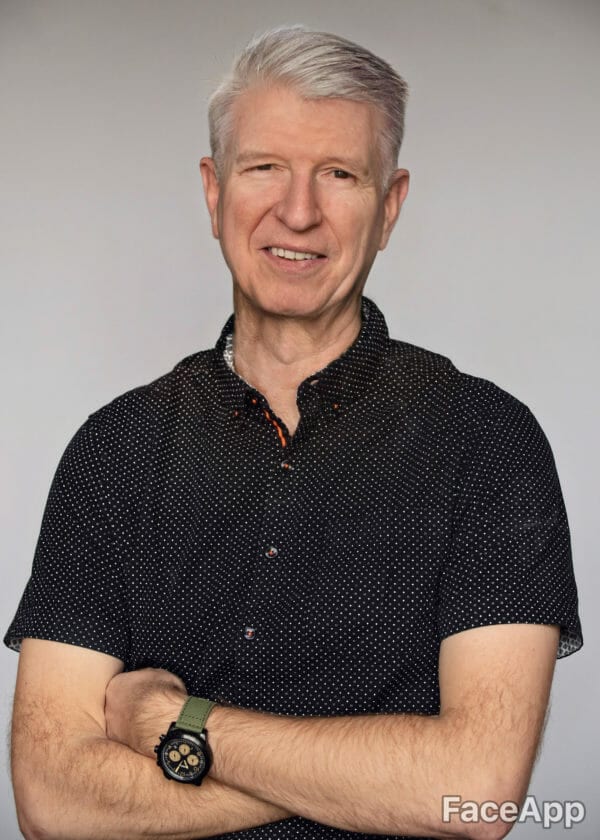 We at Center 615 would like to thank the Climb Marketing team for giving us the opportunity to learn more about their company and camaraderie!
---
If you're a business at Center 615 interested in being a featured member, email andra@c615.co or call (615) 457-1596 x103 leaving your name, business name, and preferred method of contact.