7-year member Michael Epps Utley with GoEpps has expanded his business, adding DodgeballSEO to his team. Center 615 caught the latest news.
---
About Dodgeball Marketing
What inspired Dodgeball Marketing?
Jeana Medlin on our team came back from Inbound, a content marketing summit, and we got fired up about streamlining our client onboarding and service. We sell a lot of SEO packages to help companies show up higher in search results. Dodgeball Marketing is a step toward letting our new customers select their service level and get to it! Just pick a service level and let us get to work!
How have things changed for your business during the pandemic?
It's been tough. 2020 has consisted of a tornado, a pandemic, and recession. We are getting a major new disaster situation every 2-3 months. We have been very intentional about having a client base diversified by industry, size, and location – and that saved us! We are up 10-20% over last year right now depending on how you measure growth; and we are not slowing down.
Tragically, we did lose a team member this week to COVID – our new sales team hire. That has been hard to process and I don't have my head around it yet. This happened in the last 24 hours. But being a business founder with a staff is a bit like being a mom or a dad – you have tragedies in life and you get up the next day and get back to taking care of the rest of the family. My enthusiasm is undaunted, but right now we are feeling enthusiasm with very present grief.
Why start a new business during this time/How long had the idea to start DodgeballSEO been in the making?
About a year. It's actually the latest iteration of something we have done a few times: clarify and refine to focus on what we do that adds measurable value to our customers' businesses and the lives of our team. I think of our services business as two gears that turn well together: sales and production. When production is good, referrals drive sales. We are just removing friction those gears experience, in this case, for the third time in the history of the company.
What was it like expanding your team at this time?
There are two ways I can answer that: the human way and the "Mr. Business" way. Human way: scary – "I hope this works!" Mr. Business way: "Let's fill this position and keep our dollars under management per full-time production team member within our parameters." Both are valid.
How have you seen/helped companies you work with pivot at this time?
We had a "coronavirus" plan to stay in operation. This was in Jan. or Feb. when it was in China. Then the tornado hit the office and we activated "Coronavirus Mode." That plan included letting clients know we are here and doing work remotely – no changes in service level.
Then when Tom Hanks got sick (my personal marker for mid-March when the pandemic hit the news in the US in a bigger way), we lost a lot of business in a very short period of time: let's call it a 30% hit to our year. Then, we spent March to June helping our healthcare and critical services clients message their operational status to their customers. It was an absolute grind. Now we are seeing business come back and fill the hole created in March. PPP helped but doesn't fill the hole the pandemic created. So we are just doing what we do: serving clients and shouting from the rooftops that we are open for business and ready to rock.
Quick tips for small businesses at this time (online presence)?
Attract awesome customers! And understand the pain points your customers face and articulate what you do in those terms. Don't get too far in your own head about what you call things. Use the language your customers use when they are looking for help. We have a three page guide for our clients to identify these pain points and it gets people out of losing business due to jargon and unclear offers.
I loved the post you shared on the GoEpps blog about the tornado. What are some ways you've continued to see Nashville helping our community during the ongoing pandemic?
The tornado was a great example of the spirit of Nashville and my much loved native state of Tennessee. But during the pandemic, we got caught in a national mood of division. We did not do enough and are not doing enough to support each other. I know we will be better as a city and a nation after the national conversation the pandemic preceded, but our city is not there yet. We need to remember that we are "out of many, one." We need to return to building and developing everyone. Unemployment and underemployment of my fellow Nashvillians is my enemy.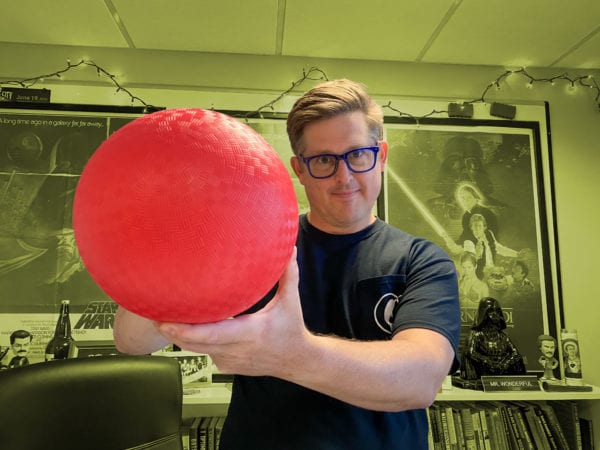 ---
Rapid-fire Q&A with Michael Epps Utley
All-time favorite film and/or musical artist
Lawrence of Arabia and a tie, Beatles and Jack White.
Favorite local hang (pre-pandemic counts too)
Calypso Cafe – come back to us!
Favorite midnight treat
Moose Tracks, what else is there?
How do you take your coffee?
Solid black as God intended. 
Least favorite Nashville cliché
I love the bridesmaids. I tell them thank you for visiting our town and investing in this being an awesome destination for making memories. Thank you bridesmaids!
---
Center 615 would like to thank Michael Epps Utley and his ever-expanding team for being awesome members!