While most of the time, design firms think about other businesses' offices, they still need a place to work too. So what kind of office works best for your design firm to showcase your immaculate work to clients? Read on for our workplace recommendations and office amenities design firms find crucial for their business.
Plus, see what the design firms at Center 615 love about the office space amenities available to them at our coworking space in Nashville.
Find an Office Space for Your Design Firm that Has . . .
Meeting Rooms with LED screens to showcase digital designs
Suite Perks, like a discount for multiple suites and freedom to move suites within your office lease terms
Mailbox and package pick-up/drop-off
Friendly receptionist service
Free Meeting Room Use with LED Screens
What better way to show off your design talents to your clients by displaying your digital work on a large LED screen. Be sure your workspace provides access to a 60-inch LED screen that you can connect your laptop to with ease. Looking at a larger screen rather than a monitor or laptop screen helps clients to accurately visualize what you can offer them. When you clearly display the smallest details, your clients will build their trust in your talent and expertise.
Center 615 members with an office lease enjoy access to free, unlimited meeting room use, including our Zaphod Meeting Room with an 80-inch LED screen.
One interior design Center 615 member, Shandi Paro, loves using the meeting rooms because of their impact on her clients. Shandi notes,
The conference rooms are a gem for hosting clients because they're available in all shapes & sizes, with local sips by Bongo & High Garden tea. When I bring design clients to Center 615, I feel like an expert host. Speaking of clients, I lost count of how many new clients I have had the pleasure of working with based on our amazing coworking community. Whether it be another Center 615 member's own suite…or an outside reference from a Center 615 member.

Shandi Paro, Design 615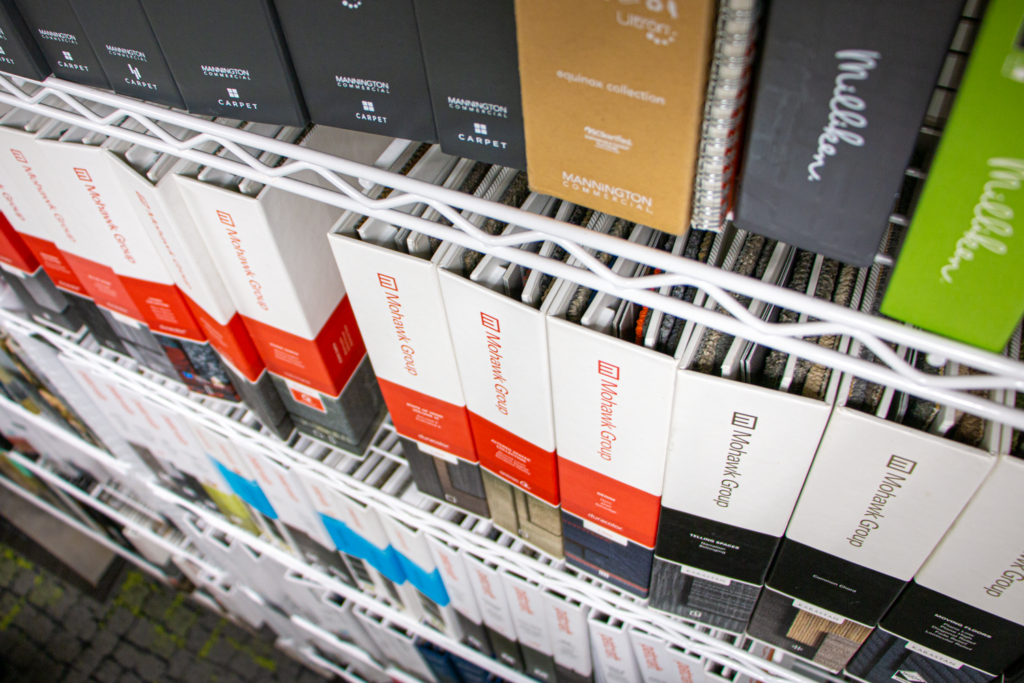 Multi-Suite Discount and Freedom to Move Your Office for Your Design Firm Within Your Lease
No doubt you have a multitude of binders and shelves stocked full of samples. Too many samples to fit into your workspace? Add on a suite to create a sample library so you can browse finishes whenever you want without cluttering your desk space. We at Center 615 offer a discount to our members who rent more than one office at a time, a boon for a design firm. Pretty suite, right?
Shandi Paro of Design 615 loves having her own sample library. It helps her stay organized and lets her creative thinking flow freely without distractions. Shandi raves,
Pro tip: rent two suites. I use one as a dedicated finish library to keep the fabulous mess out of the workspace. And talk about a light lab for looking at finishes! Center 615's campus features LED, Incandescent, Outdoor Lighting, and Indoor Natural Light Play through the bounty of glass doors. I have everything I need right by my office.

Shandi Paro, Design 615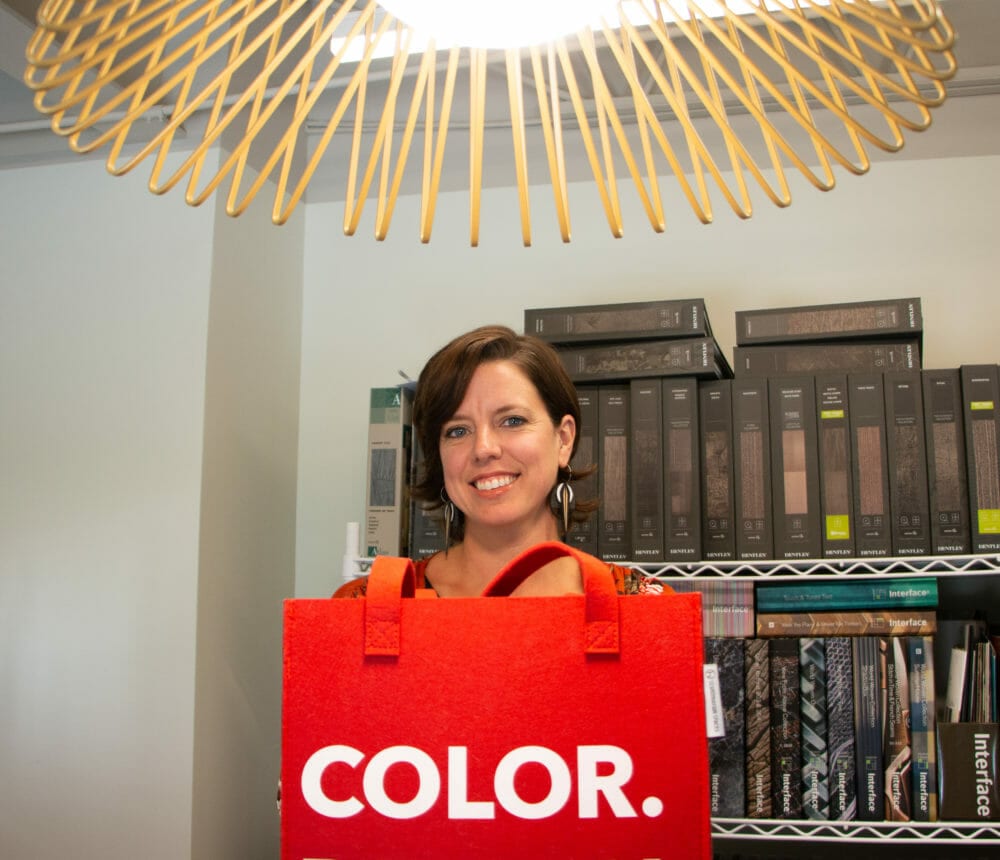 Also, we know how quickly creative businesses need to adapt to the shifting market. We recommend finding an office for your design firm that allows you to scale up or down as needed. With Center 615's flexible contract terms, businesses can move into a smaller or larger suite whenever they like.
The flexibility to move suites is an amenity McCoy Design has taken advantage of for their evolving design business. Because Center 615 boasts more than one building, McCoy Design has actually moved to different buildings as well.
When reflecting on the differences in the multiple offices McCoy Design has rented, head of the design firm Laura McCoy comments,
"We love both offices we've had for different reasons. We really liked the high ceilings and industrial vibe of our Loft suite and the tight-knit community that comes with a small group of people sharing a space. But we love the amenities, multiple conference rooms, and parking of Main."

Laura McCoy, McCoy Design
Package Pick-Up and Drop-Off
Your new samples need a safe way to make it into your hands, so your office needs a space where package delivery is guarantee. When you are able to accept packages at your workplace, you never have to worry about porch theft.
Plus, a workplace with receptionist services assures that you will never miss the delivery person when the package needs a signature. A friendly face will always be there to assist with package delivery to ensure you receive what you need without delay.
If you need to send a package out, you may enjoy the benefit of not having to run to the post office and wait in line for an unforeseeable amount of time. A workplace that both receives and sends out packages may be exactly what you need to completely focus on your work worry-free.
Friendly Receptionist Service
Visiting clients deserve a friendly face upon walking into your office building. What better way to make a stellar first impression on a new client? When a receptionist checks in your client, you immediately come off more professional. Furthermore, a comfortable waiting area for your clients and guests gives you the breathing room you need to finish up any last-minute tasks before you greet them. It's a win-win.
Bonus Amenity: Outdoor Space
Need a space of refuge from the glare of your monitor? It's common knowledge at this point that time spent outside during the workday boosts both your mood and your productivity. We recommend that you choose an office for your design firm that provides easy access to green grass and blue skies (weather permitting).
Center 615's campus includes two outdoor lounge areas for members to step away and breathe in fresh air. Not only do we have free WiFi access and outlets for our outdoor common spaces, but our impeccably located campus sits a block away from two neighborhood parks. Go ahead, get out of the office!
Design can require HEAVY screen time at deadline rush. It's wonderful to have the meditation room to clear & recharge your brain for optimal performance. Plus, both the Roof Deck and Courtyard are great for when I need to step away from the screen and into the great outdoors—double the outdoor fun!

Shandi Paro, Design 615
---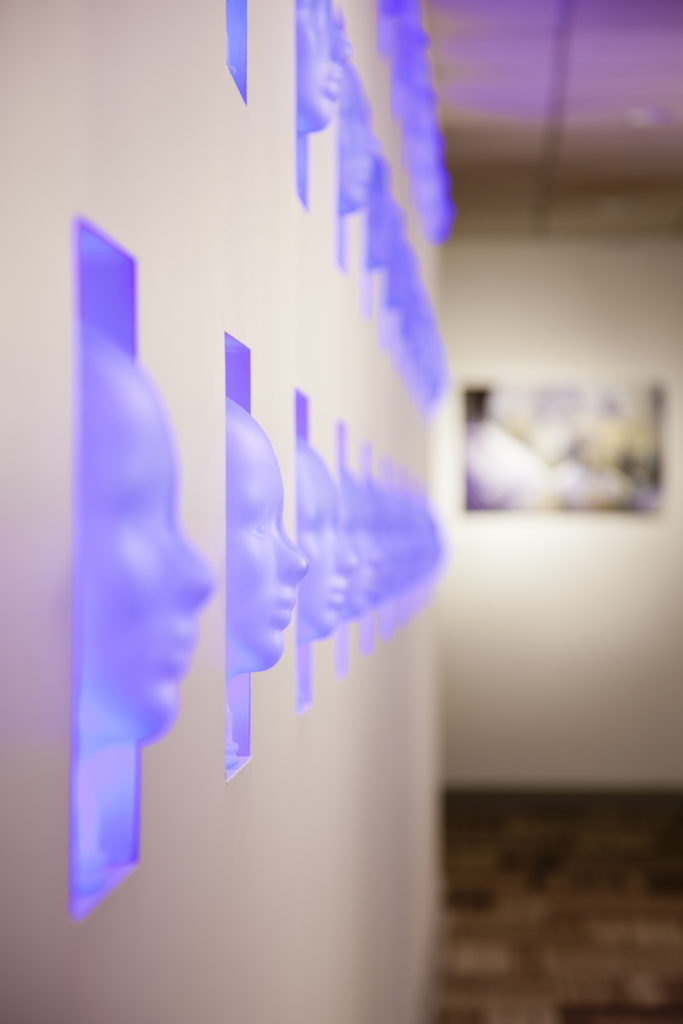 Whether you're looking to upgrade your current workspace or need to move out of your house and into an office, coworking space Center 615 provides all the above amenities—and more—with proximity to both the eclectic Five Points neighborhood and bustling downtown business district.
Interested in seeing for yourself how Center 615 can elevate your design firm? Schedule your private office tour today!