Many people don't realize that coworking space Center 615 and production facility Studio 615 are sister spaces; the partnership works perfectly for media and marketing companies. Only a 10 minute drive from each other, Center 615 members and clients can quickly hop in their car and drive up to Studio 615 to film or shoot photos for their creative media or marketing projects. Afterwards, they can drive back and edit everything in their nearby office at Center 615.
Plus, anyone who works at Center 615 has access to production space discounts, and anyone who uses Studio 615 event space has access to workspace discounts.
Production amenities at Studio 615:
Additional scenic outdoor space behind the production studio
15 minutes from downtown and 10 minutes from Center 615 offices
Creative workplace amenities at Center 615:
Production Space + Office Space Possibilities
Members like Mtheory took full advantage of the convenient connection and Studio 615 discounts to livestream a concert for one of their clients. The 2000 sq ft facility with a cyc wall lended an ethereal background to an acoustic set in front of a small live audience. Check it out!
Here's what Mtheory had to say about their experience using Studio 615:
"Studio 615 was perfect for us to film our livestream event in Summer 2020. The Studio 615 staff were very helpful leading up to the shoot as we developed our game plan, and the space allowed us flexibility to get the look and feel we wanted for the performance. It was a great experience for our team."
State of the art production facilities at Studio 615 include: a 2000 sq ft cyclorama studio with 100% LED lights for floor and walls; a 500 sq ft natural light studio with 11 foot glass garage doors, a northwest facing window, and white concrete walls; and outdoor space The Grove, with a stage encircled by pines. All Center 615 members receive 15% off of any Studio 615 production or event space.
However, for days when you need a smaller space to shoot and create content, Center 615 also provides options: Main Street Gallery with white walls and Edison lights, or the Roof Deck for an outdoor shoot—both at 50% standard event price for members.
Mazzo Media, another Center 615 member, booked Main Street Gallery for an art event to showcase Amanda Mazzo's 100-Day Project. Amanda's colorful multi-media artwork popped against the gallery's white backdrop. Plus, proceeds from art sales went to benefit one of their clients, Daybreak Arts.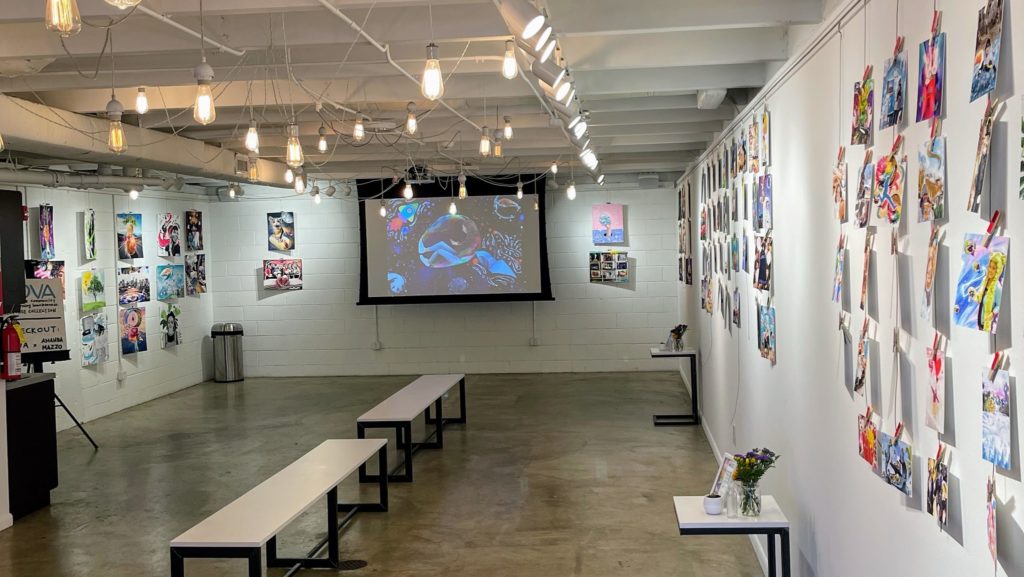 Plus, you can walk to more outdoor photo op spots in front of famous Nashville murals like Stay Tuned, Hawkers' Lucky Cats, Greko's Athens of the South, Bolton's flaming fish, and more. Or for green space, trek two blocks to East Park's grassy fields and lush trees.
Aside from locations to create content, you'll need a place to meet with clients and talk about future projects. That's where Center 615's free meeting room use comes in handy. Between the eight fully equipped conference rooms on campus, even last-minute room reservations are possible. Bring in out of town clients or gather the whole team together to brainstorm your next creative project.
But for day-to-day teamwork, some companies on campus at Center 615 find it beneficial to rent several offices grouped together. This allows creative businesses to have enough separation to concentrate yet enough proximity for impromptu collaboration. They also love that each additional office lease is 10% off.
The amenities, discounts, and prime locations of Center 615 and sister space Studio 615 yields endless content creation opportunities.
Discount recap:
15% production space at Studio 615
50% off event space at Center 615 (option as a filming/shooting location)
10% off multiple offices at Center 615
Free meeting room use
Want to see everything for yourself? Book a tour today and receive a complimentary Day Pass!