Picking the right office space for your business as an attorney can be daunting, especially for service-oriented businesses like law firms. Not only do you have to think about what you need for your law practice as an attorney, but you also need to consider what would best serve your clients' needs.
Good news for you, we at coworking space Center 615 have experience catering to attorneys and law firms and can suggest the best amenities to look for when picking your next law practice workspace.
Best Office Space Amenities for Your Law Practice
free meeting room use
proximity to Nashville's courthouse
free notary service
receptionist check-in service
Free Meeting Room use
When an office space can't accommodate a client meeting, or your employees need to be able to concentrate while they're at their desk, then a meeting room provides a perfect solution. Plus, having a conference room-sized table to present stacks of papers makes life easier for both attorneys and the clients they seek to help. Because of the convenience, conference room hours can also pile up; renting rooms by the hour therefore becomes a major expense. You may then consider finding an office space that offers free meeting room use.
At any given point during our business hours, at least one of our meeting rooms at Center 615 has likely been booked by a lawyer. We know Center 615 members love the free meeting room use, so a wise choice for office space for attorneys would be somewhere that allows the same free meeting room access for their law practice.
Proximity to Nashville's courthouse
Being a lawyer means going to court more often than most. Especially post-lockdown, people seek to minimize their commute. While having an office in the middle of downtown may not be ideal due to parking fees and heavy traffic, it is important to have easy access to and from the courthouse downtown. The best solution is to have an office space just outside of the downtown area. Attorneys at Center 615 especially enjoy the short commute to the courthouse from their office. Center 615 member Roland Hairston notes,
"Another pragmatic thing is that Center 615 is close to the Courthouse. I'm in court quite a bit, so I constantly travel back and forth between here and there. Usually, I'm in the Courthouse for a hearing in front of a judge presenting information, letting my witness testify, making arguments, etc. Sometimes I'm over at the Courthouse filing papers or attending a meeting, so the short commute really helps."

Attorney Roland T. Hairston, II
Free notary service for attorneys
One perk attorneys (plus insurance companies, title and escrow services, and real estate firms) love to use for their law practice is Center 615's free notary service. All of our front-facing staff are certified notaries. Center 615 members can simply walk up to the front desk and ask for their document to be notarized. That's it! No appointment, wait time, or fees.
Receptionist check-in service
With clients regularly coming in for appointments, it is important to have a reliable method of checking your clients in with a safe space for them to wait until you can see them. The front desk at Center 615 uses an app system with a directory of all our members. We simply tap their name, type in their guest's information, and the Greetly app sends a notification to our member that their client has arrived.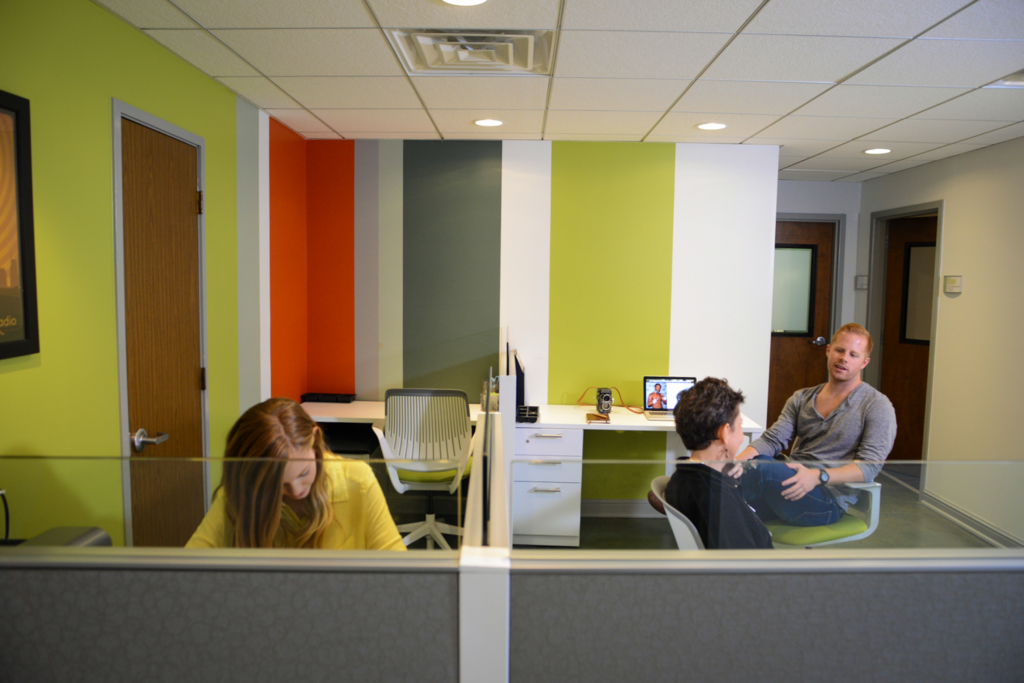 Why choose Center 615?
Not only do we offer all the above services, but we also foster a community of diverse businesses. However, don't take our word for it. Here's what member Michael Rivas enjoys about having his law practice at Center 615,
"There's a spirit of entrepreneurialism at Center 615. I enjoy working in the same building with so many people doing different kinds of work. It's exciting to meet new people and learn about what they do, as well as deepen older friendships on campus."

Michael Rivas of Michael Rivas Law, PLLC
---
Interested to see what other ways Center 615 provides prime office space for attorneys and lawyers? Schedule your coworking and private office tour today!