ProScout Business Development founder Chris Turley shares his tried and true business model, sage advice for starting a business, and personal business experience with Center 615.
Established February 12th, 2014, ProScout is best described as a business matchmaker for executive-level people; ProScout helps businesses find the right partners to collaborate with through constructing superior data sets and providing execution of relationship building strategies. To improve the quality of their client's data, ProScout solves three problems:
1- Who to contact? 2- What to contact them about? 3- Why them?
"Everything has to be targeted. When I sit down and consult with our clients, I ask them to explain to me: 1- their data and what they're doing digitally, 2- what they're doing on the relationship phase to build a relationship with their potential clients, and 3- what they're getting at the tail-end of the funnel."
Chris Turley is partial to dialing a phone number over typing an email to build sturdy business relationships.
"The companies we work with range from creative companies, professional services companies, manufacturing companies, and real estate companies, just to name a few, who are all at various stages of their lifecycle, and require a more personal touch to land a big sale."
ProScout Business Development specializes in the personal touch that businesses frequently need but can't always execute themselves.
. . .
For the interview, Chris and I sit perched on the bar stool-height chairs in the compact Hitchhiker conference room with the tall, narrow table shaped like the state of Tennessee split down the middle. Before diving into my scripted questions, Chris Turley comments on his more-casual-than-usual attire; his next destination is Top Golf. Wearing a light blue, short-sleeve polo shirt that compliments his striking eye color, standard khaki shorts, and dark brown top-siders, his wardrobe explanation is less-than-surprising. Not that we care terribly about what our members wear; our priorities lie elsewhere.
Chris Turley's voice booms in the tiny room, and his boisterous energy brings every word that comes out of his mouth to life, zealously dancing in circles on the walls. While loud and demanding, Chris's presence is also reassuring, kind, trustworthy, and dependable, making his personality a perfect match for his craft.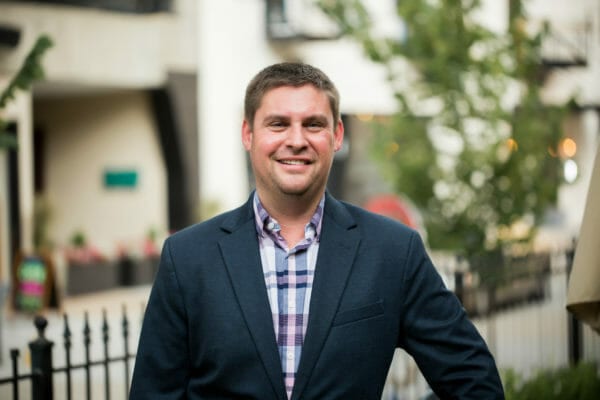 Andra: What led you to create ProScout?
Chris T: You know what's funny is that it was out of necessity. I'm from Chattanooga, and I previously worked there with First Bank for nearly six years as a business lender. I also helped start up their offices in the city. Unfortunately, in 2013 I got laid off with 50 other people. 
However, the City President, which is who I worked for directly, said to me, 
"Chris, you need to take your skill set, start your own company, and do what you did for us, but for others."
Six months later, February 12th, 2014, I opened up shop. It'll be six years this February.
A: So, what were some of those early road bumps that you encountered when you started ProScout?
C: One of the biggest steps would definitely be hiring. I hired my first person only about two-and-a-half years ago. For close to 3 years, I did almost all of the office work by myself. In our case, we make a lot of outbound calls, so I was doing all of the calls, the reporting, running the company, trying to find new clients, doing all of the accounting work, the bookkeeping work, all of it. At the end of 2016, I finally took the first step to hire someone.
A: I've heard the first two years for new businesses are really rough. Did you find that to be true when starting ProScout?
C: The first two years are tough. Really, what we would typically find at the bank with business loans is that most businesses would be done by the end of the first year. Hardly anyone would make it to 5 years. They say when you hit five years you've made it. 
Shoutout to members at Center 615 who have had their business up and running for 5+ years!
And to members and their businesses that have been at C615 for 5+ years!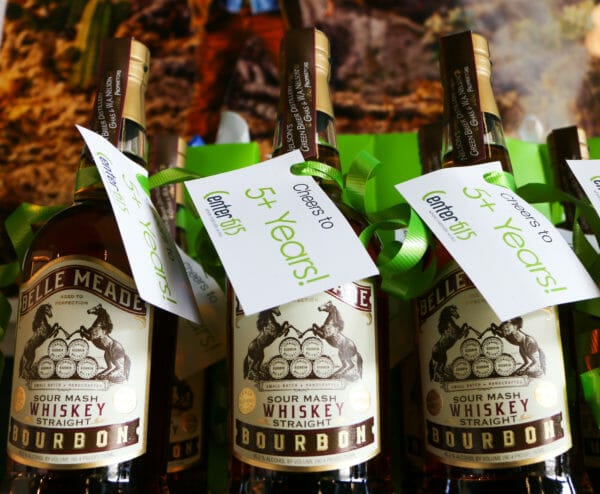 A: What was it like knowing that fact as you were starting ProScout? 
C: You really have to look at business as peaks and valleys. When you first start the business, the peaks are really, really high, but the valleys are ultra, ultra low. 
What you hope to see, as the business grows, is the peaks and valleys to start rounding out into smaller waves. You're still going to ride the peaks, and everybody's going to be charged up and say, "oh, this is great!" and then that valley is going to inevitably hit. That could be cash flow, it could be "We're trying to hire somebody," or "We can't find anybody," or it could be issues with systems. You hit that low, and it's still painful, but it's not as painful as it was early on.
The key to smart business growth is growing organically. For us, people aren't going to buy our service off a website. They're going to get to know me by either a client we're already working with, or somebody that is a friend of a client. That's 90% of our growth.
A: You're a lead generation service, so would you say that ProScout Business Development is like a business matchmaker?
C: What's cool is that's actually part of the reason we changed our name this year. I started the company as ProScout Lead Generation, but people would ask, 
"Chris, what are you doing? Are you trying to sell me a list? Are you trying to sell me outbound calling? Are you a call center?"
 So, this year, I changed the name to ProScout Business Development.
We really are matchmakers for businesses; I think that's a great way to sum it up, but how we're a little bit different is that we only do that for executive-level people. That's CEOs, CFOs, business owners, entrepreneurs, business professionals, etc. For those people, we solve three problems that stem from their client data piece:
1- Who do we want to contact? 2- What do we want to contact them about? 3- Why them?
However, most people miss out on the "Why them?"
Everything has to be targeted. When I sit down and consult with our clients, I ask them to explain to me: 1- their data and what they're doing digitally, 2- what they're doing on the relationship phase to build a relationship with their potential clients, and 3- what they're getting at the tail-end of the funnel.
Then we work through that process, we see what they are doing, what they're not doing, and what we can actually solve. Sometimes it's minor tweaks, sometimes we'll give them a strategy to implement and walk away, and sometimes we'll coach them. We find that every situation is different, so we tailor our solutions accordingly.
A: How do you find the data that you work with?
C: The data list piece is the hardest. We'll buy raw data, and then we'll clean it up. Sometimes, the databases we use don't have the company's information we're trying to track down; in which case, we'll have to target different areas and do manual research to find the right data. 
We almost have to look at it like a manufacturing process. We put all the raw product into the machine, and then we try to really funnel all of it down to somebody that's ready for a lead, appointment, or a close.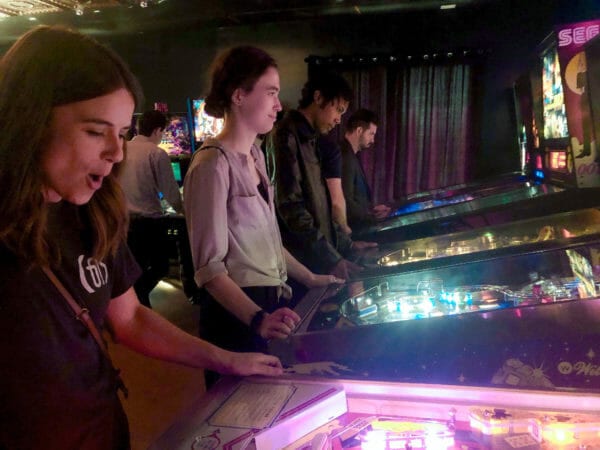 A: ProScout co-sponsored the Pinball and Pints Happy Hour in June (and the Smith and Lentz Happy Hour in late September), so how did you decide to participate in that way?
C: I love Beth, Christian, and all you guys. The other part to it, where people miss the boat, is people invest in marketing, but they don't invest in the relationship piece. 
Pinball and Pints was an opportunity for ProScout to invite our list to where they can get introduced to you guys at C615, and for you guys to invite your folks to be introduced to us. It's kind of a cross-pollination to build a relationship, and everybody walks out having fun. That's a win-win.
Business events are so much more than a bunch of people in a room swapping business cards. The people that engage us to do events for them are very specific about the people they want to work with. I advise them to send out invites for 100 people, and then 20 or 30 will show up. The rest of them you can say goodbye to because they're not interested in your services. 
Don't invest time, money, or energy in people that aren't invested in you.
A: What are some popular types of events that people like to do through ProScout?
C: Professional service and creative companies, to name a couple, are prime examples of people that use us for events because professionals and creatives are really skilled in their trade, but most hate the people piece, that is, emailing and picking up the phone. 
For events, we try to find neutral topics that people are interested in outside of the industry they serve in. 
In July, we did a Lunch and Learn presentation on Cyber Risk and had a Director of the FBI come and speak about tactics to protect yourselves and your business online; that's a topic that everybody is interested in.
A: How important is making phone calls to what you do at ProScout?
C: Especially with the clients we work with, phone calls are super important because our clients are all selling bigger ticket items.
A lot of times that higher-level call is going to be important. Also, for bigger tickets, if I'm purchasing a good that's worth $5,000 or greater, I'm going to want the personal touch, the personal relationship. When you actually need to borrow half a million bucks, you want to interact with a human, particularly if things go south and you want to talk to somebody.
A: What is some advice that you would give to somebody that is intimidated by cold calls?
C: Great question. I think the key on that is to remember that out of a list of 100 people, only 3-6 are going to show interest when working the phone lines. Another piece is consistency.
It's amazing the lessons you'll learn from just making calls and stubbing your toe. My toe is black and blue and twice as big as a normal toe.

You stub it two or three times, and you don't forget the lesson; you just have to get out there and do it.
A: What is your favorite thing about being at Center 615?
C: Collaboration is the biggest thing. Also, the location is super convenient, and I never worry about parking. Plus, the conference rooms are great. I especially love the whiteboards in the Deep Thought room; having the option to write everything out on 3 whole walls is really important to me.
A: Are there companies at Center 615 that ProScout collaborates with?
C: We've done a lot of work with GoEpps. Michael is awesome and great to work with. 
Right now, I'm building relationships with more enterprise-level marketing firms because they fill up buckets of people that need the personal touch we specialize in.
With ProScout, we intentionally want to work with fewer people, so that we don't lose that personal touch. I'm all about the "quality over quantity" mentality. 
Quality is also a priority at Center 615. We've seen where too much growth too quickly in the co-working world leads to financial turmoil…
---
Center 615 would like to extend our warm gratitude to Chris Turley and ProScout for the interview, the Happy Hours, and the good times.
For those who are members at Center 615, ProScout offers a 20% discounted rate for their services! Give Chris a call if you're interested 😉